The small Pacific island nation of Palau has a population of only about 22,000 people. In 2018, the country received over five times that amount of tourists, with the vast majority arriving from China, Japan, Taiwan and Korea. The Rock Islands are the main attraction. They are a stunningly beautiful set of over 250 limestone islets covered in greenery. Many of them have been partially carved away by the ocean's waves, creating a series of mushroom-shaped sculptures. Elsewhere, caves and arches have been formed.
The first time that I saw photos of the Rock Islands from the air, it was such an incredible sight that I wasn't entirely sure it was real. My amazement continued when I saw photos of Jellyfish Lake which is in the middle of one of the Rock Islands. Jellyfish Lake is a marine lake filled with jellyfish that do not have stinging cells powerful enough to cause harm to humans. This means that snorkelling and diving in the lake is perfectly safe. You can get up close to the jellyfish and even be completely surrounded by them.
Seeing those photos years ago firmly put visiting Palau on the agenda, but it wasn't until April 2019 that I finally got there. I visited Palau with my girlfriend Coco and we arrived on a small 17-seater Harbin Y-12 plane from Yap in the Federated States of Micronesia. The route between Yap and Palau is operated once a week by Caroline Islands Air.
Arriving in Palau
When we arrived at Palau International Airport, the immigration process involved signing a pledge to protect the beautiful island nation for future generations. The pledge is stamped in your passport with a box at the bottom for your signature. According to palaupledge.com, "Children from all over Palau participated in the drafting of the pledge" and it makes Palau "the first country on earth to change its laws for the cause of environmental protection." The Palau Pledge is addressed to the youngest part of the country's population and states:
Children of Palau, I take this pledge, as your guest, to preserve and protect your beautiful and unique island home.

I vow to tread lightly, act kindly and explore mindfully.

I shall not take what is not given.

I shall not harm what does not harm me.

The only footprints I will leave are those that will wash away.
We had arrived in the evening just as the sun was about to set and there were seemingly no taxis at the quiet airport. We asked a few people about getting a taxi or any other way to get to Koror City, 6 kilometres away. We were very grateful when the friendly pilot from the plane we had just arrived on offered us a lift to our hotel. After checking in we went to explore the town a little but we didn't stay out late as the main event was the next day: our tour of the Rock Islands and Jellyfish Lake.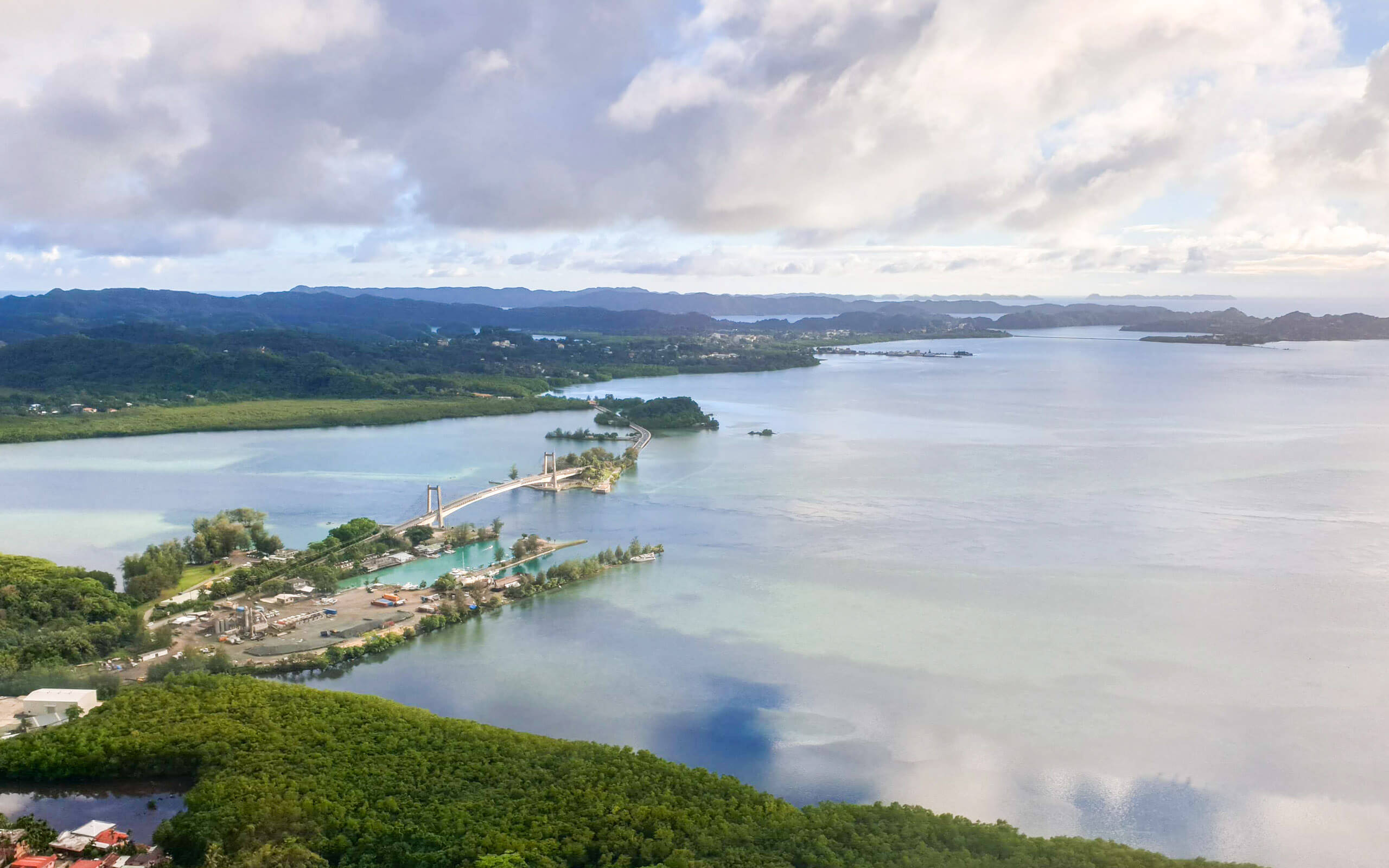 Tours and prices
There are, of course, a few companies that run a variety of tours to the Rock Islands. After reading some reviews, we decided to do the "Kayak & Jellyfish Lake Tour" with IMPAC. It was a full day tour and cost us US$95 each. On top of this, we also had to pay for the Jellyfish Lake Permit, which cost US$100 each. There are various permits for doing different things in Palau. The Rock Island Permit excluding the Jellyfish Lake costs US$50, but the Jellyfish Lake Permit includes the rest of the Rock Islands as well. These fees add up when you consider that you have also paid a US$100 Palau Pristine Paradise Environmental Fee just for coming to the country. This will most likely be included in the ticket price charged by your airline. Ours was not because we came with the tiny Caroline Islands Airlines. They did, however, collect the fee on top of the ticket price.
Pick-up and check-in
Early in the morning a minibus came from the Japanese-run IMPAC Tours to collect us. We were brought to the IMPAC offices, where we checked in before getting our snorkels, our flippers and our life vests. I was very impressed that they had a whole range of prescription snorkelling masks. As someone who normally wears glasses it made a massive difference to what I could see throughout the day.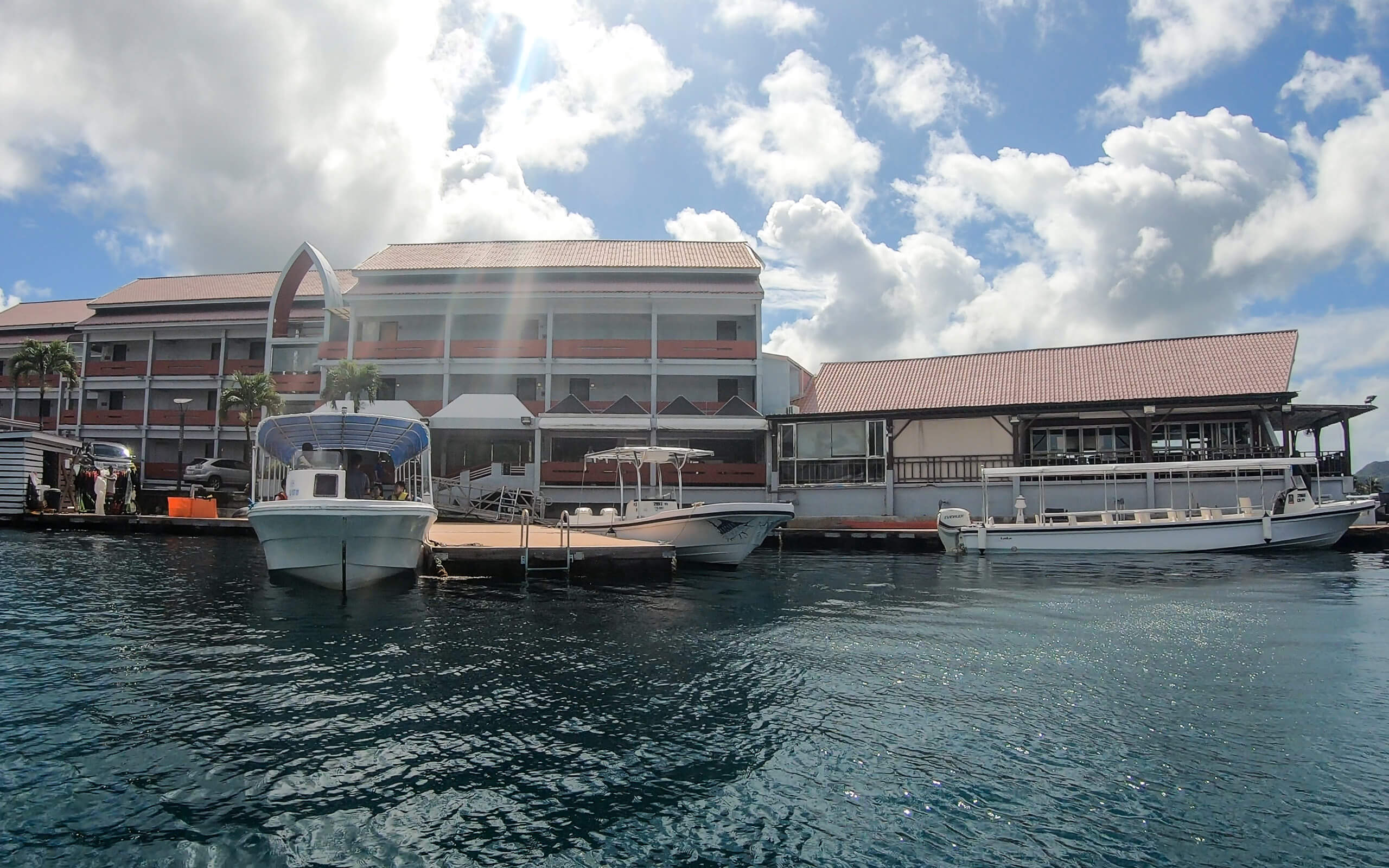 Our tour
As our boat was leaving our guide introduced himself and went through a safety briefing and the plans for the day. There was a Japanese-speaking guide doing the same thing for those that spoke Japanese. After a minute of leaving the dock we were already surrounded by some of the beautiful rock islands.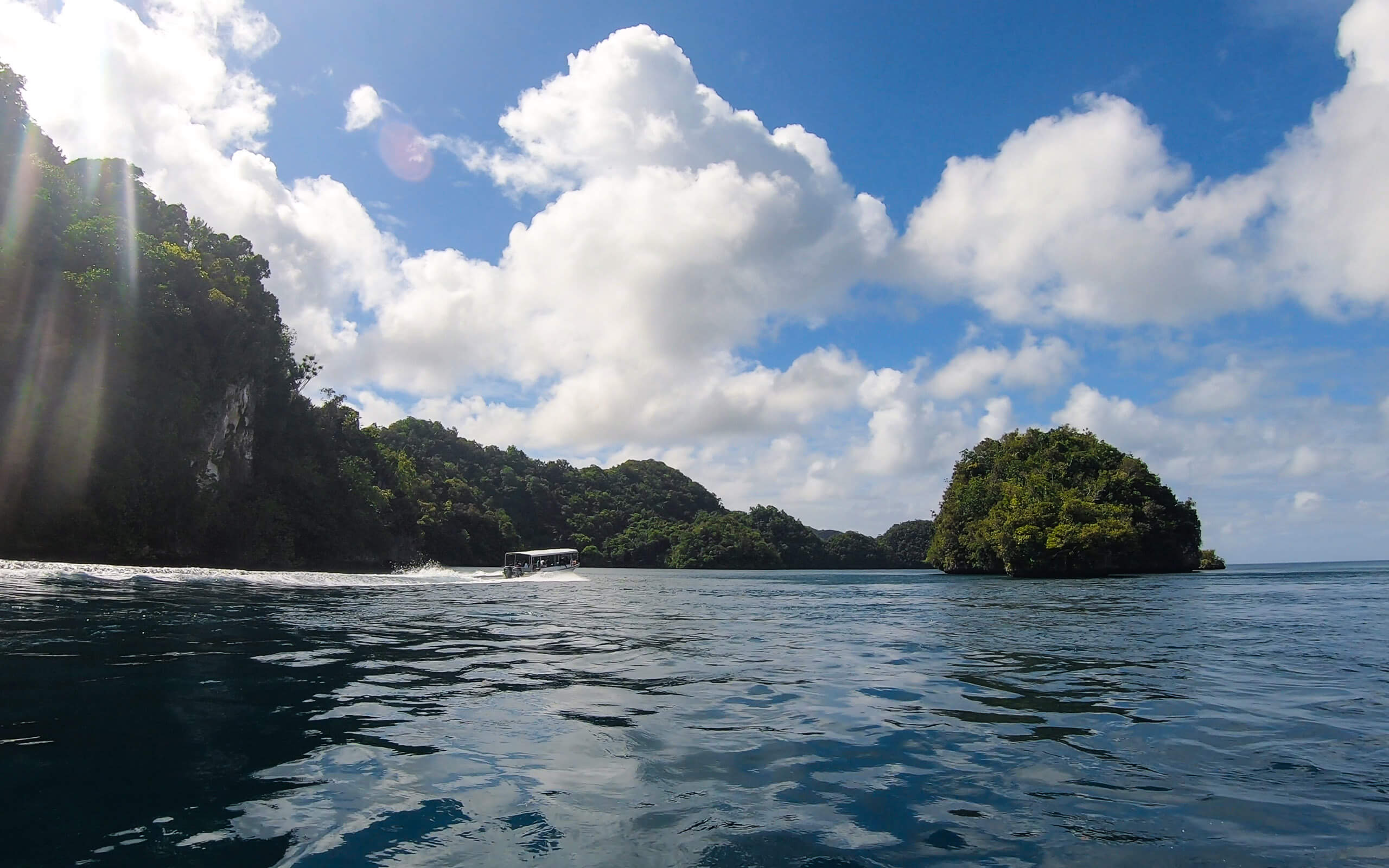 The Milky Way
The first stop on our tour was at a place known as the Milky Way. The Milky Way is a little cove that has picturesque aquamarine water and a white mud on the sea floor. I couldn't touch the bottom, but one of the crew dived down to get a bucket of the mud. We were then encouraged to cover ourselves from head to toe in the white mud. We got a few photos before getting back into the water to wash it all off. Afterwards, my skin felt very clean and soft.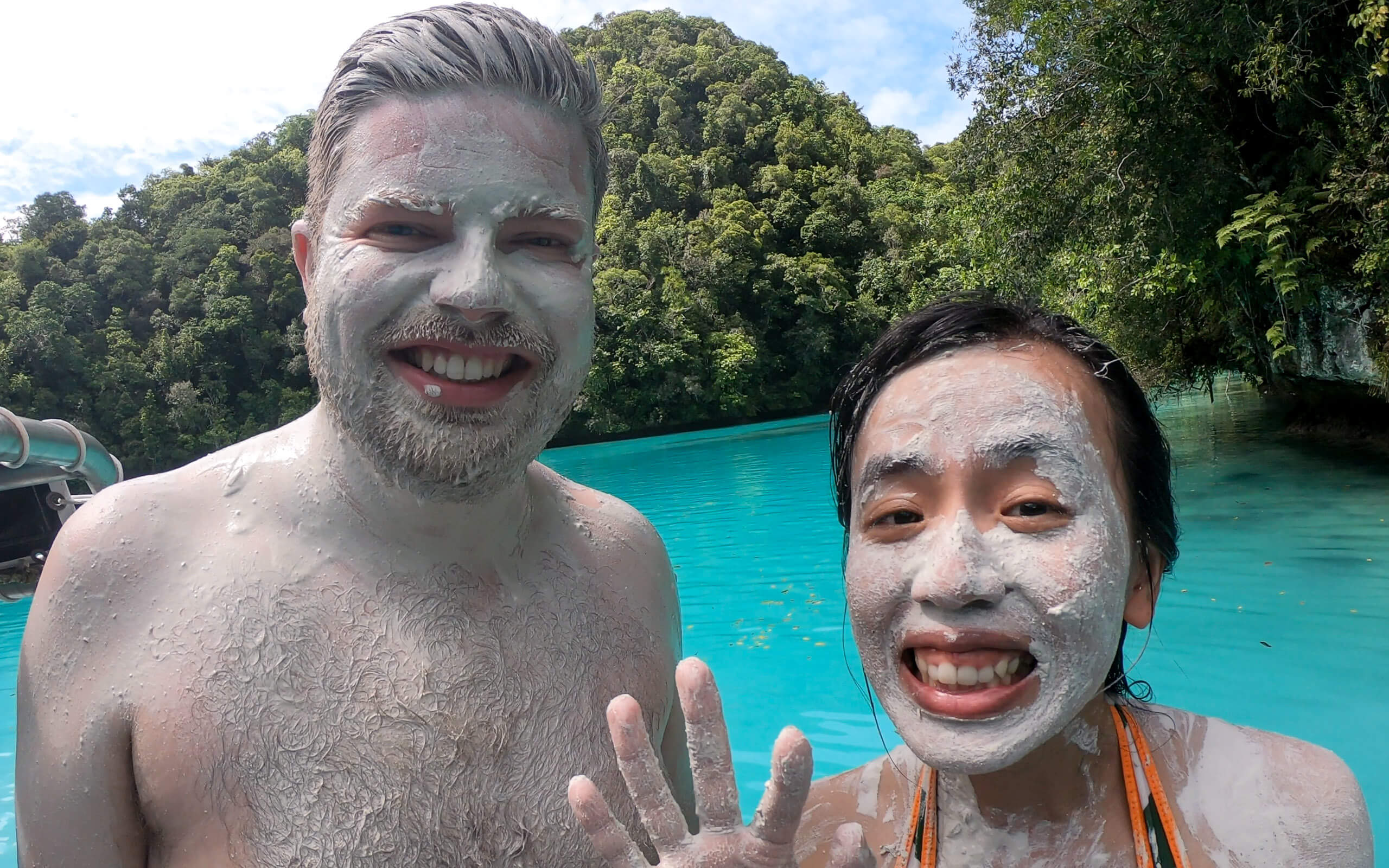 Kayaking
Next, we went to a different part of the Rock Islands to do some kayaking. We were given a two-person kayak and got to explore the area. The water was quite calm in that area. We got to go under some of the cutaway rock. We also stopped at a beautiful little beach and went under a rock arch into a smaller enclosed area. The water was very clear and we could easily see coral and fish right beside our kayak.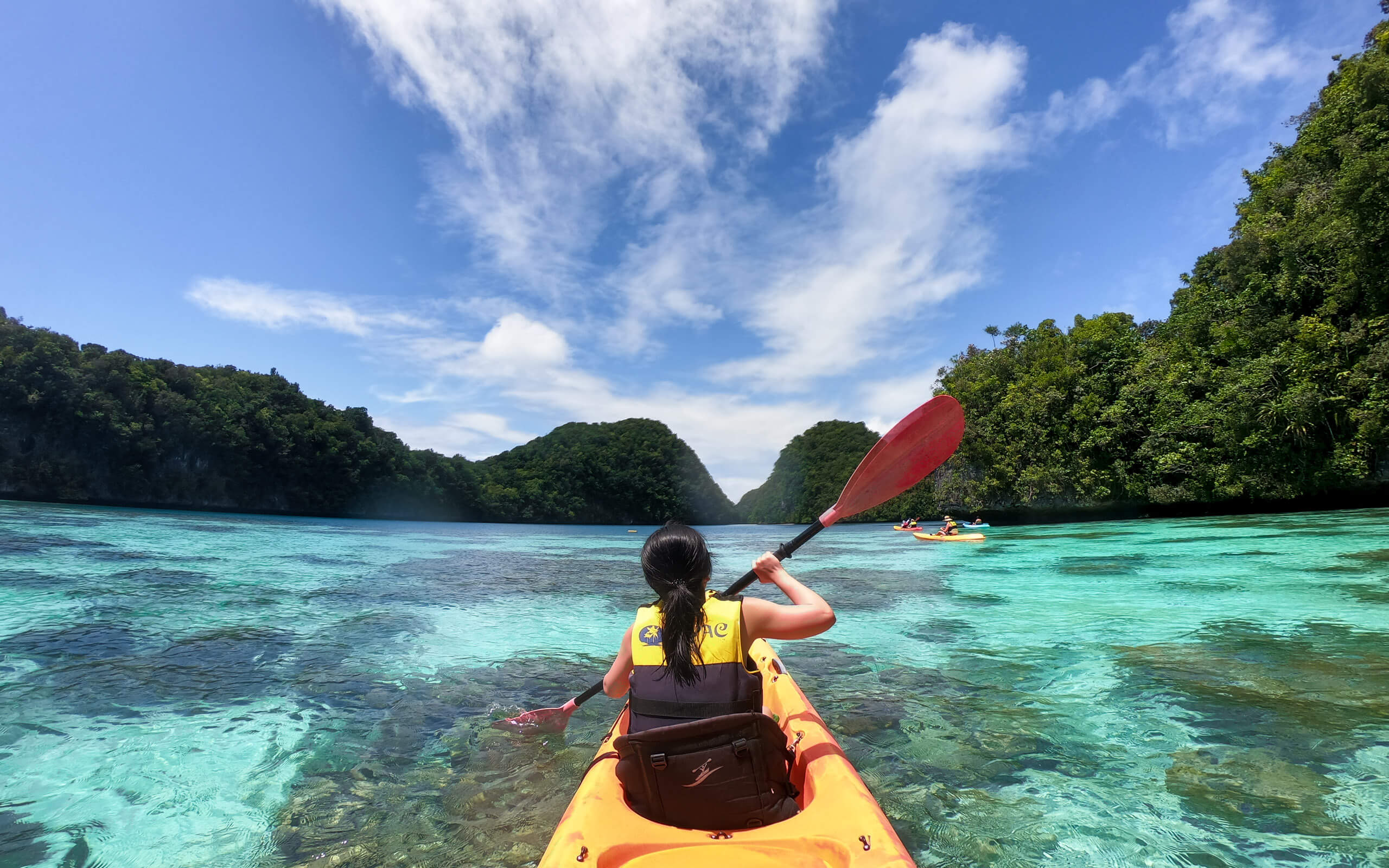 Lunch
After about an hour of kayaking we got back on our boat and went to a bigger island with a beach and some picnic tables. We ate a bento box lunch and had a wander around the island.
Jellyfish Lake
Then we visited Jellyfish Lake. We stopped at a small dock and walked the ten minutes up and over a ridge to the lake. We followed one of the guides out into the lake as she looked for the jellyfish. When she found them she called us all over and we then had some time to swim around looking at the jellyfish as they floated and pulsed in all directions. If ever there was a time and a place to have a waterproof camera, it was there and then. I was very glad that I had recently gotten a GoPro.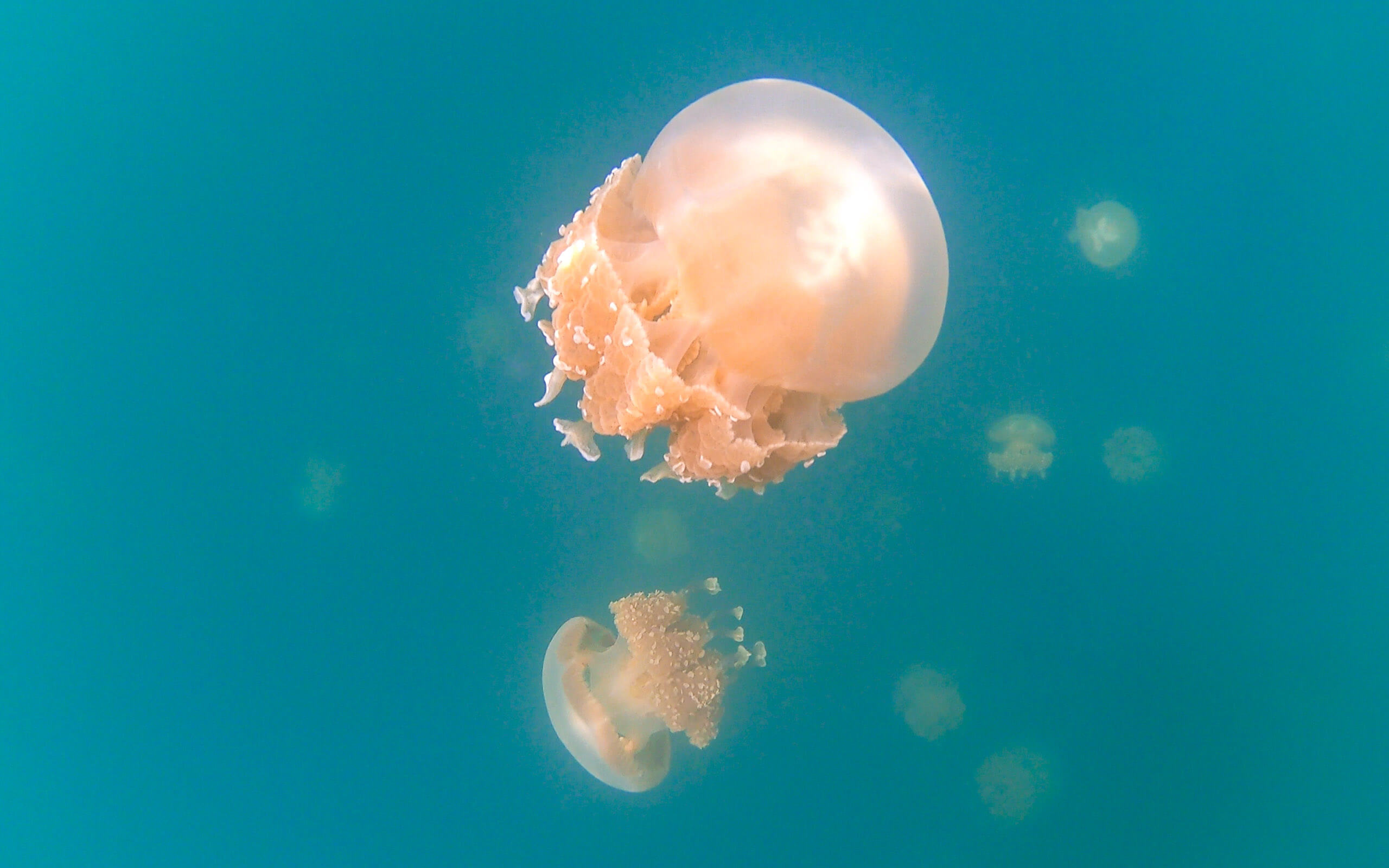 Snorkelling
Our next stop was a place that we could do some snorkelling. There was a lot of coral and lots of small fish darting around.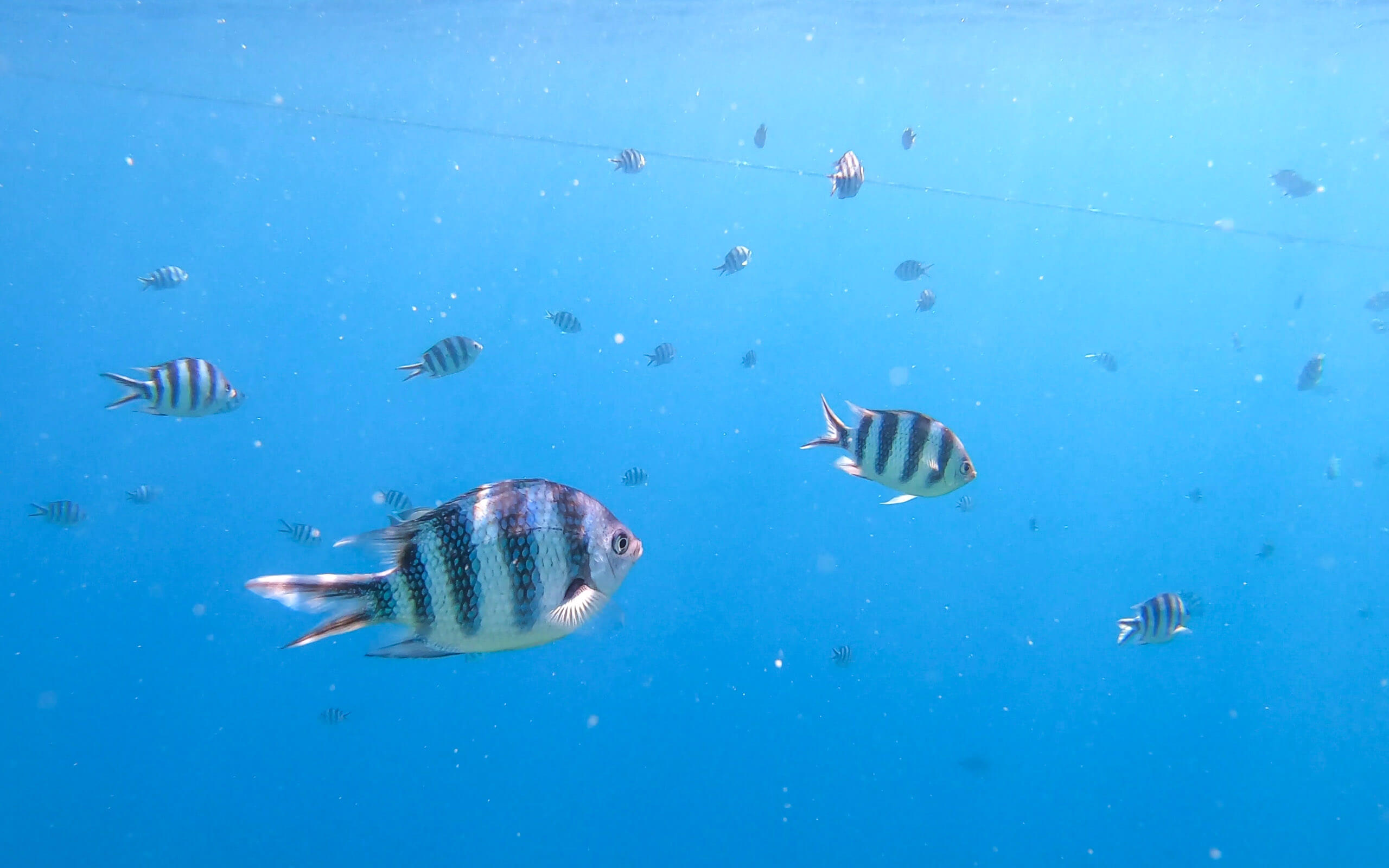 The Arch
Before returning to Koror, the boat stopped near a huge rock arch. We were there just enough time to take a few photos with the arch in the background.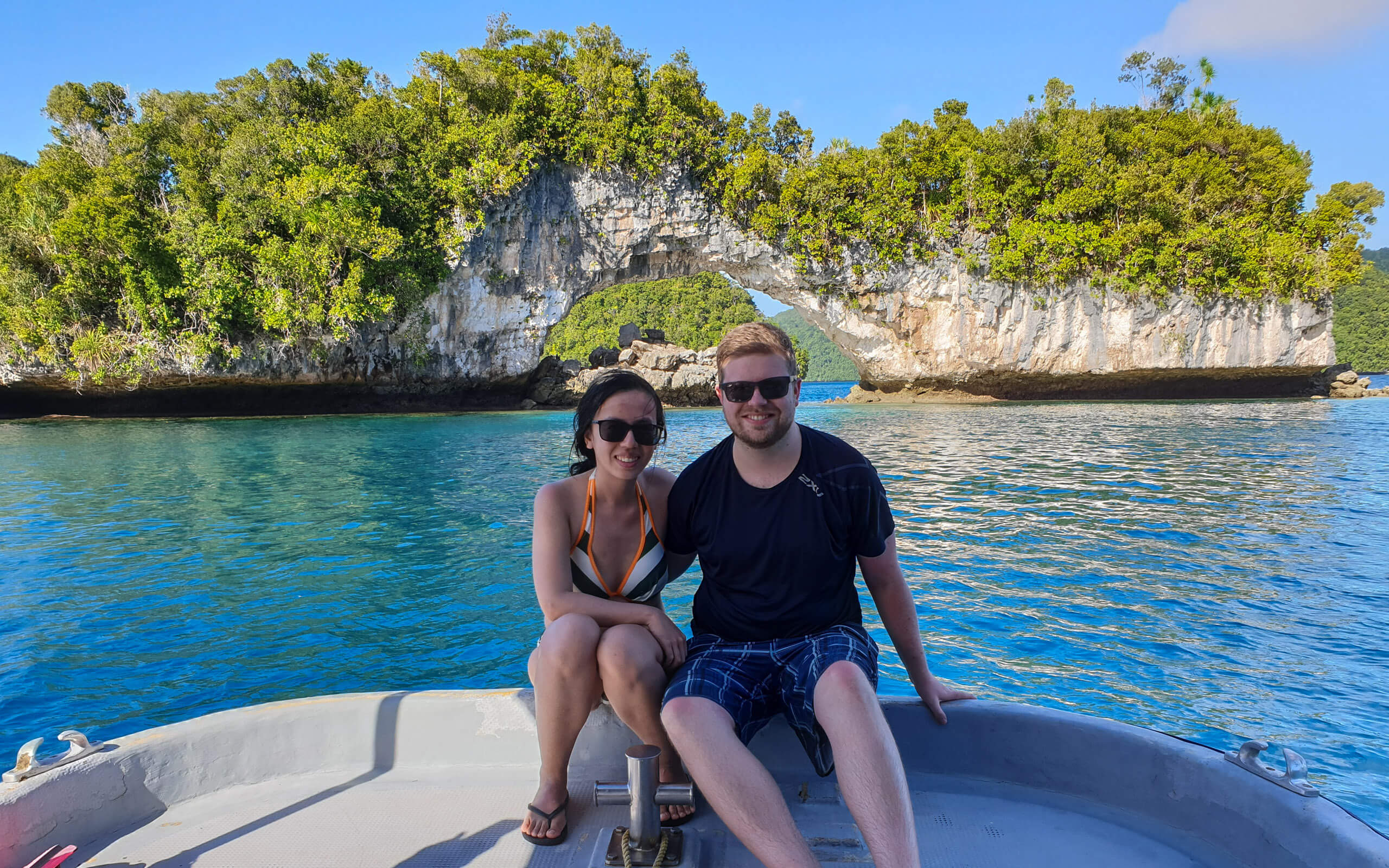 Sunset Dinner Cruise
The next day we decided that we wanted to see a little more of the Rock Islands. Besides, we had already paid for the permit, so we booked a sunset dinner cruise with RITC, another tour company. This tour cost US$85 per person. It consisted of a 3 hour cruise and included a buffet dinner and unlimited drinks.
The whole trip was quite calm and relaxing as there were only about 7 other passengers. The boat went slowly and we enjoyed a few drinks on the top deck while watching the sun drop below the horizon. Once it was dark, we went inside and enjoyed a meal that had a mix of cuisines from all over the world. While we were eating the boat was slowly returning to where we had boarded. It was a good experience and a nice way to spend our last night in Palau. We had a flight very late that night to Seoul.
Accommodation in Palau
Accommodation in Palau ranges from the very luxurious to the fairly basic. We opted for the latter and stayed in a nice if not very fancy place called DW Motel. We chose this place because many of the other options were very expensive, but also because it is located in Koror. A lot of the other hotels are further away from the town and we wanted to be within walking distance of restaurants, bars and shops.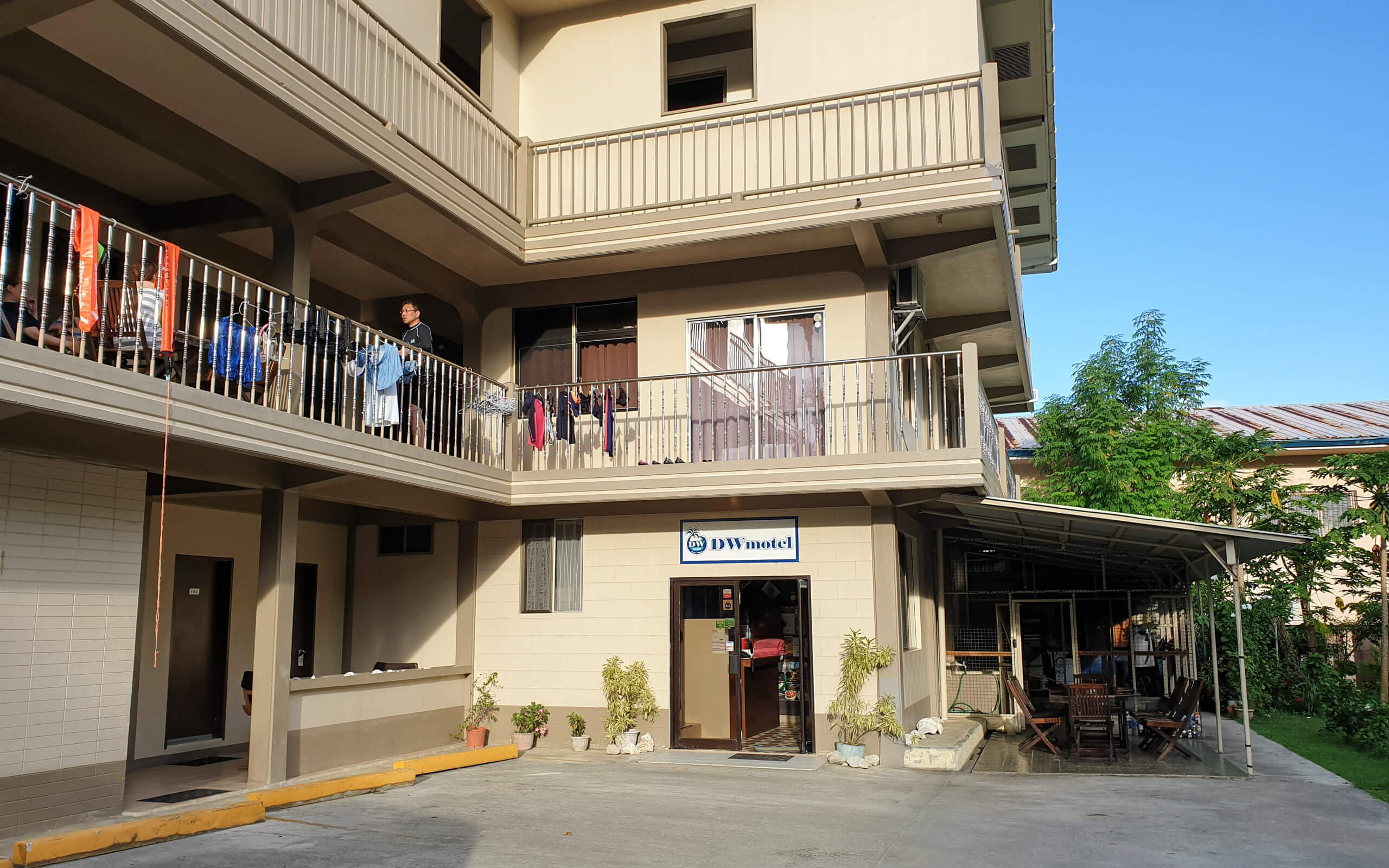 Koror
The main part of Koror is stretched along the very long Main Street. The place reminded me of many small towns I have been to in America: the kind of slightly run-down towns designed entirely for driving around. There are footpaths, but not everywhere, and they are clearly not a priority. The town itself is a far cry from the beauty of the nearby Rock Islands.
It does, however, have a reasonable amount of good restaurants. These can mostly be divided into three types: American, Japanese and Chinese. There is also the odd Korean, Thai and Indian place.
The Rock Island Cafe is a classic American-style diner that serves decent portions and passable food. It's worth checking out for that American diner experience if you have never visited the United States. Another, cheaper American style place is the burger shack beside the baseball field. The burgers and shakes were pretty good.
We really enjoyed the Japanese food at a place called Tori Tori. They did really good sashimi and tempura.
Canoe House is an American bar that does good pizza and serves the local Red Rooster beers. The Red Rooster beers were decent, especially the Wheat Beer. Red Rooster was founded by an Irish guy in 1998.
Sample costs
Flight from Yap to Palau: US$280 (A$400 / €250)
Palau Pristine Paradise Environmental Fee: US$100 (A$143 / €88)
Jellyfish Lake Permit: US$100 (A$143 / €88)
Full day tour to the Rock Islands: US$95 (A$135 / €84)
Sunset Dinner Cruise: US$85 (A$121 / €75)
Taxi to the airport: US$30 (A$43 / €26.50)
Taxi anywhere within Koror: US$5 (A$7 / €4.50)
Beer: US$4 (A$5.70 / €3.50)
Meal for 2: US$30-70 (A$43-100 / €26.50-62)