This is part 2 of my trip to Mongolia. Please click here to read part 1.
Day 3
The third day of our four days in Mongolia was mostly spent in Kharkhorin. Kharkhorin used to be known as Karakorum and it was the old capital of the Mongol Empire until Kublai Khan moved the capital to Beijing. Unfortunately, the old walled city was razed by Ming troops in the 14th century. There is, however, a brilliant museum about the history of the area and of the Mongol Empire. The museum also told of the importance of the area even before the Mongol Empire. A series of other empires had previously been centred on or near the same site. We spent quite a bit of time looking at everything in the museum. This was partly because it was fascinating and partly because it was snowing heavily and very cold outside.
A model of the entire old city showed different areas where different groups of people from around the empire lived. There was a large ger district where the Mongols lived, a Christian area with churches, a Muslim area dotted with mosques and minarets and a Chinese area with Chinese style buildings. William of Rubruck, a papal envoy to the Mongols visited Karakorum in 1254 and described it as a very cosmopolitan and religiously tolerant place.¹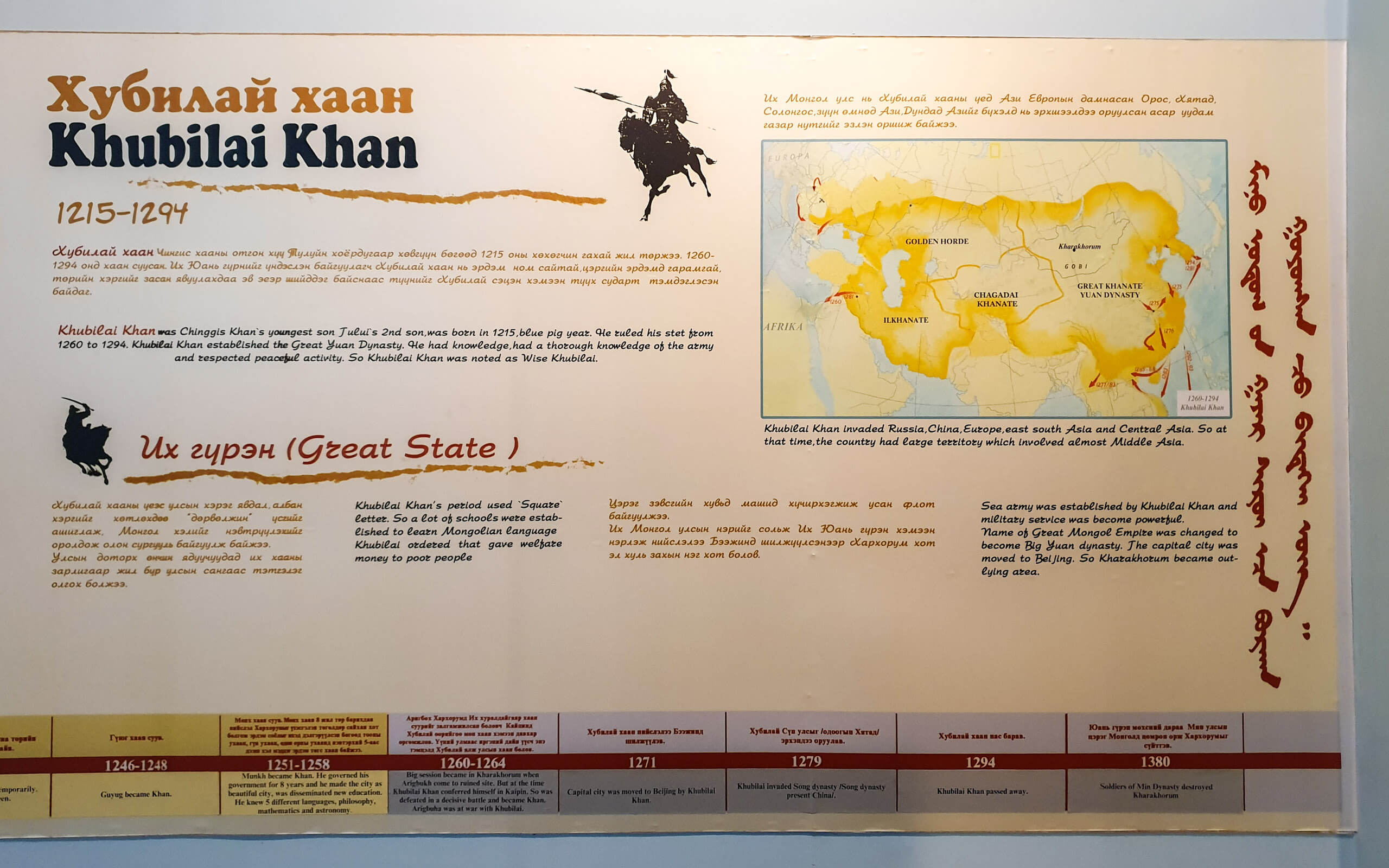 After our visit to the museum we went to the Tibetan Buddhist Erdene Zuu Monastery, which dates back to the sixteenth century and was supposedly built using stones from the ruins of Karakorum. The monastery used to be a lot bigger but much of it was destroyed under Communist rule. The temples are filled with statues and intricate Tibetan Buddhist paintings on cloth called thangkas. When we were at the temple it was still very cold and the snow was getting heavy, so we dashed from one temple to another and stayed inside as much as possible.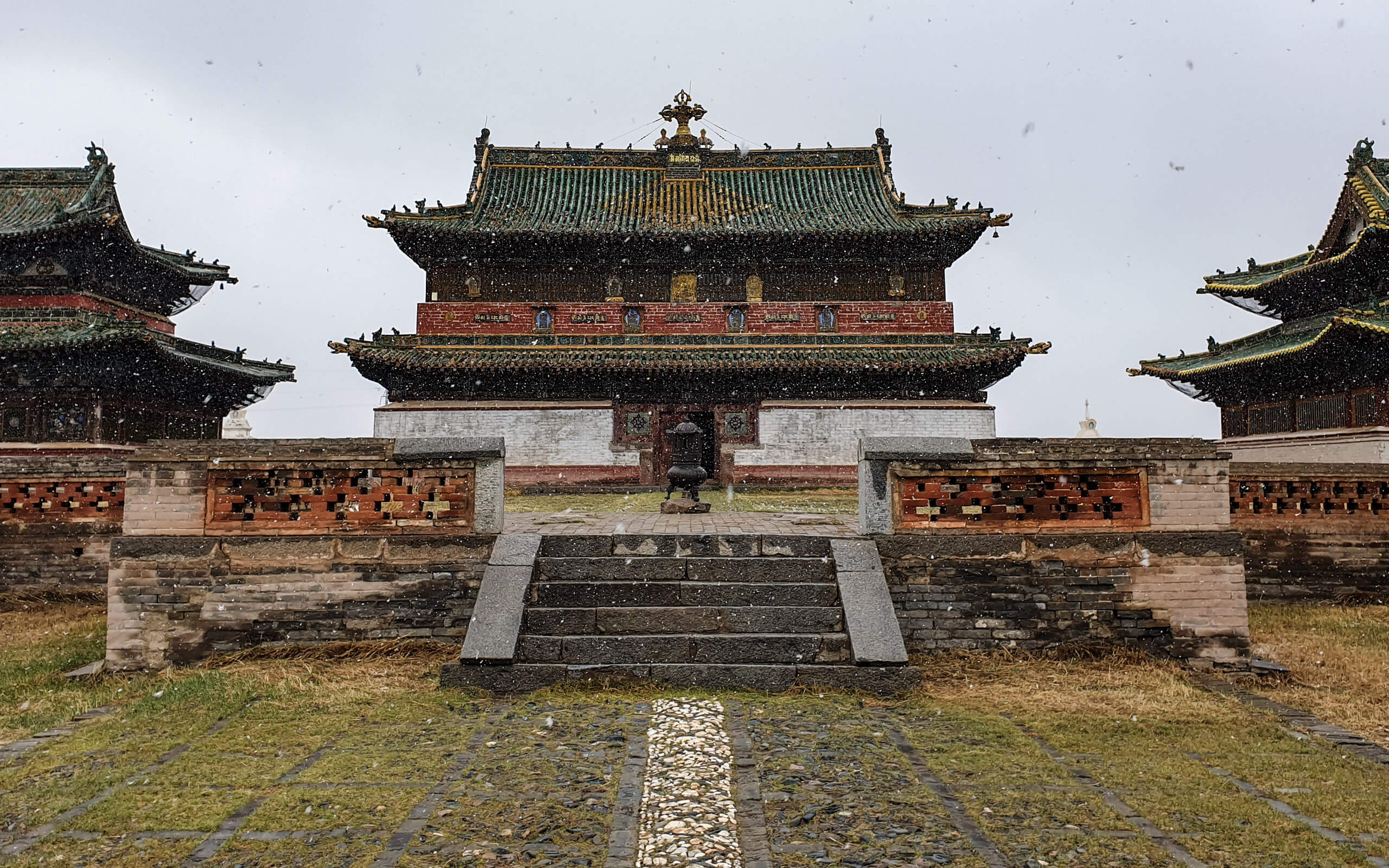 We also went up to a hill overlooking the town. There is a monument there that has three different maps of different empires that were centred on the area. We then had some lunch in one of the local restaurants before setting off on the long drive back to Ulaanbaatar.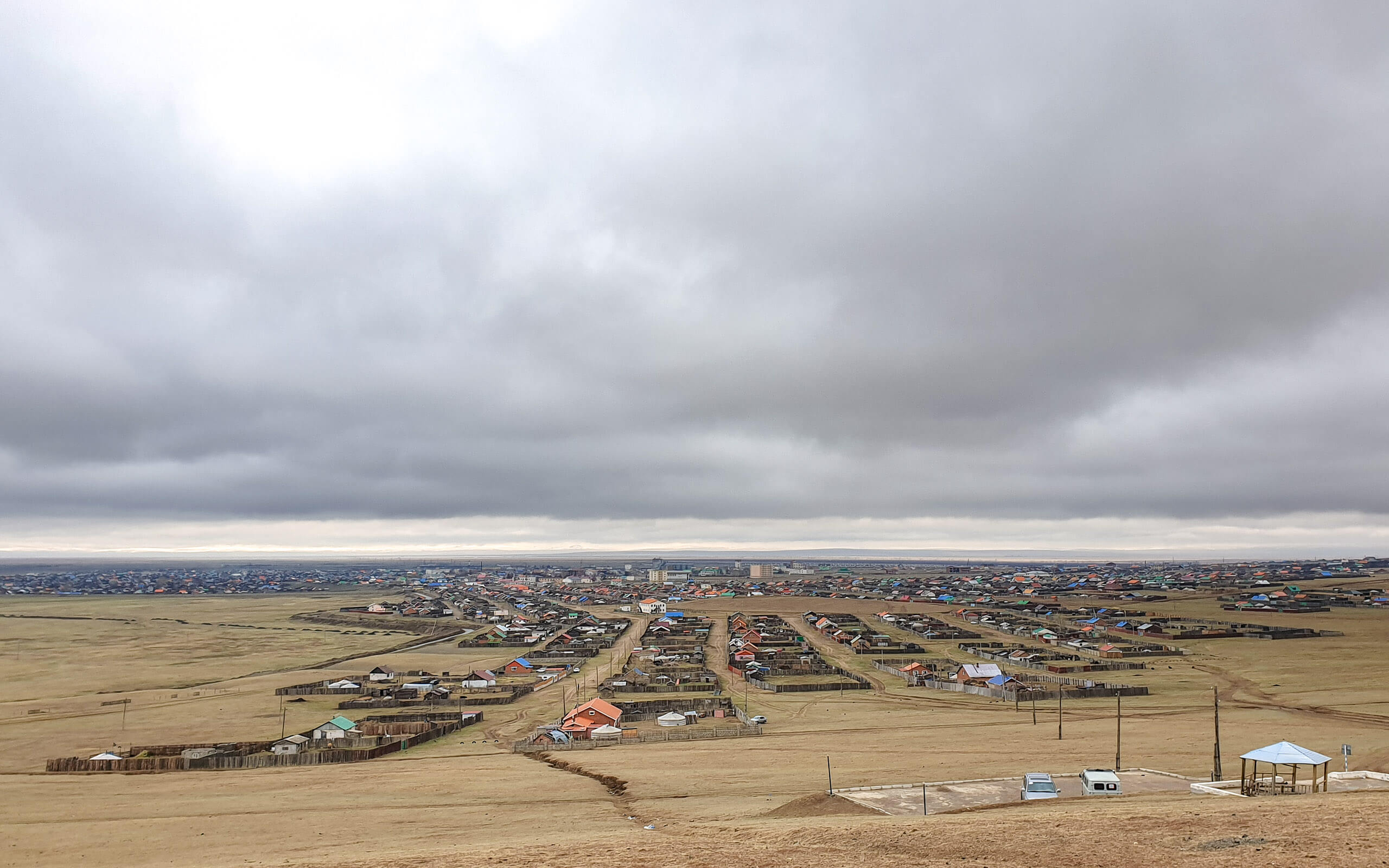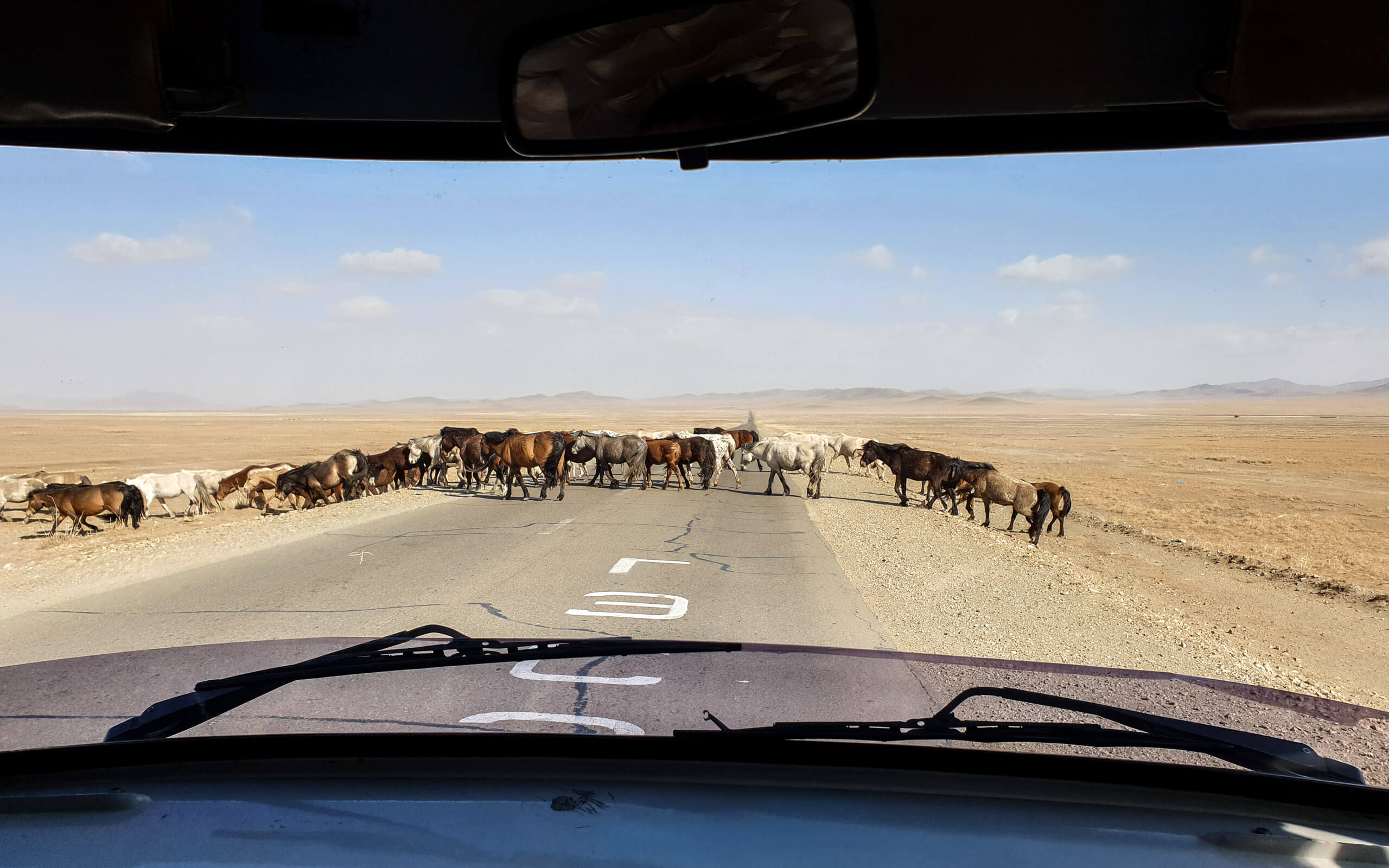 When we got back to Ulaanbaatar, we basically just had enough time to explore a little bit of the city and find somewhere to have dinner. We were surprised to find that nowhere was selling any alcohol. We even went into one of the city's Irish bars. It was very quiet and the only people there were drinking milkshakes. We found out later that it was because the sale of alcohol had been banned for three days while some major disaster training drills were going on. It is also worth noting that there are regular alcohol bans including on the first day of each month.
For dinner we stumbled across a great Indian restaurant called Delhi Darbar. The food was tasty and it was nice to have something a little different after our few days of purely Mongolian food. The restaurant is located on a square that is unofficially called Beatles Square. It has a monument to the band that is apparently a tribute to the locals who used to gather in the area and sing Beatles songs they had learned from records smuggled into the country.²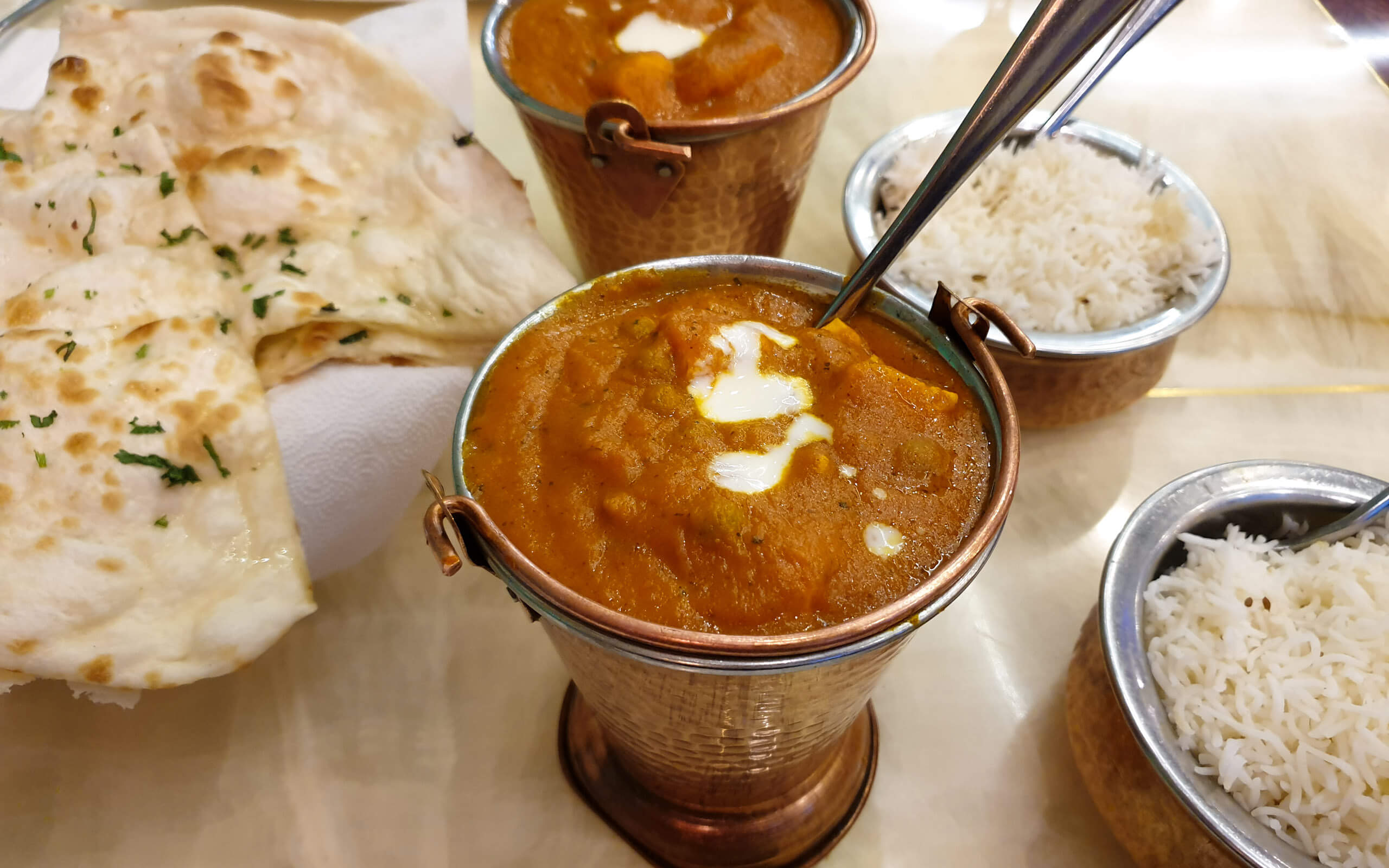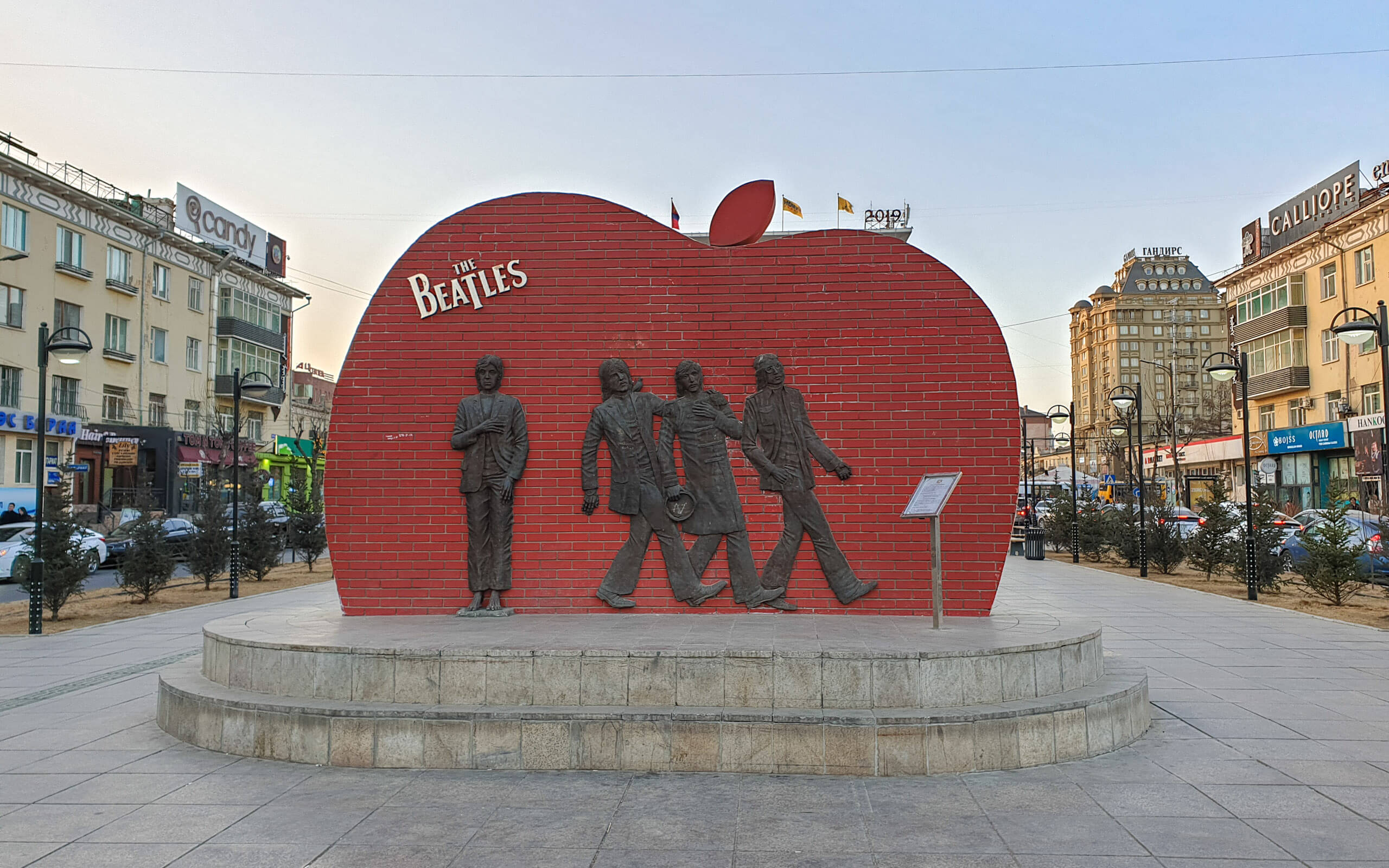 Our last day in Mongolia was a short one because we needed to leave for the airport at about two in the afternoon. We used the morning to explore the city. First we went to the Dinosaur Museum, which is quite small but very interesting. I had thought that this museum would be worth checking out because I knew that lots of dinosaur fossils had been found in the Gobi Desert. 
We also visited the National Museum and the huge main square. After that we only had time to send a few postcards from the main post office and get some food before going back to the hostel and getting a taxi to the airport.
Our flight to Beijing went over part of the Gobi Desert, which was cool to see from the air. Even though we didn't get there, we definitely felt we had made the most of our short time in Mongolia.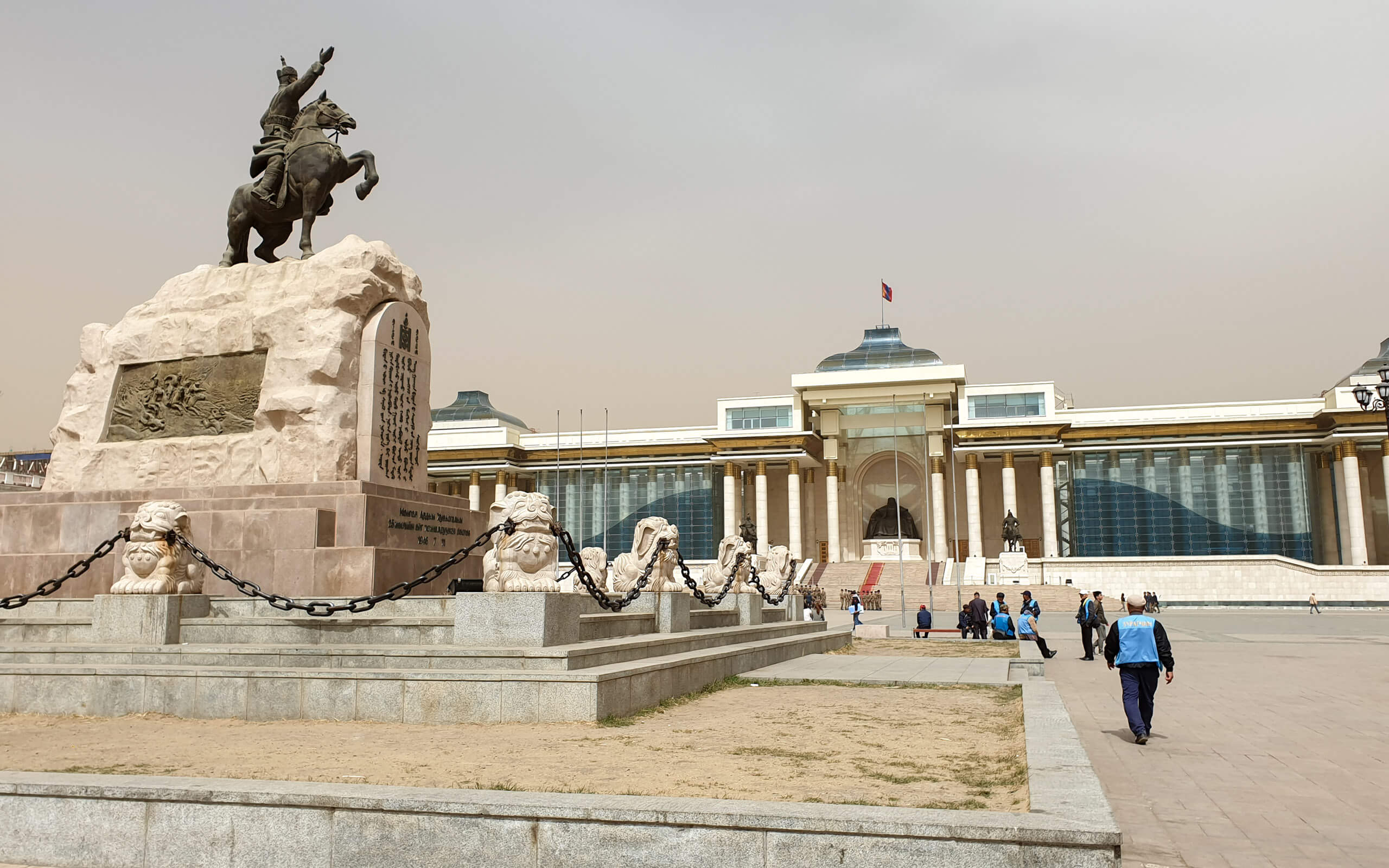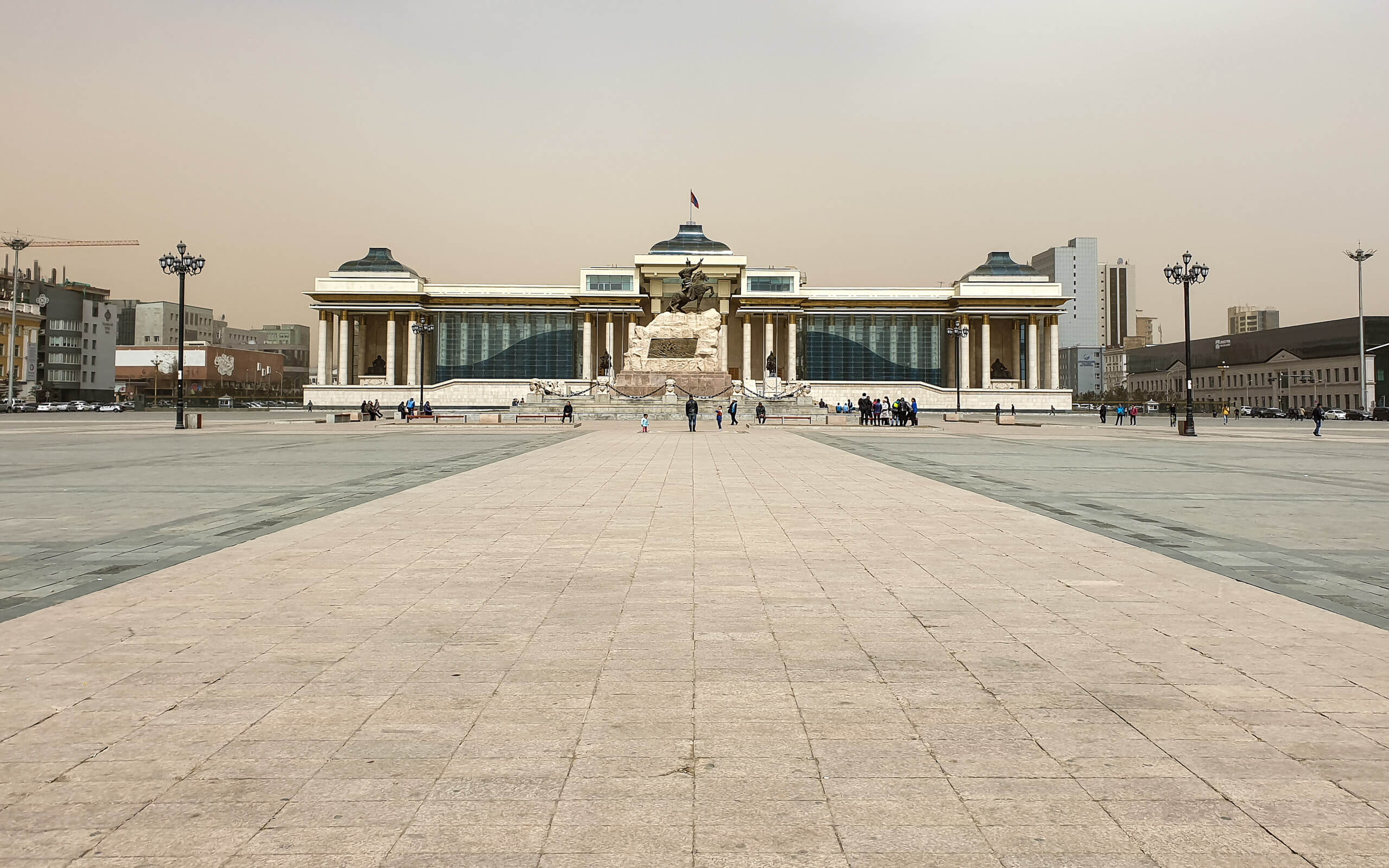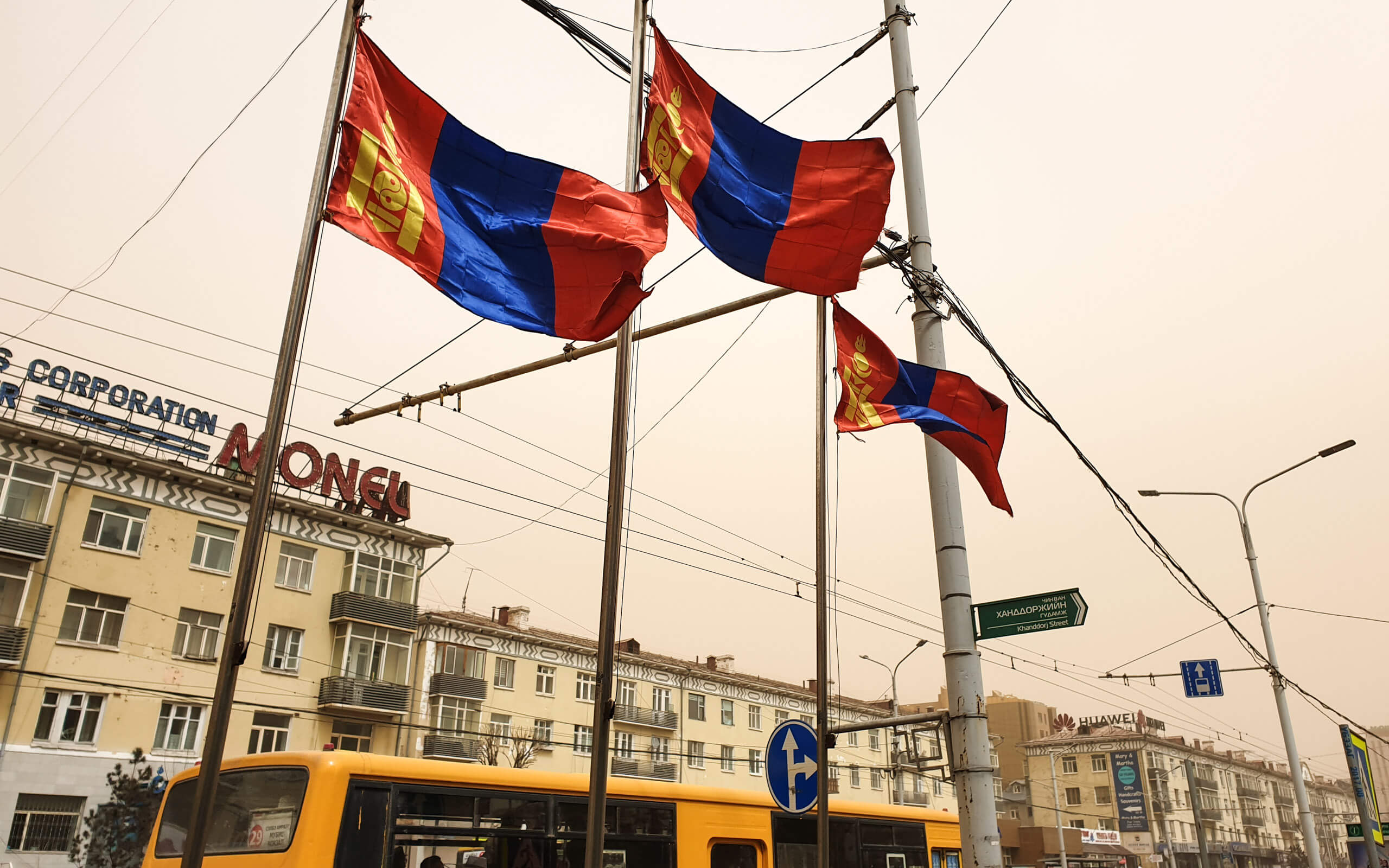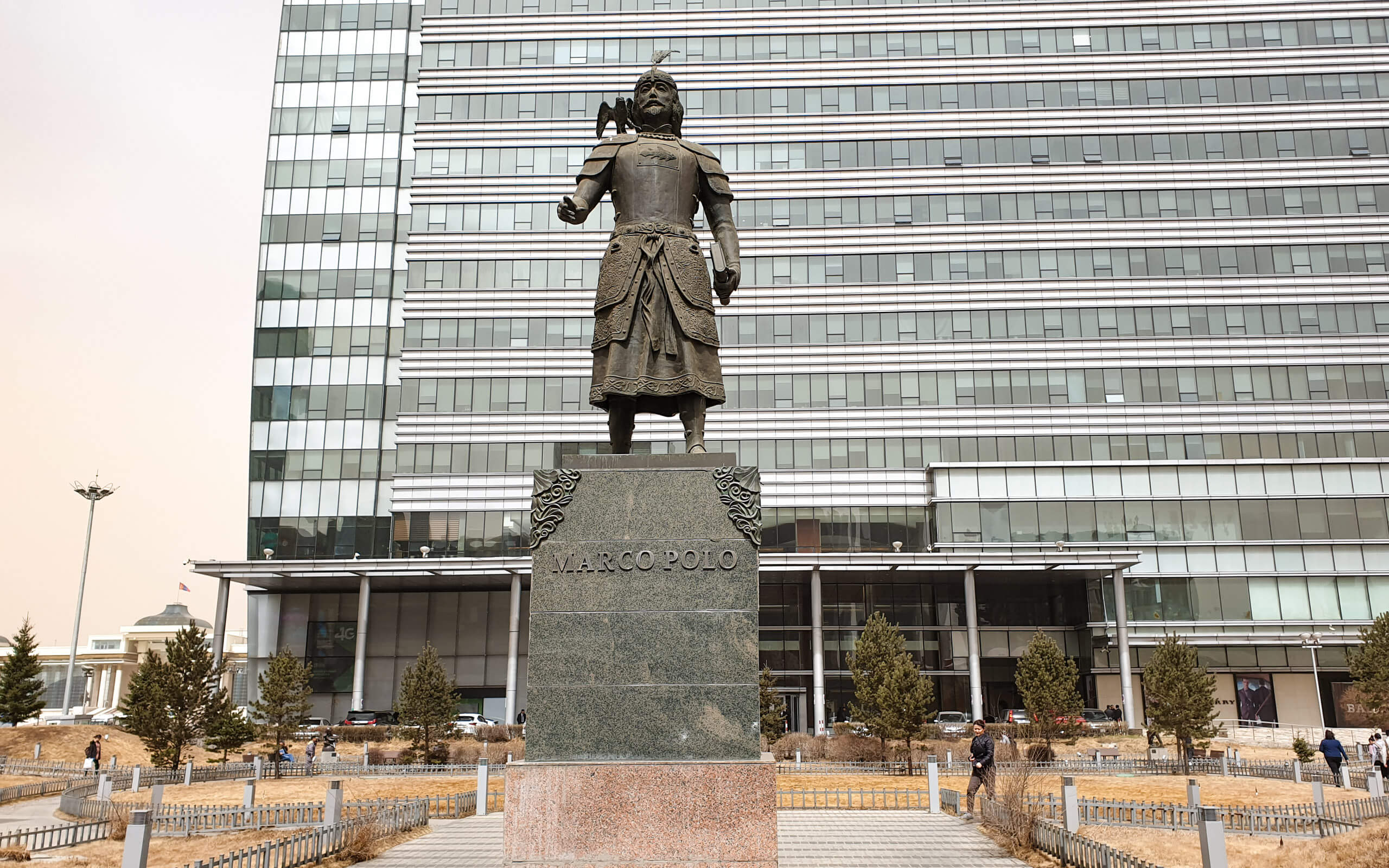 Costs
2 nights at Danista Nomads Hostel (including breakfast): US$20.70 per night (A$30 / €19)
3 day tour (including meals, entrance fees and accomodation): US$285 per person (A$410 / €255)
Dinosaur museum entrance fee: 3000 Tugrik (US$1.15 / A$1.65 / €1)
Dinosaur museum photography fee: 5000 Tugrik (US$1.90 / A$2.75 / €1.70)
National Museum entrance fee: 10000 Tugrik (US$3.80 / A$5.45 / €3.40)
Karakorum Museum photography fee: 10000 Tugrik (US$3.80 / A$5.45 / €3.40)
Dinner for 2 at Delhi Darbar: 42000 Tugrik (US$16 / A$23 / €14)
Lunch for 2 in Ulaanbaatar: 27000 Tugrik – (US$10 / A$15 / €9)
Prices correct as of June 2019. 
---
1. William of Rubruck's account of the Mongols
https://depts.washington.edu/silkroad/texts/rubruck.html
2. Beatles Monument, Atlas Obscura
https://www.atlasobscura.com/places/beatles-monument-mongolia