Snow-capped peaks, picturesque valleys, ancient temples, magnificent fortresses, strong traditions, delicious food and a history that mixes with — and gets lost in — myth, magic and mysticism; there are many reasons why Bhutan is an intriguing country to visit. Bhutan is a relatively small mountainous kingdom wedged between the vast behemoths of India and China. With a population of only about 800,000 people, it is also somewhat unknown in much of the world. The most frequent question I was asked when planning my trip there was "Where?" from people who had never heard of it.
A visit to this Buddhist kingdom in the eastern Himalayas requires more planning than most. The country has a strict set of guidelines for visits. Here's what you'll need to know to plan a trip.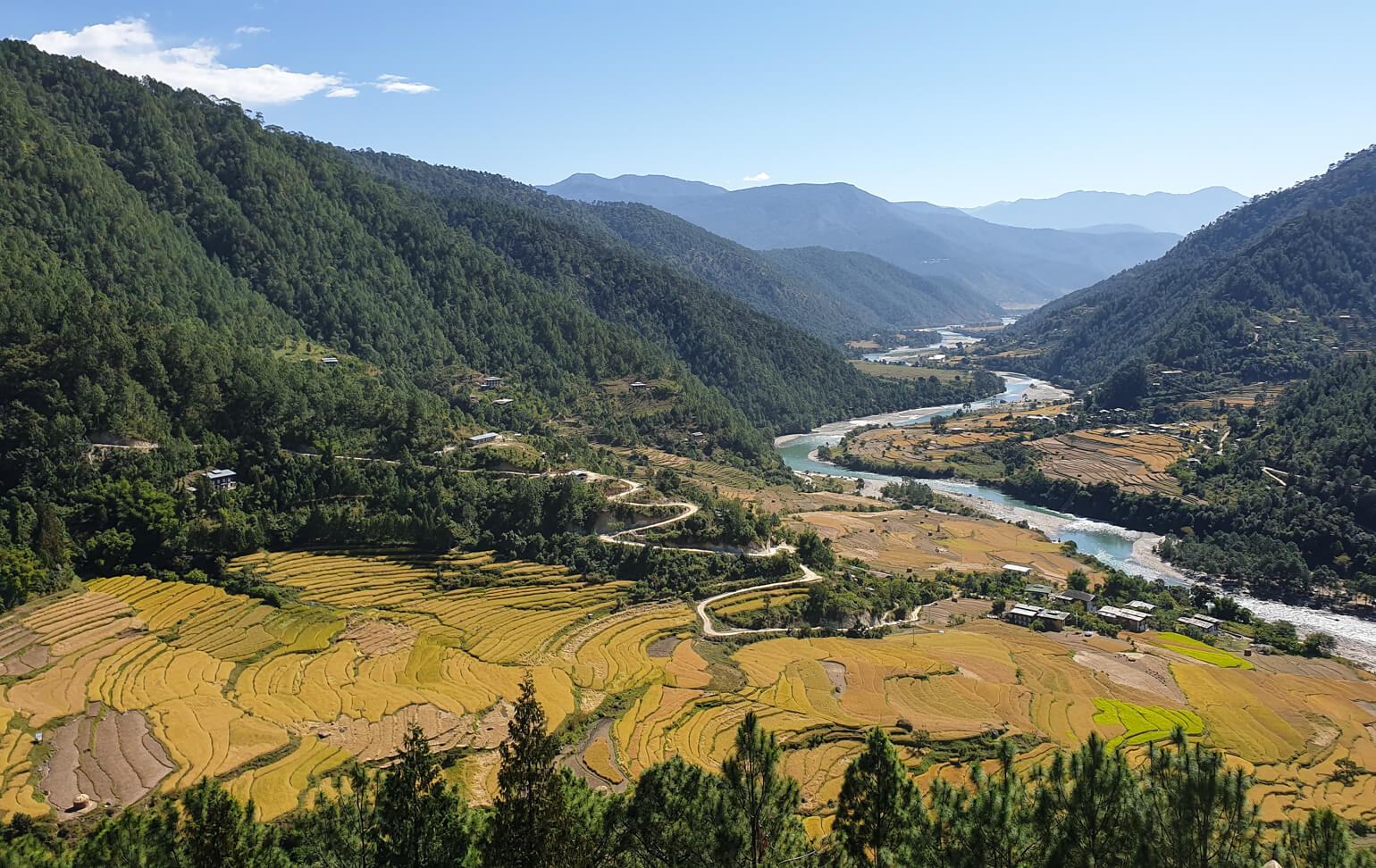 A tour is compulsory
Bhutanese government policy is very concerned with preserving the traditions of the country. It is partly because of this that it has some unique rules regarding foreign visitors. You must be part of a tour run by a government-approved tour agency. You must also pay a minimum daily charge for the tours. Both of these rules apply to everyone except citizens of India, Bangladesh and the Maldives.
The good news regarding tour companies is that there is no shortage of them. The Tourism Council of Bhutan list nearly 500. The bigger problem is deciding which one to go with. After contacting a few different companies, we decided to go with Raven Tours and Treks, who were absolutely brilliant.
The minimum fee for your tour will be US$250 per night spent in Bhutan from March to May and from September to November. It is slightly lower at US$200 from June to August and December to February. There is also a daily surcharge of US$40 if you are by yourself or US$30 for a group of 2. Yes, it's expensive, and yes, it's worth it!
Children aged 5 and under don't have to pay the surcharge and children between 6 and 12 need to pay 50% of the full amount. Full time students under 25 can also get a 25% discount.
Although the prices seem high, especially compared to neighbouring countries, the daily fee does include a lot. All meals, accomodation, a driver and a guide are included.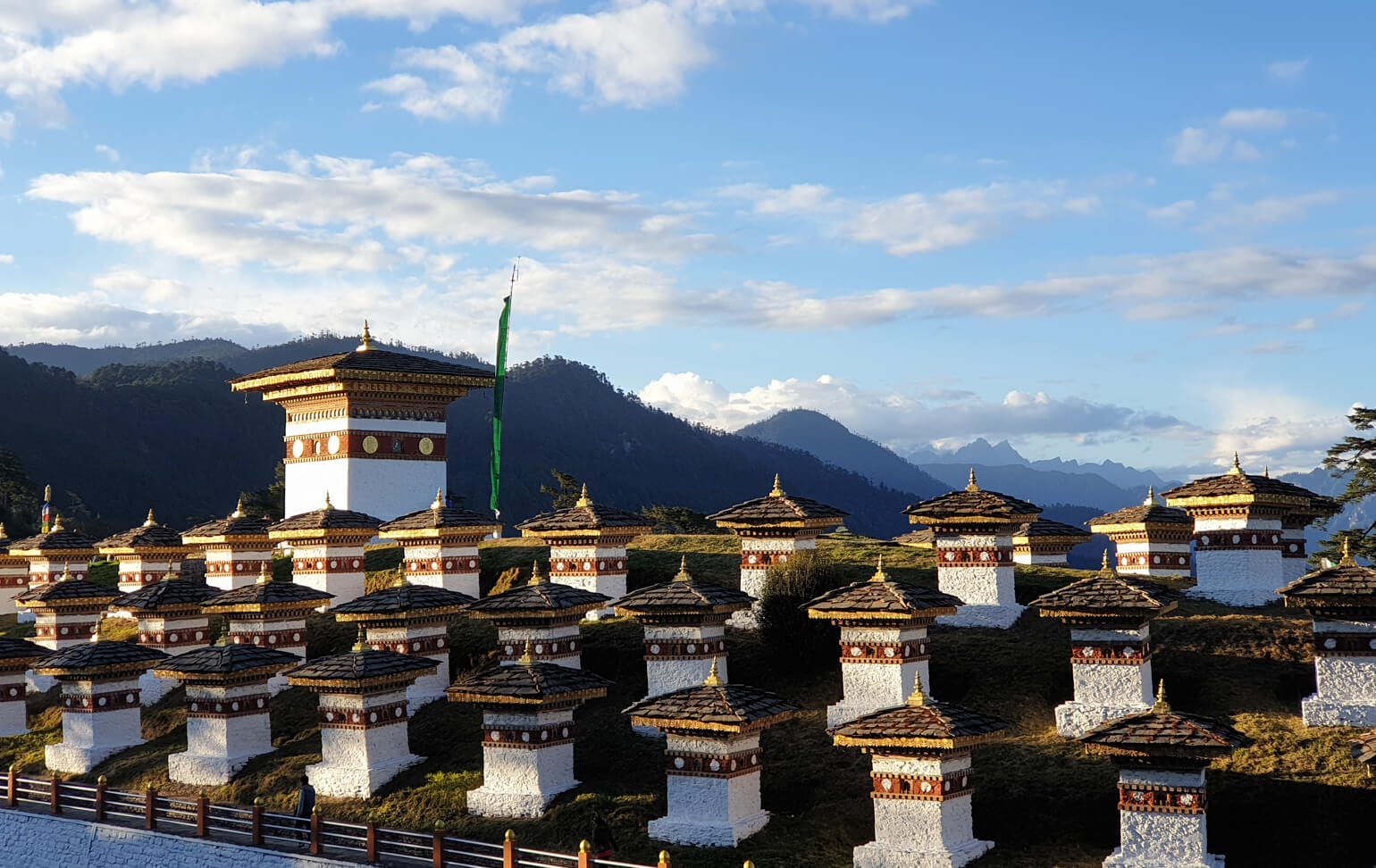 Getting a visa
Everyone except citizens of India, Bangladesh and the Maldives must obtain a visa before entering Bhutan. This is actually quite easy to get though. Your tour company will organise your visa and email it to you before your trip. Ours charged us a US$40 per person visa fee and only required a scan of the details page of each of our passports.
Booking flights
Only two airlines, Drukair and Bhutan Airlines, fly into and out of Bhutan. Drukair is the national airline. There is only one international airport in the country. It is located in Paro. There are also three domestic airports: one in central Bhutan, one in eastern Bhutan and one in the south, near the border with India. The vast majority of visitors to Bhutan do not go to these other areas of Bhutan. They generally fly into and out of Paro and stay in the west of the country. Your tour agency should be able to help with booking flights, but it is important to be aware of the possible routes into Bhutan, as you will probably need to book additional flights to and from one of these places.
Drukair (aka Royal Bhutan Airlines) currently have direct or indirect routes to Paro from the following places:
Singapore (indirect via Guwahati, India) — 2 flights each way per week
Bangkok, Thailand (direct or indirect via Kolkata, Bhodgaya or Bagdogra, India) — daily flights
Dhaka, Bangladesh (direct) — 3 flights each way per week
Kathmandu, Nepal (direct) — daily flights (except Wednesday)
New Delhi, India (direct and indirect via Kathmandu, Nepal)
Kolkata, India (direct) — between 4 and 6 days a week, depending on season
Bhodgaya, India (direct) — 5 flights each way per week
Bagdogra, India (direct) — 2-4 flights each way per week, depending on season
Guwahati, India (direct) — 4 flights each way per week
The above is a rough guide and flight frequency and routes may vary throughout the year. Visit the Drukair Singapore website for more detailed and up-to-date information.
Bhutan Airlines fly some of the same routes as Drukair:
Bangkok, Thailand (indirect via Kolkata or Bhodgaya, India) — daily flights
Kathmandu, Nepal (direct) — 3 flights each way per week
New Delhi, India (indirect via Kathmandu, Nepal) — 3 flights each way per week
Kolkata, India (direct) —5 flights each way per week
Bhodgaya, India (direct) — 2 flights each way per week
According to their website, Bhutan Airlines also intend to open new routes to Dhaka (Bangladesh), Yangon (Myanmar) and Singapore.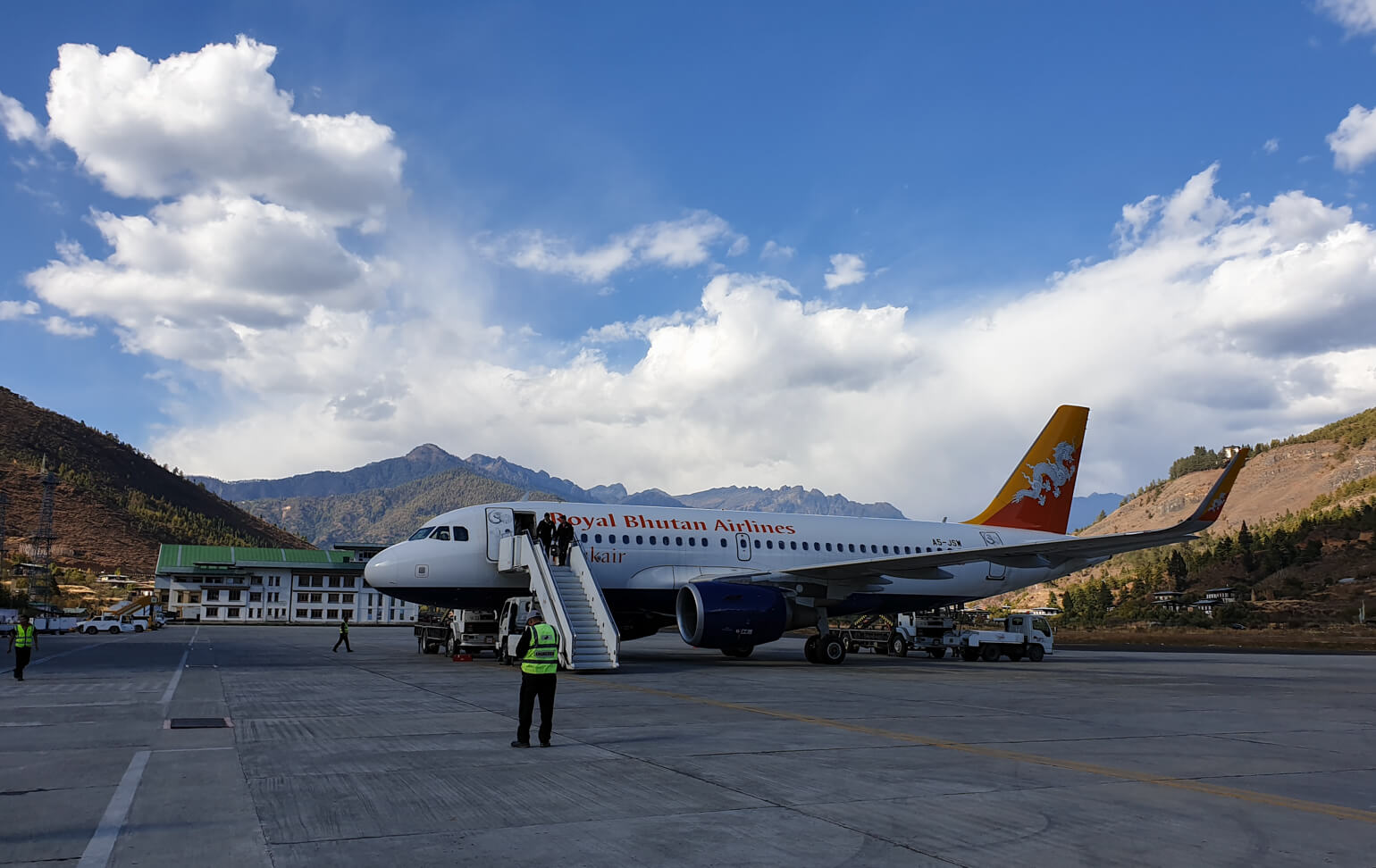 What to bring
Warm clothes
Even in the warmer times of the year it can get cold, because of the different altitudes and valleys that seem to have their own microclimates.
Clothes that cover your arms and legs
This is a requirement for visiting the dzongs (traditional fortresses) in Bhutan.
Sunscreen and a hat
In the high altitudes of Bhutan, the sun's rays can be very intense.
A rain jacket or umbrella
The weather can change very quickly in Bhutan.
A good camera
Bhutan is a stunningly beautiful and unique country.
A travel adaptor, if needed
Bhutan uses Type D (Indian style), Type F (European style) and Type G (British style) sockets.
Money for tips
You will want to tip your driver and guide at the end of your trip. US$ are probably the best.
Comfortable shoes for walking/hiking
There are lots of amazing walks and hikes of all lengths in Bhutan.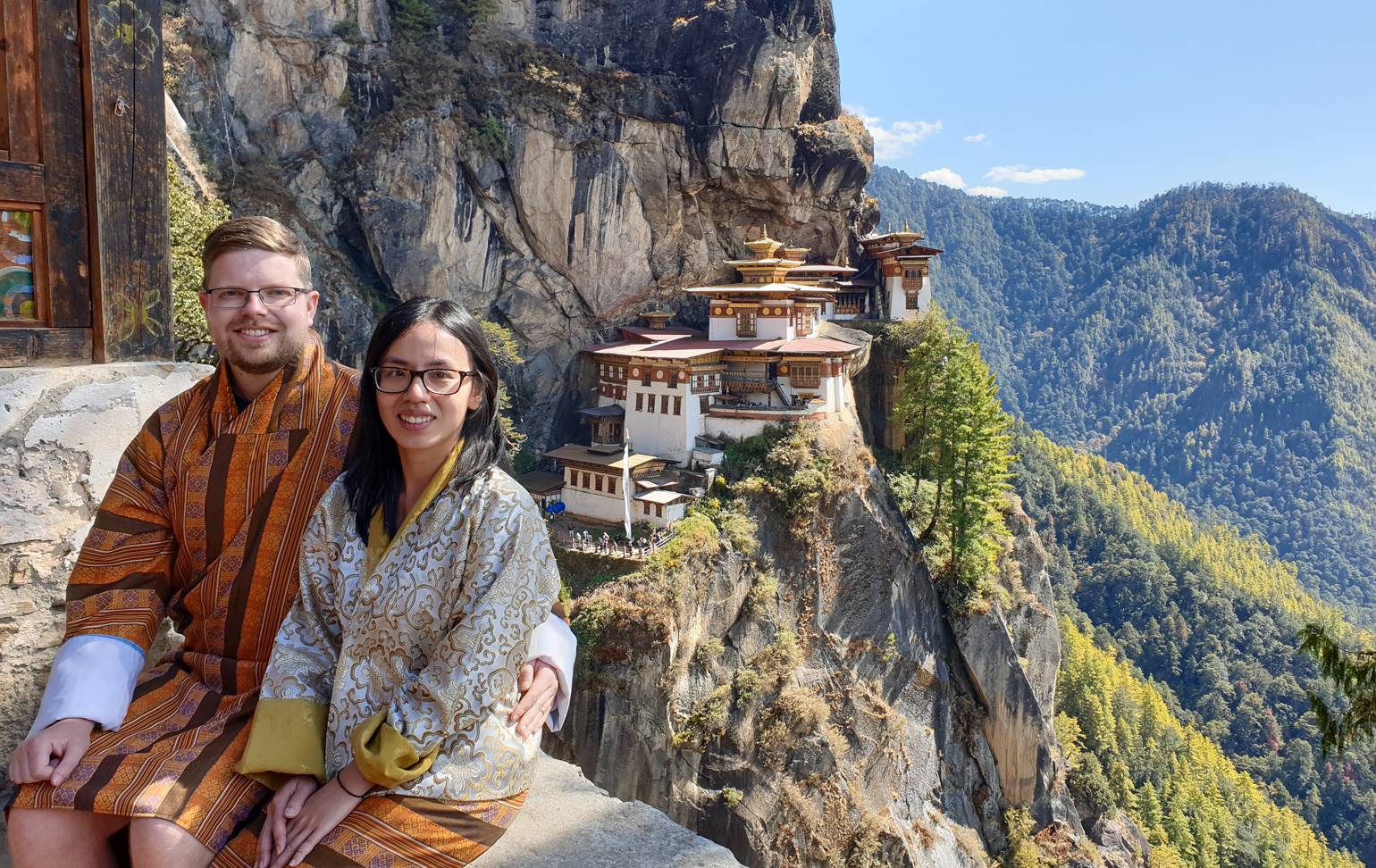 Paro airport
Paro airport is best known for being one the most dangerous and challenging airports for landings and take-offs. Only a small number of pilots have undergone the special training required for it. The runway is located in a narrow valley with high mountains on either side. All landings and take-offs must be done during the day and in accordance with visual flight rules, meaning the pilot must be able to clearly see where the plane is going.¹ This can mean that flights get delayed or cancelled at short notice because of the weather. It is probably best to allow an extra day or two if you need to get a connecting flight with a different airline.
Arriving in Paro
Once you land in Paro, you will be greeted by one of the most beautiful airports I have ever been to. The airport is built and decorated in the traditional Bhutanese style. Walking into the terminal you will see a bureau de change, where you should change a small amount of money into the local currency, the ngultrum. This can be used for purchases of drinks with meals, snacks or souvenirs. Most things will already be included in your tour price, but it is a good idea to have some of the local currency anyway. If you still have some money left when you are leaving, the duty free shop in the airport can change money, despite having no sign saying so.
Just past the bureau de change you will go through passport control, where the friendly staff should already have your visa details in their system. It doesn't hurt to bring a copy of your visa anyway though. Outside the quiet airport, lots of tour guides will be waiting, dressed in the traditional dress of Bhutan. Tour guides are required to wear their traditional clothing at all times.
Seeing Everest and other Himalayan peaks
If you are flying between Kathmandu and Paro and the weather is clear, it is possible to see Mount Everest from the plane. Make sure to arrive extra early at the airport and request a seat on the left side of the plane if flying from Kathmandu, or the right side if leaving Paro. There are of course lots of other Himalayan peaks along this route, so the whole journey provides some stunning views.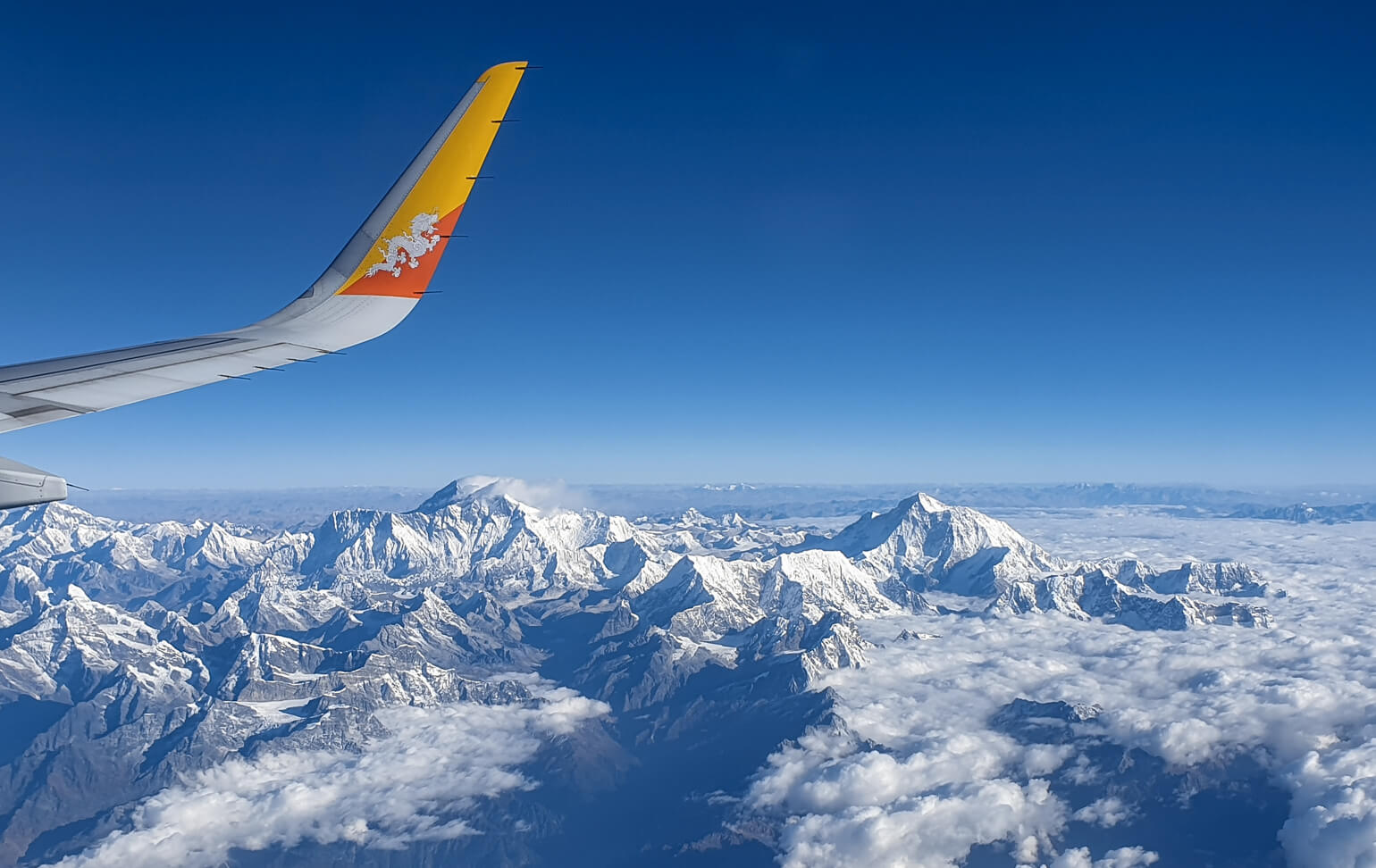 ---
Drukair Pilots' Routine Life Is The Extraordinary, Aviation Week Network, published 21 Apr 2015, accessed 2 Dec 2018,
aviationweek.com/commercial-aviation/drukair-pilots-routine-life-extraordinary