"Not many tourists came to Brunei for months after it was announced," I was told, "but it is not as extreme as some other countries." It was Sharia law, introduced in 2014 to the small Sultanate. This was despite the fact that about a third of the population are not muslim. From the outside world, Brunei sounds like it could be located on the Arabian peninsula rather than the tropical island of Borneo. My short Brunei stopover made me understand that the paradoxical nature of the country doesn't stop there. The small capital city, Bandar Seri Begawan, is very clean, orderly and ultra-modern, but the system of government is from another time.
The sultan
Brunei is ruled by Sultan Hassanal Bolkiah as a medieval-style absolute monarchy. One of the world's richest monarchs and, at the time of writing, the second-longest reigning, the sultan lives in a palace that contains 1788 rooms including 257 bathrooms.¹ Despite introducing Sharia law, the sultan is famous (at least outside of Brunei) for his playboy lifestyle. According to the author and religious scholar Reza Aslan, "the Sultan himself is in violation of every single rule of Sharia law you could possibly imagine."²
The Sultan's official name and title is "Kebawah Duli Yang Maha Mulia Paduka Seri Baginda Sultan Haji Hassanal Bolkiah Mu'izzaddin Waddaulah ibni Al-Marhum Sultan Haji Omar 'Ali Saifuddien Sa'adul Khairi Waddien, Sultan dan Yang Di-Pertuan Negara Brunei Darussalam."¹
The source of the Sultan's immense wealth, oil, also makes Brunei one of the richest countries in the region. There is no open opposition to the Sultan's rule, partly because the population receive free education and healthcare and many people are employed by the state, and partly because all opposition is strictly banned. The free education even extends to foreign university courses when the courses are not available in Brunei.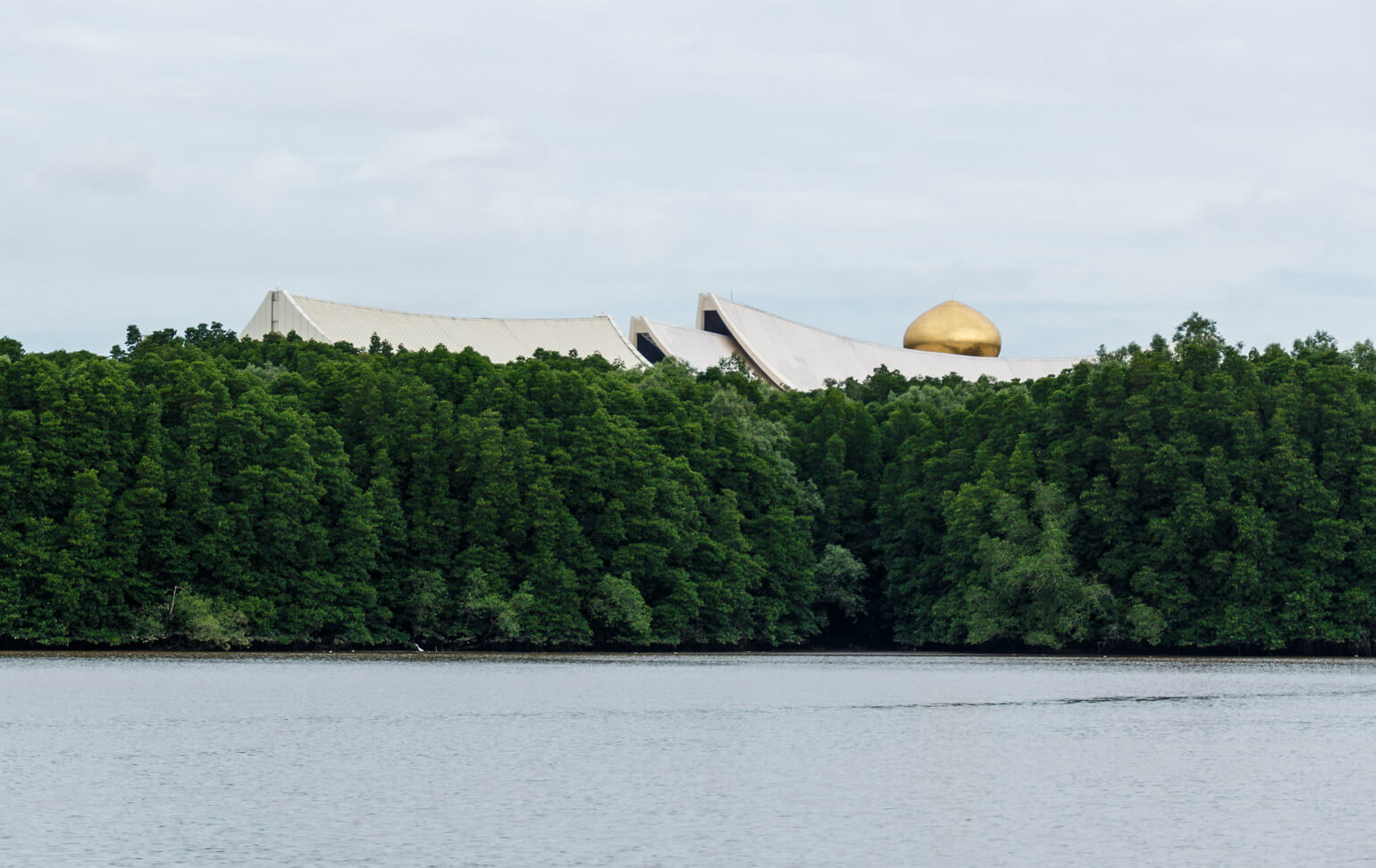 A Brunei stopover
Brunei is perfect for a short stopover. Downtown Bandar Seri Begawan is quite compact and easily walkable, with a number of interesting things to see.The majority of the population speak English and in general people are very friendly and welcoming. Even walking around the city strangers smiled and said hello to me quite few times.
The very pleasant and sleek Royal Brunei Airlines is based here and covers most of southeast Asia as well as London, Dubai, Melbourne, Hong Kong and Shanghai. Air Asia also have cheaper connections to and from Kuala Lumpur.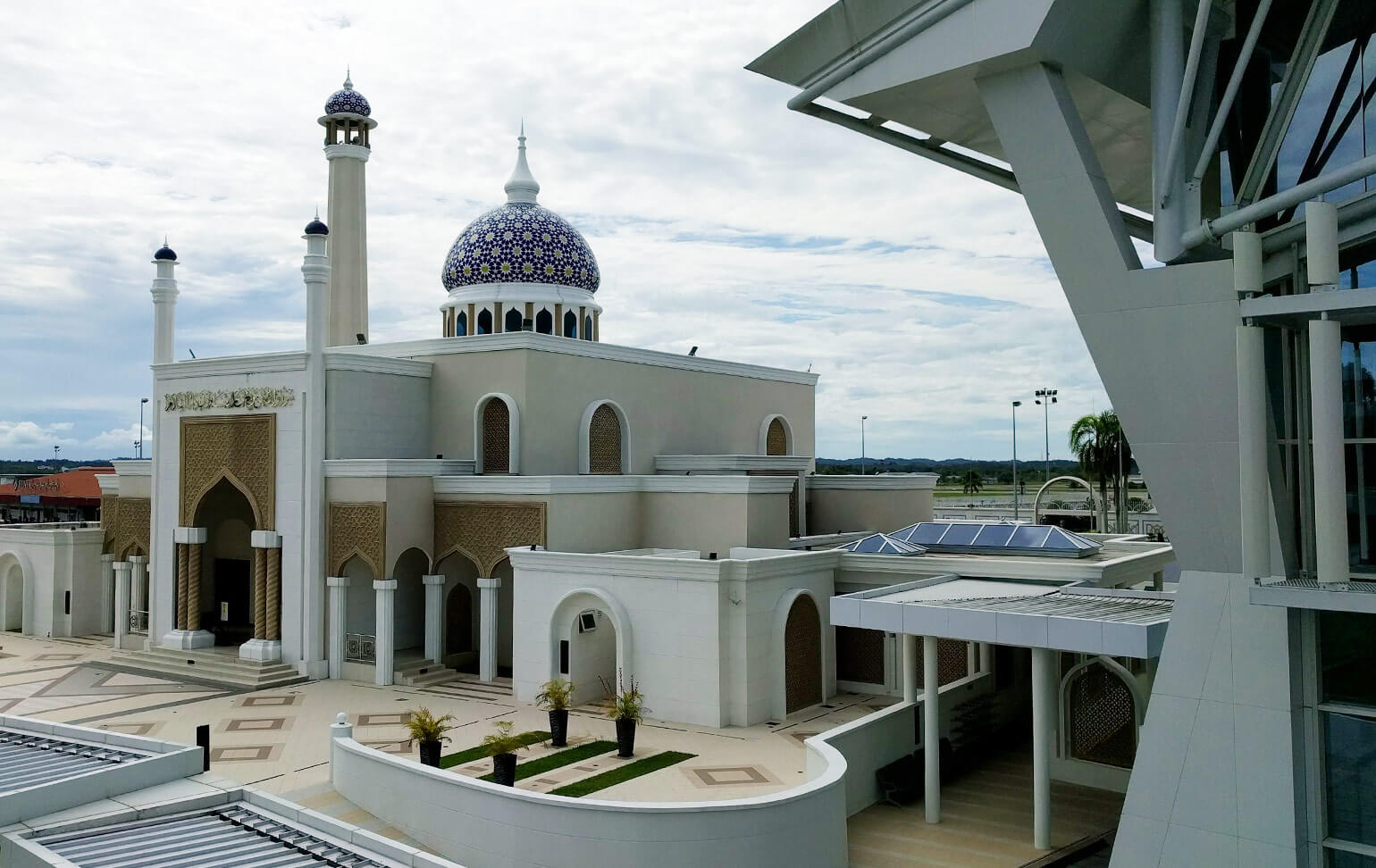 Visa requirements
EU, EFTA, ASEAN, USA, Canada, New Zealand, Japan and some others do not need a visa to visit Brunei. Australians can obtain a 72-hour transit visa for B$5 or a 30-day visa for B$20. For the transit visa an onward flight ticket to a third country is required. Israelis cannot enter Brunei.³
Currency
The currency of Brunei is the Brunei dollar (ringgit Brunei in Malay). It is usually written using the dollar symbol or 'B$' to distinguish it from other dollars. The Brunei dollar and Singapore dollar are pegged at 1:1 and can be used in both places because of a Currency Interchangeability Agreement between the two small countries.
My 24 hours in BSB
I arrived in Brunei on a Thursday evening and left on Friday evening. I stayed at the clean but slightly dated Jubilee Hotel in central Bandar Seri Begawan mainly because of the location. Accommodation is not particularly cheap in Brunei, and a night here cost me about A$60, but it was in the perfect location to explore BSB on foot and the price included airport transfers. This was important because with such a short visit I wanted to minimise the time I spent getting to and from the airport. Taxis from the airport apparently otherwise cost an outrageous B$25 for the 20 minute journey, but there are also buses available for B$2.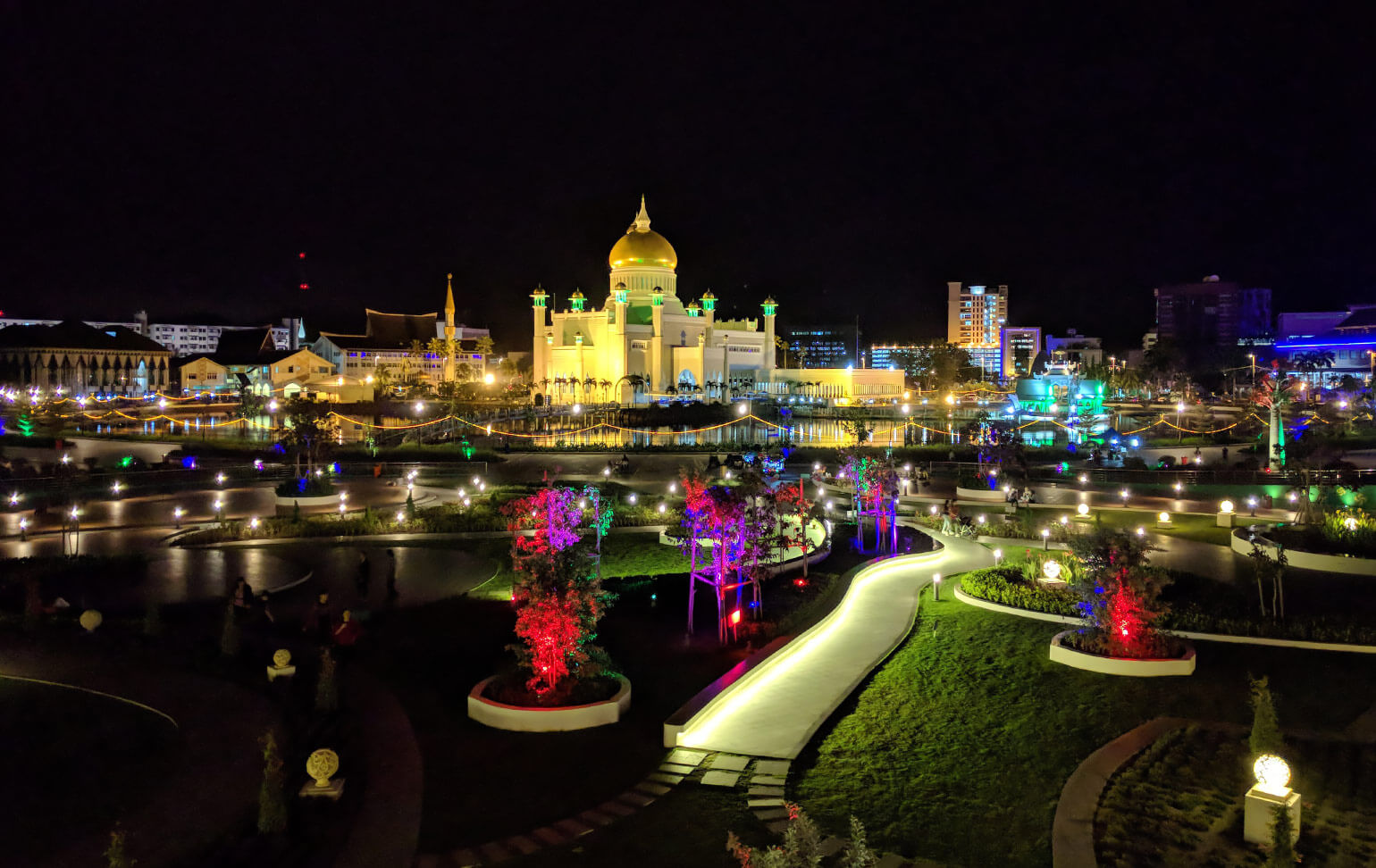 Things to see in BSB
Omar Ali Saifuddien Mosque and its surroundings
The iconic mosque that appears on almost anything referring to Brunei. It was completed in 1958 and is 52 metres tall. The mosque's main dome is covered in pure gold and can be seen from all over the city. What really makes this mosque spectacularly photogenic though, is the often mirror-like artificial lagoon beside the mosque. The reflections are awesome both during the day and at night, making it worthwhile to visit the mosque twice. On Fridays the mosque is not open to non-muslim visitors so unfortunately I didn't get a chance to see inside.
In the lagoon is a ceremonial replica of a royal barge from the sixteenth century that belonged to Sultan Bolkiah. This barge is from the height of Brunei's power when the sultanate covered most of Borneo as well as parts of the present-day Philippines. The replica was built in 1967 to commemorate the 1,400th anniversary of Nuzul Al-Quran when muslims believe the quran was revealed to Muhammad.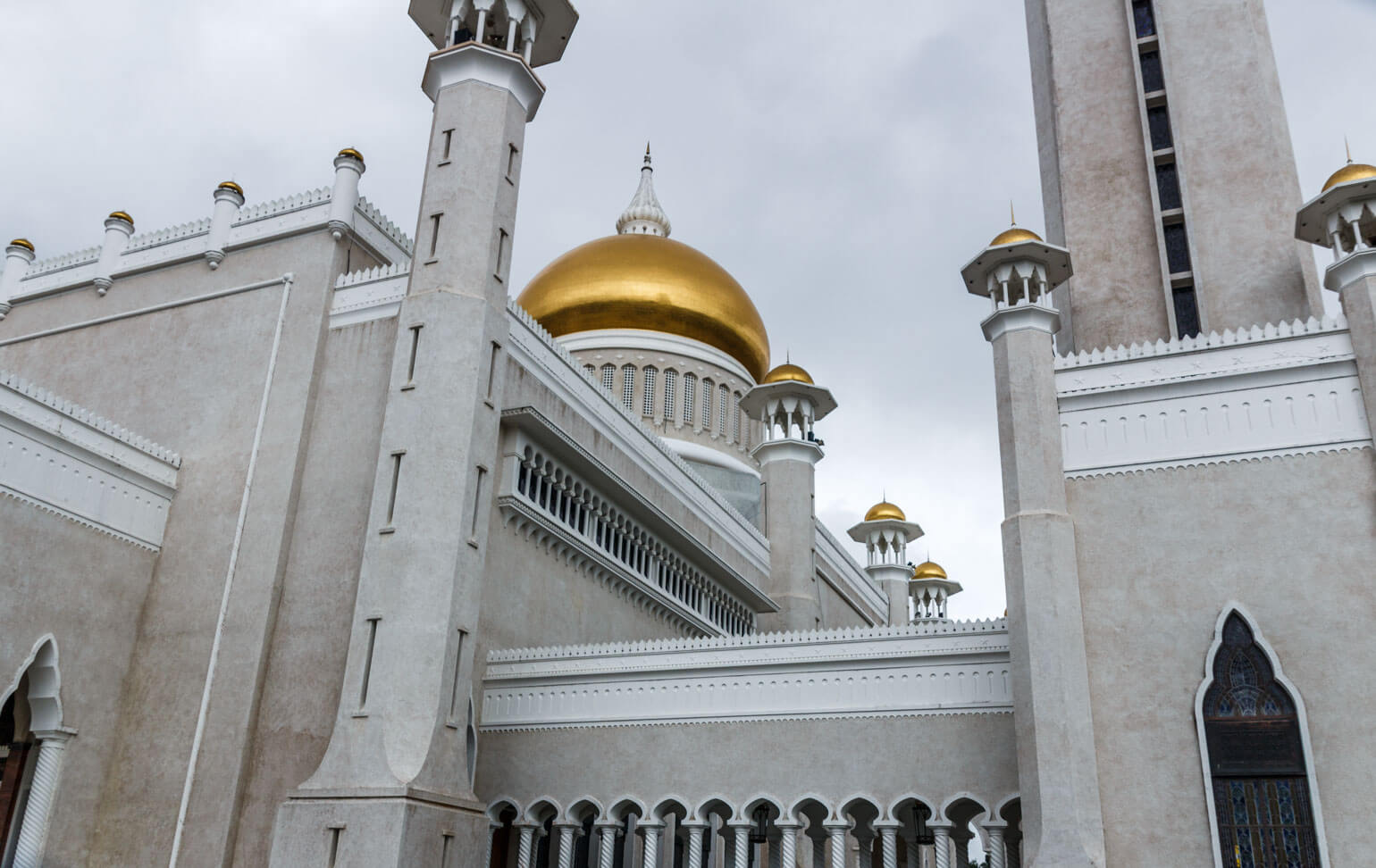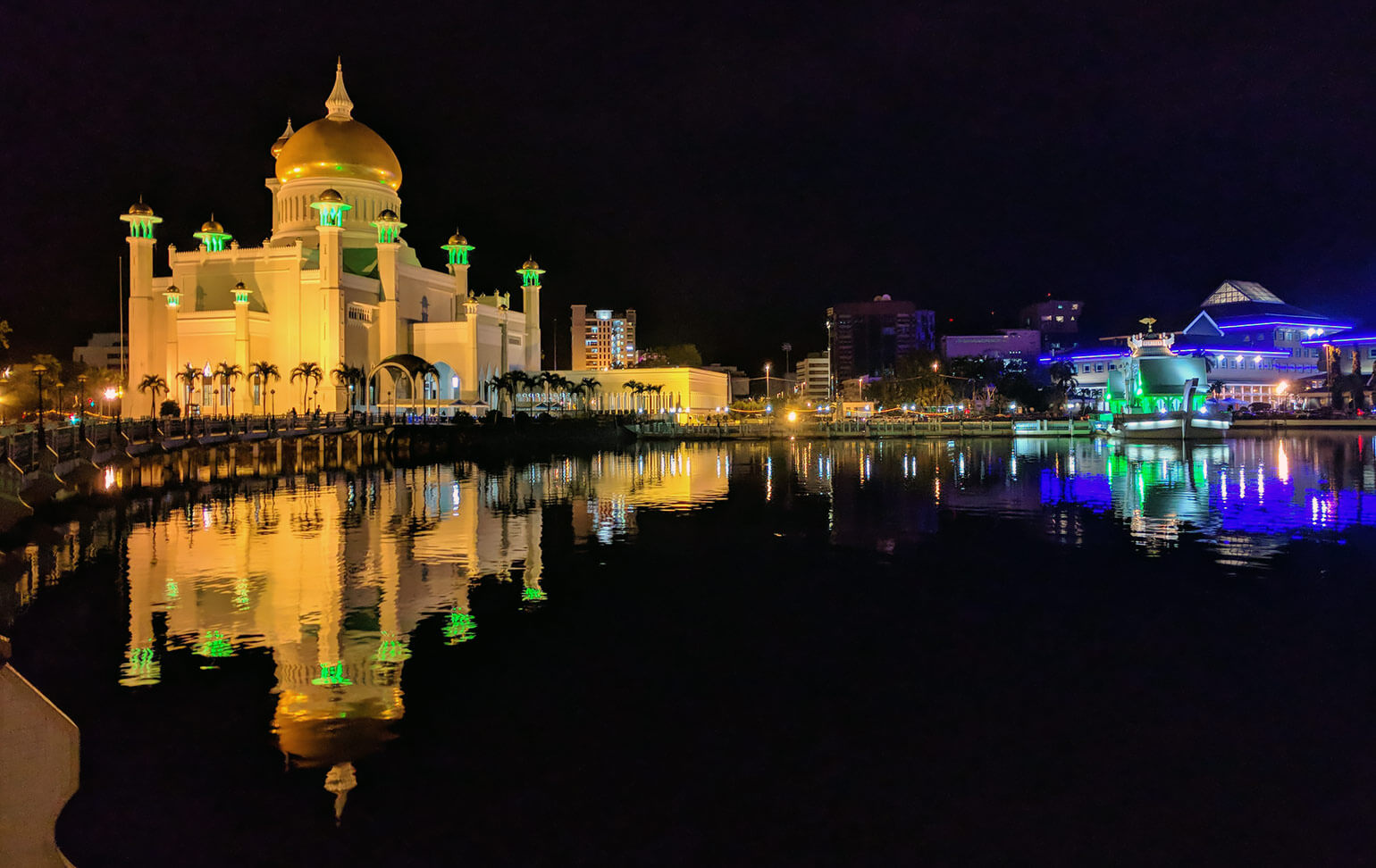 Taman Mahkota Jubli Emas (Golden Jubilee Eco-Corridor Park)
Right beside the lagoon and the Omar Ali Saifuddien Mosque as well as the Brunei River is this park. It's a good place to take in some different views of the mosque, but the main thing that impressed me were the amazing and unusual-looking baobab trees planted in it.
At the edge of this park near the mosque there are a few street food stalls in the evening, when it gets ever so slightly more lively, if the term lively can be used about Brunei at all.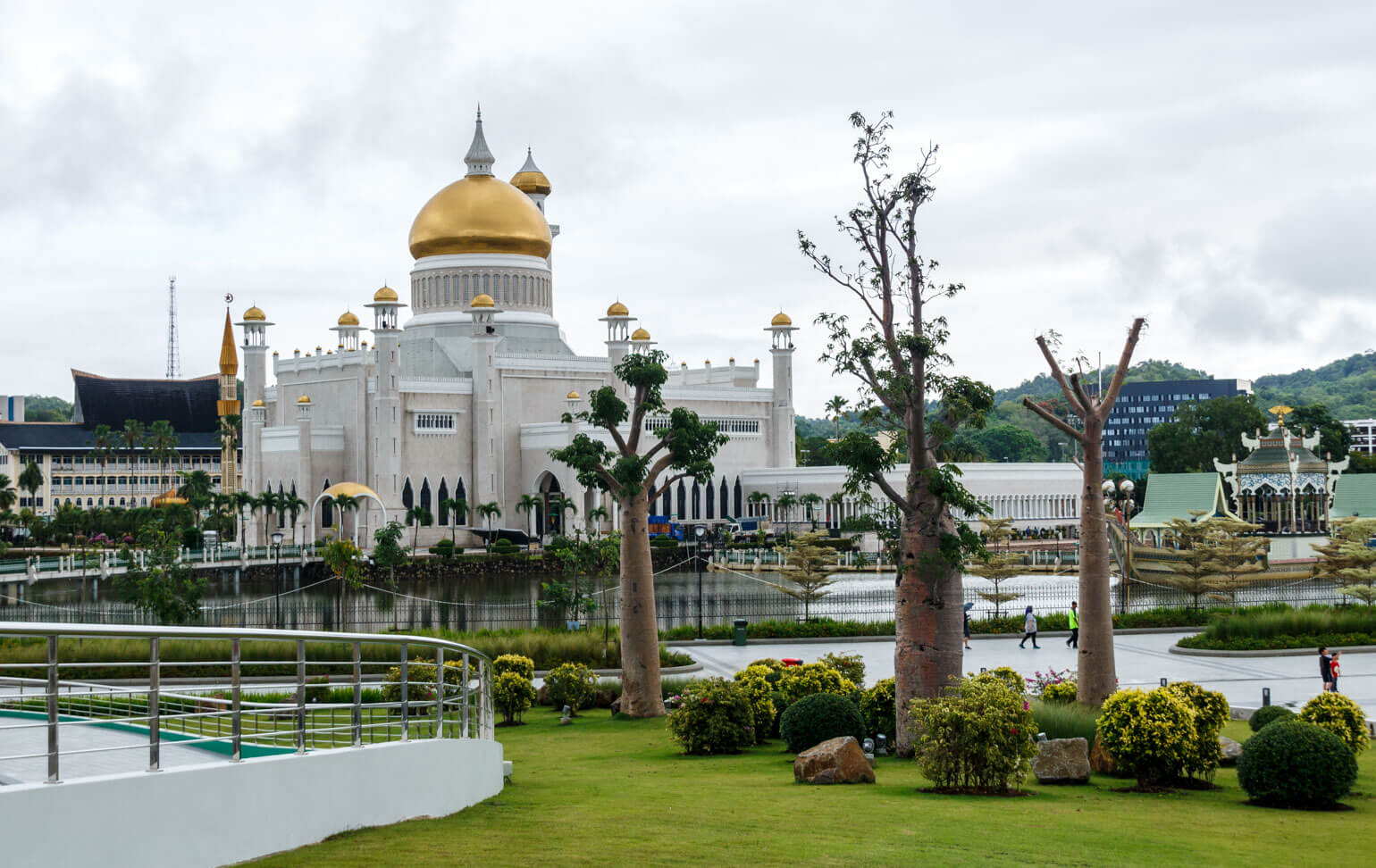 Royal Regalia Museum
This museum gives a glimpse into the immense wealth, pomp and ceremony that surrounds the sultan. This museum contains some of the ceremonial items used by the sultan, including costumes, weapons, crowns and chariots. It also has a massive range of gifts that the sultan has received from royalty and political leaders from around the world. It's interesting to see what different people decided to give the sultan as a present. What do you get the man who already has everything?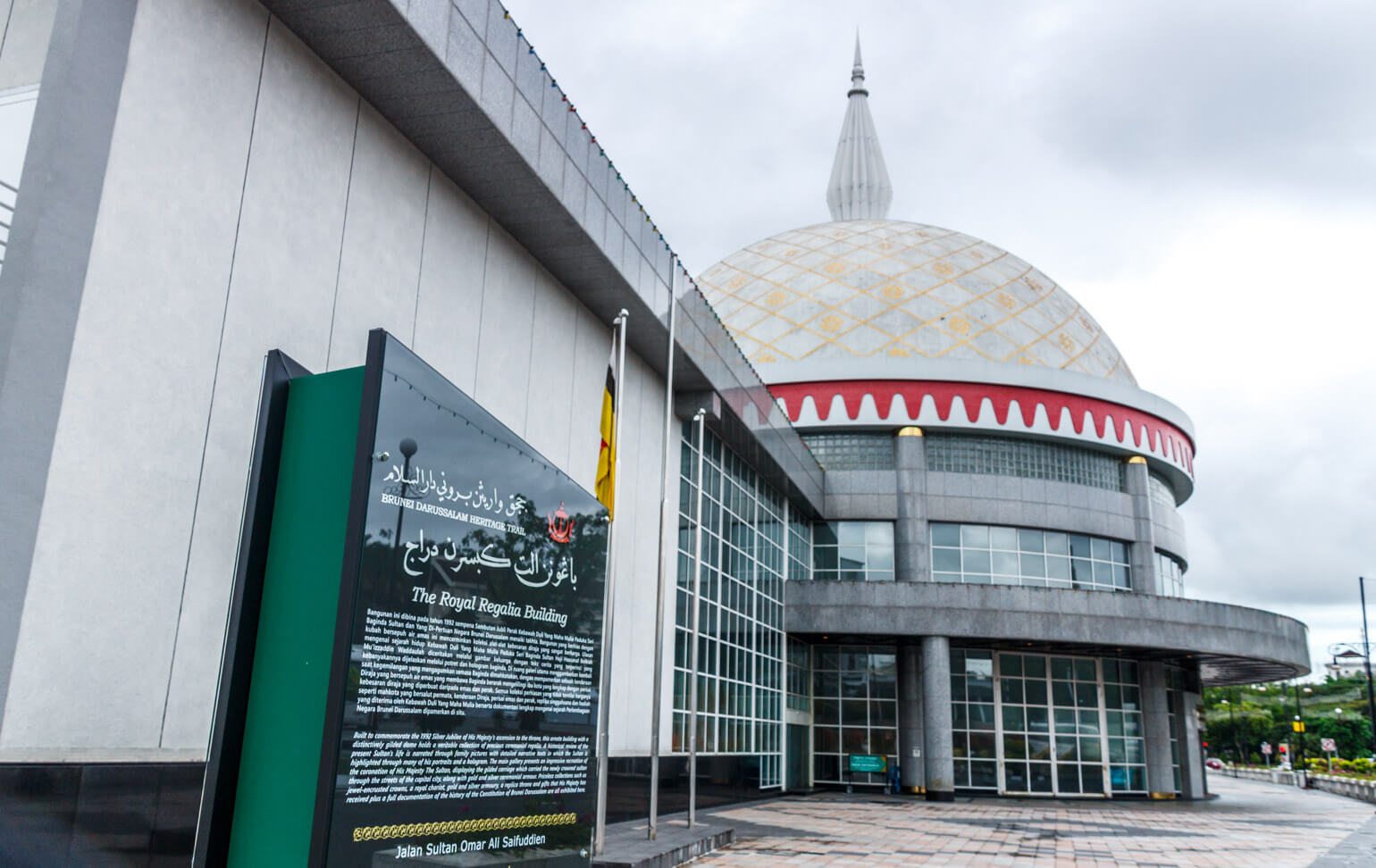 Kampong Ayer
Water taxis zip back and forth between the centre of BSB and Kampong Ayer, a 'water village' consisting of buildings on stilts in the Brunei River. They are connected by a series of bridges and walkways. Kampong Ayer was actually the earliest settlement in the area and, for a long time, the de facto capital of Brunei. It has its own schools, mosques, shops, police stations and fire departments, and is home to roughly 30,000 people.
A boat trip through the water village is an interesting experience but the 'Venice of the East' nickname given by early European visitors is a bit of an exaggeration and shouldn't really be taken seriously.
To get there, its possible to take a water taxi across the river or hire one to take you on a short tour around the water village. I went on a tour through it as part of my Brunei River tour which I describe below and highly recommend.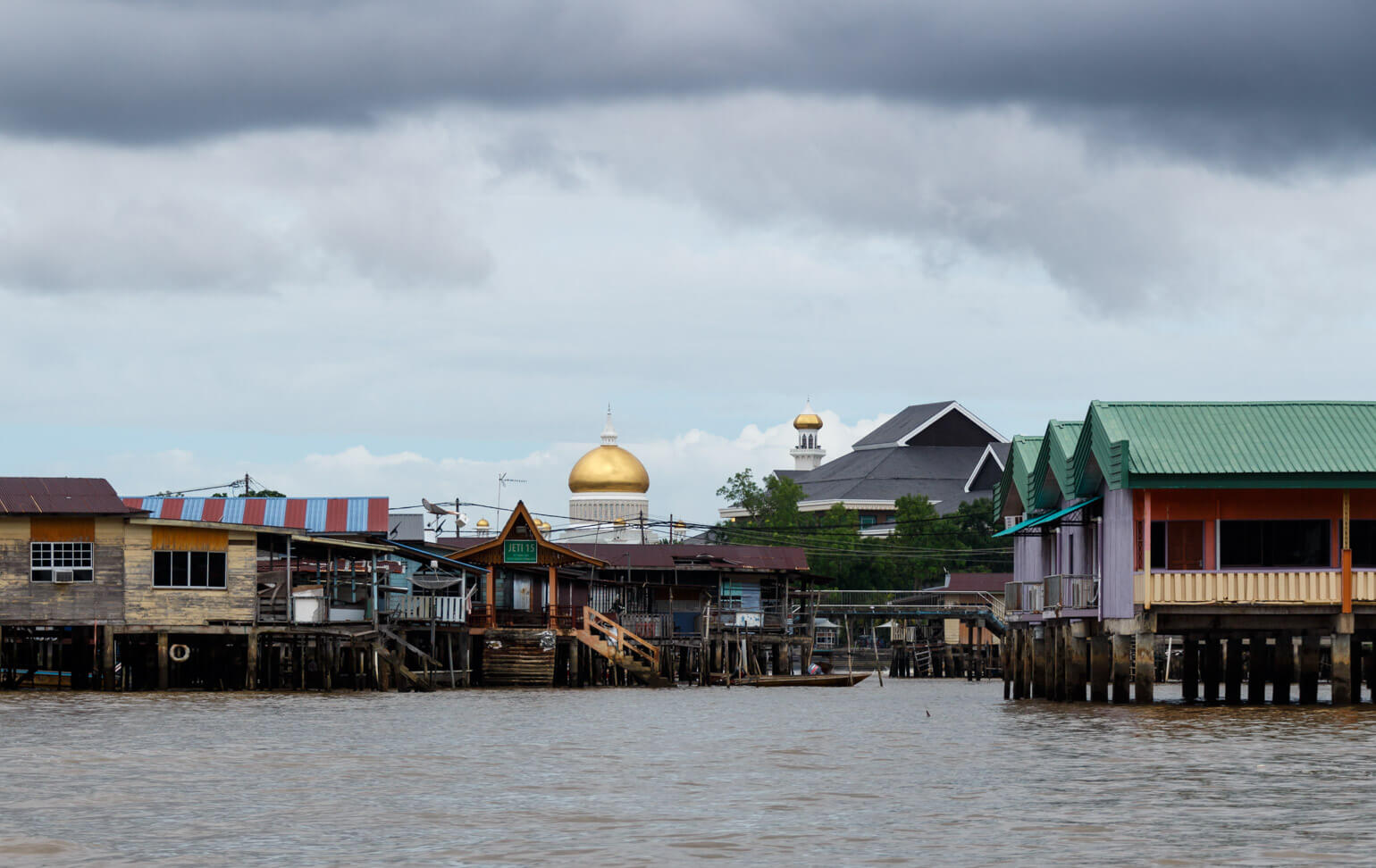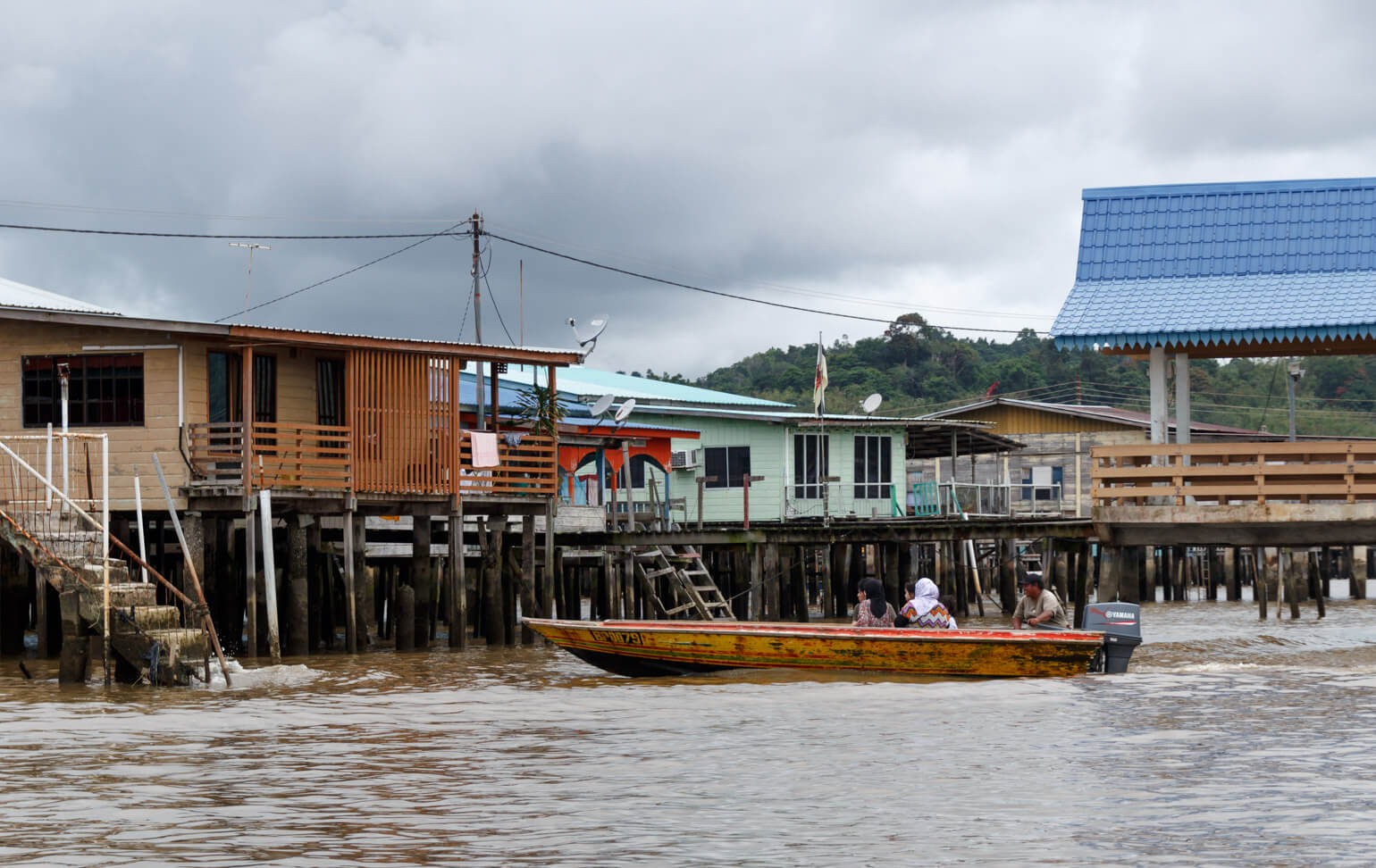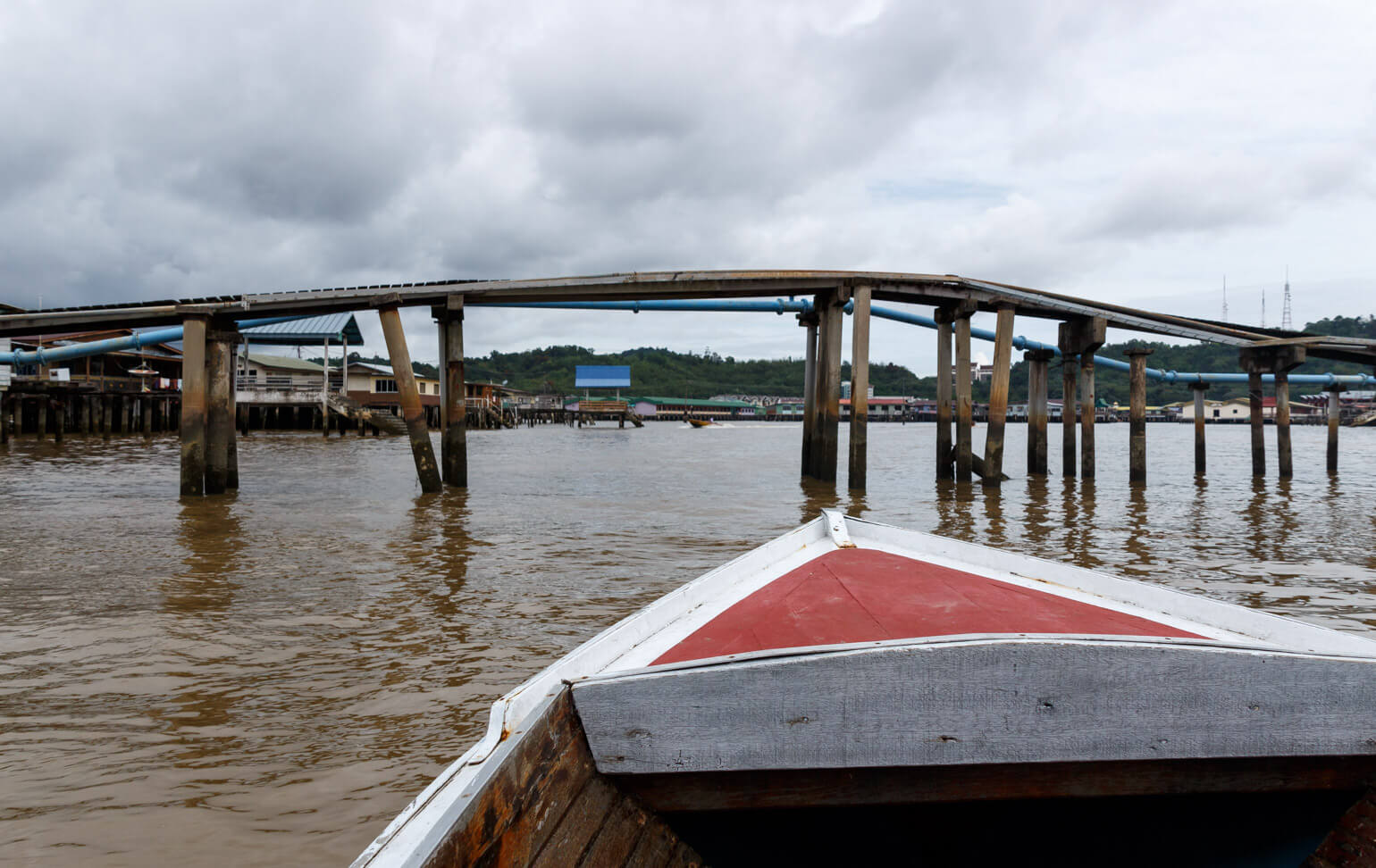 River cruise
The highlight of my Brunei stopover was taking a tour along the Brunei River. In just a few hours I got to see crocodiles, eagles, monitor lizards, kingfishers, macaques and proboscis monkeys. I went with Mark Putera Delima Tour, which is run by Mark and his wife Wann. Wann speaks good English and told me a lot about Brunei, the water village and all of the animals that we saw. Mark pilots the boat and has an unbelievable ability to spot animals along the way. I did their 'water village and mangrove river safari' package which cost B$40.
You can get in touch with Mark and Wann via Facebook or by email at: [email protected]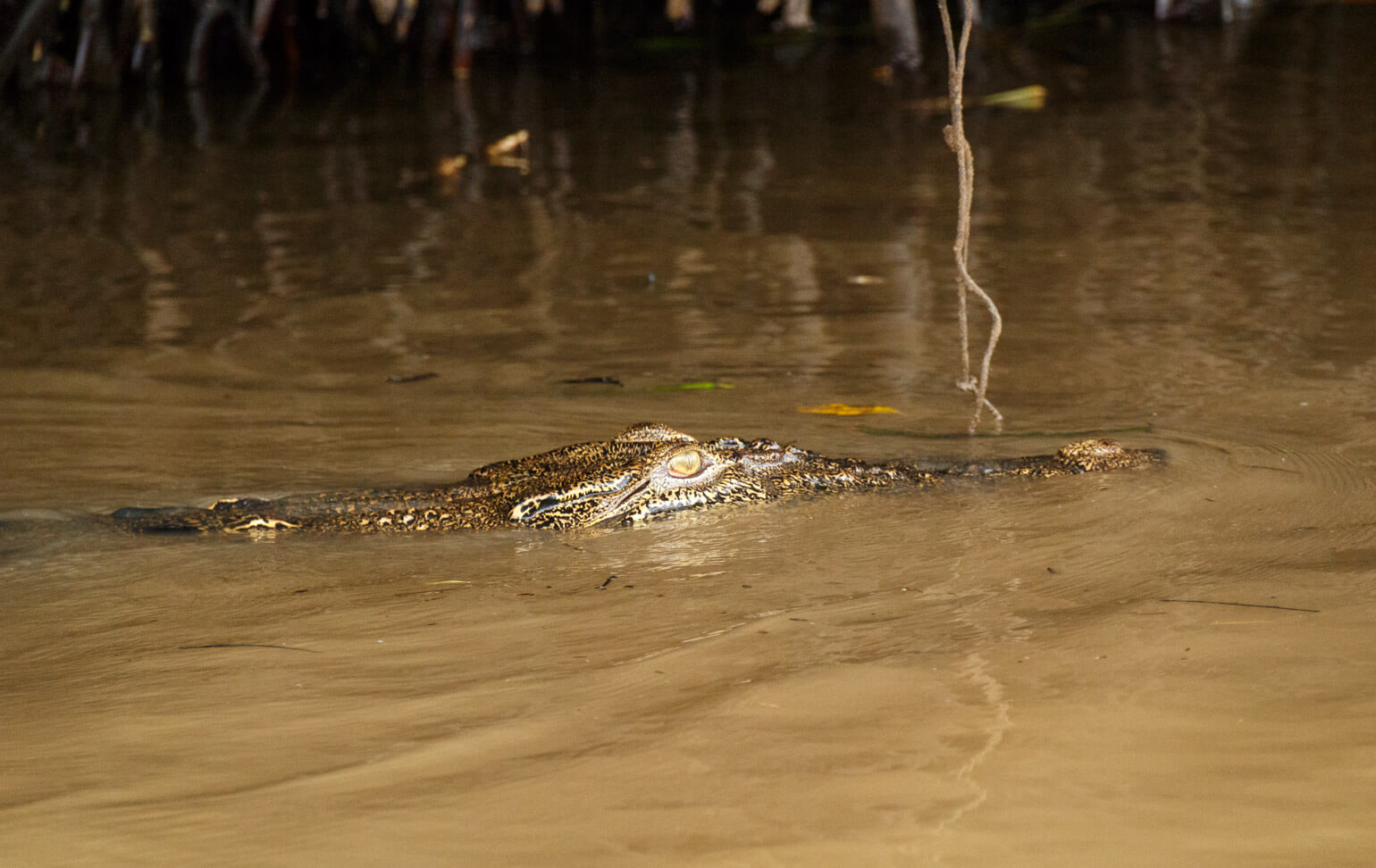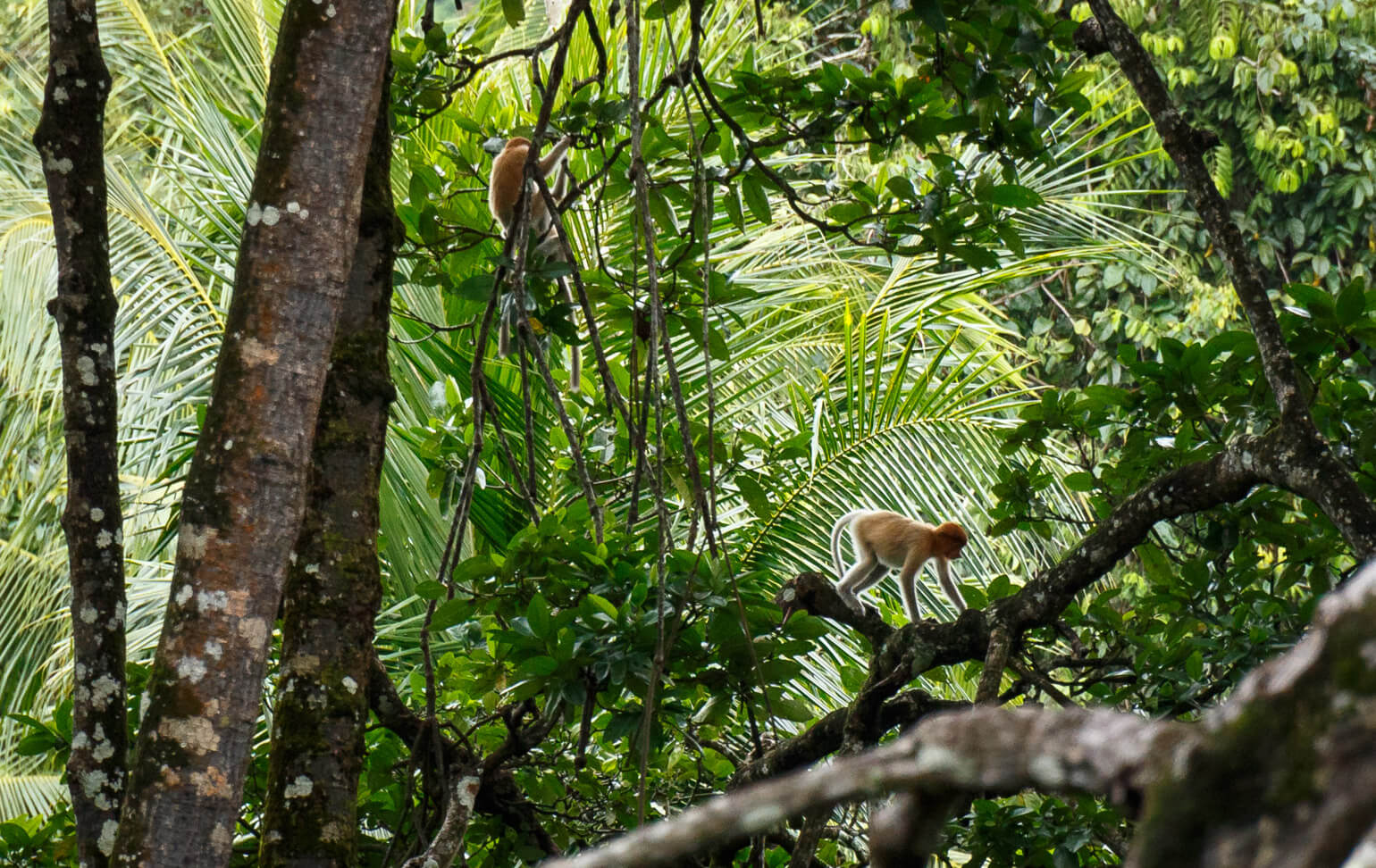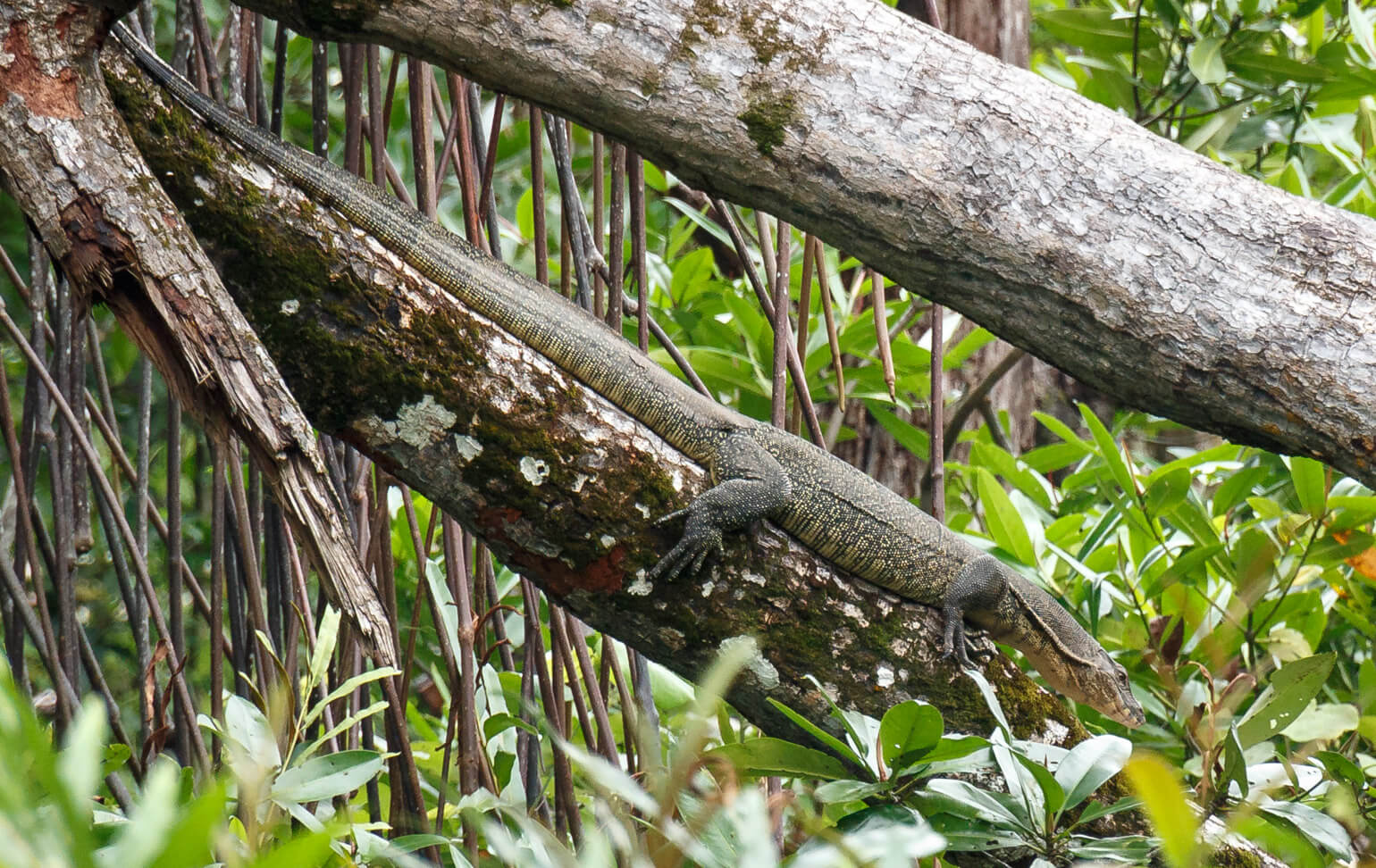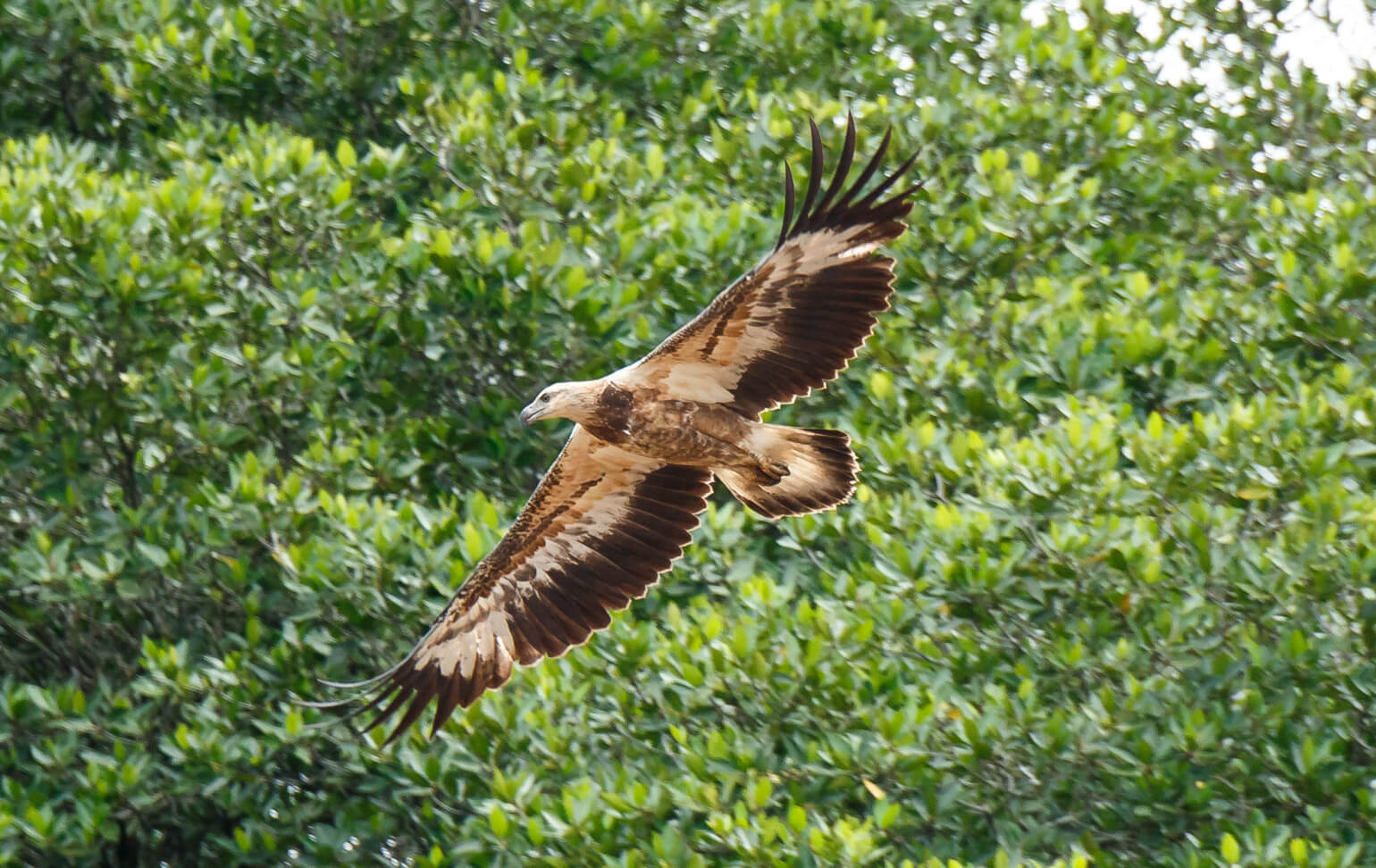 Temburong
If I was in Brunei for longer, I would have definitely tried to visit Ulu Temburong National Park, an area of pristine rainforest in the eastern part of the country. This region of Brunei is only accessible from BSB by either boat or driving through Malaysia. A day or multi-day trip by boat sounds like it would be incredible.
---