The Temples of Angkor (including Angkor Wat) are rightfully world famous. They are the ruins of the city at the heart of the Khmer Empire that ruled a massive part of Southeast Asia from the ninth to the fifteenth century CE. At its height the empire covered large parts of modern day Cambodia, Laos, Thailand, Vietnam and Myanmar. An international archaeological study in 2007 concluded that Greater Angkor was "the most extensive urban complex in the pre-industrial world" and covered over 1000 square kilometres.¹
Today, the remains of over 1000 temples dot the landscape, although most are far from the size and complexity of the more famous temples. The temples are a UNESCO world heritage site and are visited by roughly 2 million people annually. This means that tourism has become by far the biggest industry in the region and transformed Siem Reap, the nearest city to the ruins, into a major tourist hub. Businesses across the city cater to tourists although it has also retained its local Cambodian identity. It also has a strong French colonial influence.
Getting there
Many people visit Siem Reap and Angkor as part of a bigger trip around the region, often getting there on long bus journeys from the Thai capital Bangkok or the Cambodian capital Phnom Penh.
If you are only planning to visit Siem Reap and its surroundings, as we did, then the best option is to fly into Siem Reap airport. There are direct flights from cities all across east and southeast Asia. For those on a budget, it is worth noting that Air Asia fly from Bangkok and Kuala Lumpur, while Jetstar fly from Singapore. We flew from Melbourne to KL and then on to Siem Reap. Despite being the busiest airport in Cambodia, the airport is surprisingly relaxed and easy to navigate. The only thing ruining the experience is the occasional screaming tour group.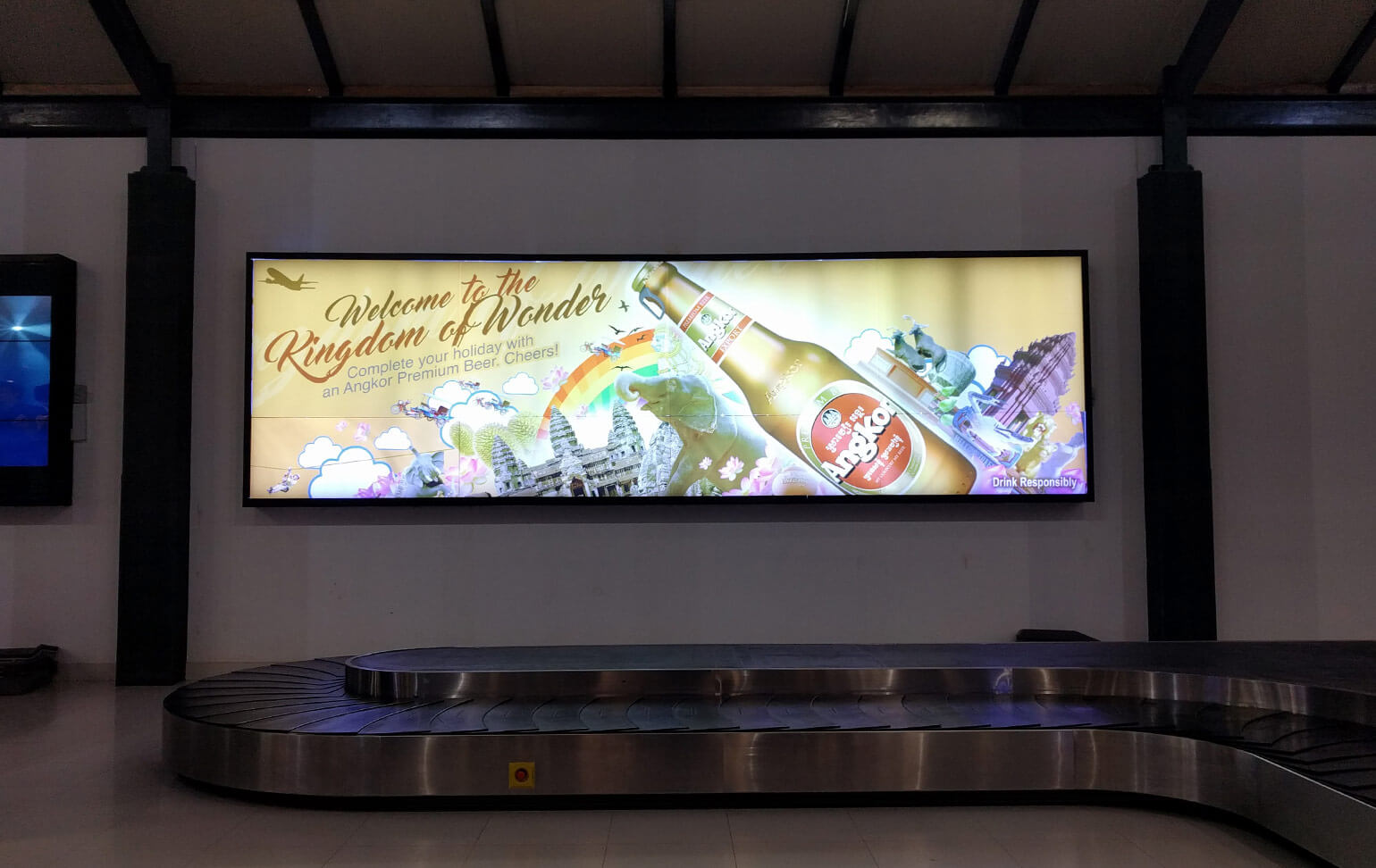 Visa information
Everyone except citizens of ASEAN member countries and the Seychelles require a visa to visit Cambodia. The good news, however, is that almost everyone can get a 30-day tourism visa on arrival for US$30. If you are arriving at certain entry points (including Siem Reap and Phnom Penh airports) you can also get an eVisa ahead of time from evisa.gov.kh. We did this to save time at the airport. It cost US$36 and the eVisa was sent by email very soon after we applied.
2 currencies
At the airport, there are ATMs near the entrance to departures, meaning you need to turn right after coming out of the exit at arrivals. Cambodia uses both the Cambodian riel and the US dollar, but almost all prices in and around Siem Reap will be given to foreigners in dollars, so that is the currency to go with.
If you take money out of an ATM, you should be aware that you may get $50 or $100 notes. It's best to try to break these for smaller notes as soon as possible, either at the airport or else at hotels or the Angkor National Museum. There are no riel coins and US coins are not used either, so you may also get riel in your change for amounts of less than a dollar. The rate is generally accepted to be 4000 riel to US$1, meaning 2000 is fifty cents, 1000 is a quarter and so on.
SIM cards
SIM cards can be bought at the airport on arrival and are very cheap. I bought a SIM card with 7 days of unlimited data for US$3. There are a few kiosks in a row if you turn right after exiting arrivals at the airport.
From the airport to Siem Reap
Also at the arrivals exit at the airport, there is an official taxi booth. At the time of writing it costs US$10 for a taxi into the city and US$9 for a tuktuk. We took a taxi with a man who goes by 'Lee', although this is obviously not his Cambodian name.
Arranging a tour of the temples
On the way into the city Lee enquired about our plans for visiting the temples the next day and offered to take us there. He had a laminated sheet with a map and photos of all of the main temples. He spoke good english and had studied to be a guide. The price for the 'standard' tour was US$40, although we paid more to include Banteay Srei which is a bit further away, and also to go to Angkor Wat at sunrise. We also paid extra for Lee to guide us through the temples, which I definitely think was worth it as the temples are very big and complex and it is good to have some direction and context for what you are seeing.
We ended up paying US$47.50 each (for 2 of us) for the entire day (about 10 hours) of being driven and guided around the temples that we wanted to see. Although it is not the cheapest way to visit the temples, it was great to have a guide who could explain a lot about the temples as well as Cambodian life in general. There was also the US$37 entrance fee for the temples for one day. A 3-day pass costs US$62 and a 7-day pass costs US$72. We also arranged for Lee to take us to one of the 'floating villages' called Kampong Khleang the day after we visited the temples.
If you are interested in hiring an experienced driver and guide who speaks good english, then I would recommend Lee. The best way to contact him is to call or message him on this number: +855 1745 9498.
Siem Reap
Siem Reap is a really nice city with very friendly people. Despite relying on tourism, I didn't find people pushy at all, even in the various night markets. We stayed at Kim Xiang Boutique Hotel, which is a short walk from the main nightlife areas. The hotel room was very nice and had good air conditioning and a TV with lots of english-language channels, which we may have made use of had we been staying there longer than a few days. Breakfast was included, and they packed breakfasts for us to take with us when we left early to go the temples. The hotel cost US$25 per night.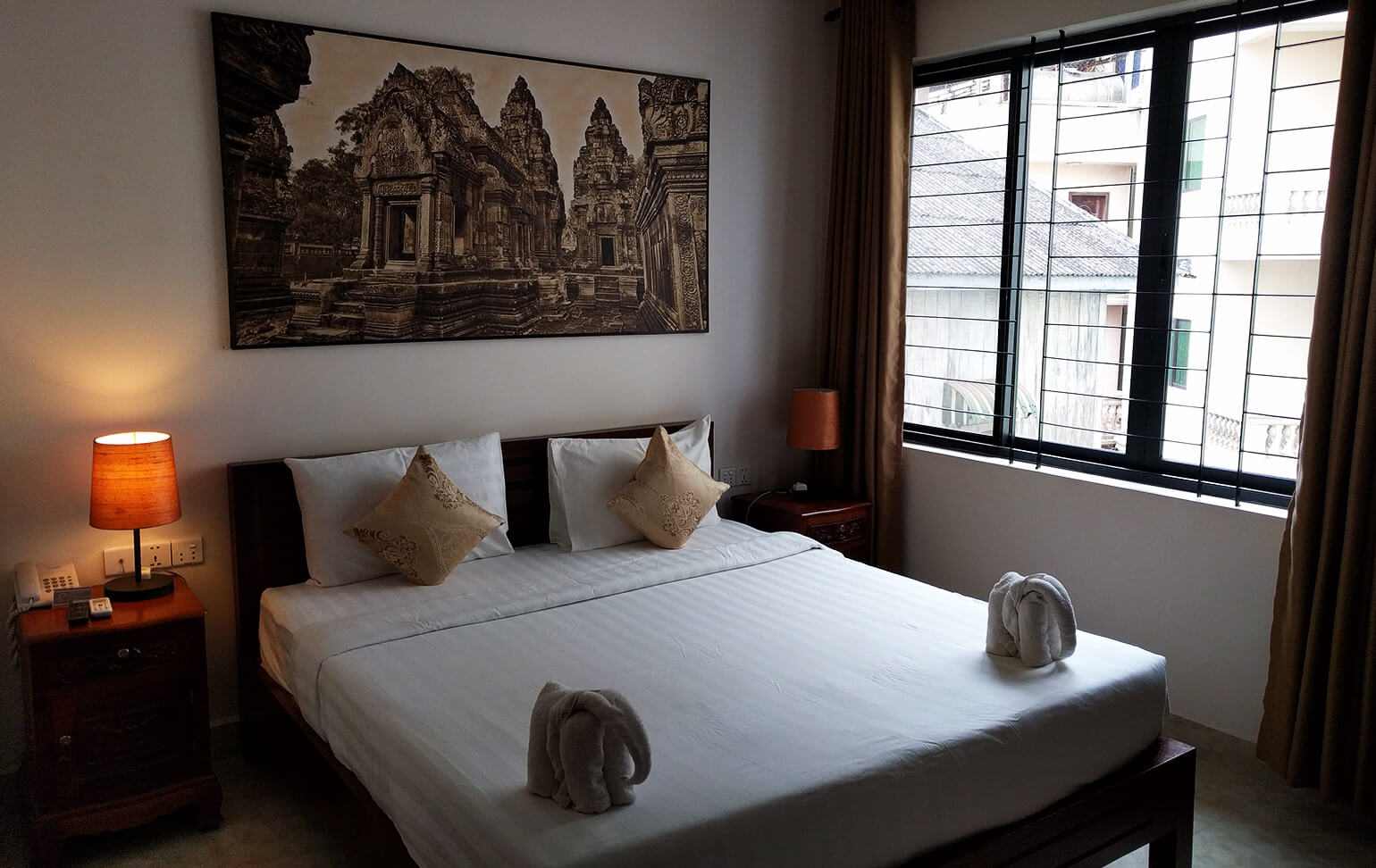 Eating & drinking in Siem Reap
Cambodia has a wide range of food, including lots of things that rarely appear on western menus such as frogs, red ants, tarantulas, scorpions, snails and crickets. You will see some of these being sold in the markets in Siem Reap.
Fish amok is considered the national dish of Cambodia and is a seriously tasty fish curry that you should definitely try while visiting the country.
Although we were only in Siem Reap for a few days we did find a few places worth recommending. One was the amazing Marum. The food at Marum was incredible and the outdoor seating in particular had a beautiful ambiance. It was a little more expensive than many restaurants in Siem Reap, but still a bargain at about US$25 for 2 people. They have a good range of Cambodian and international dishes, with plenty of vegetarian options. The red ants and beef dish was delicious. As were the grilled pepper and goat's cheese rice paper rolls. The other great thing about Marum is that it is a vocational training restaurant run by a local NGO that helps street children and other marginalised young people. The staff wear either 'teacher' or 'student' t-shirts. The high standards of the restaurant mean you would never guess that many of the staff were still learning.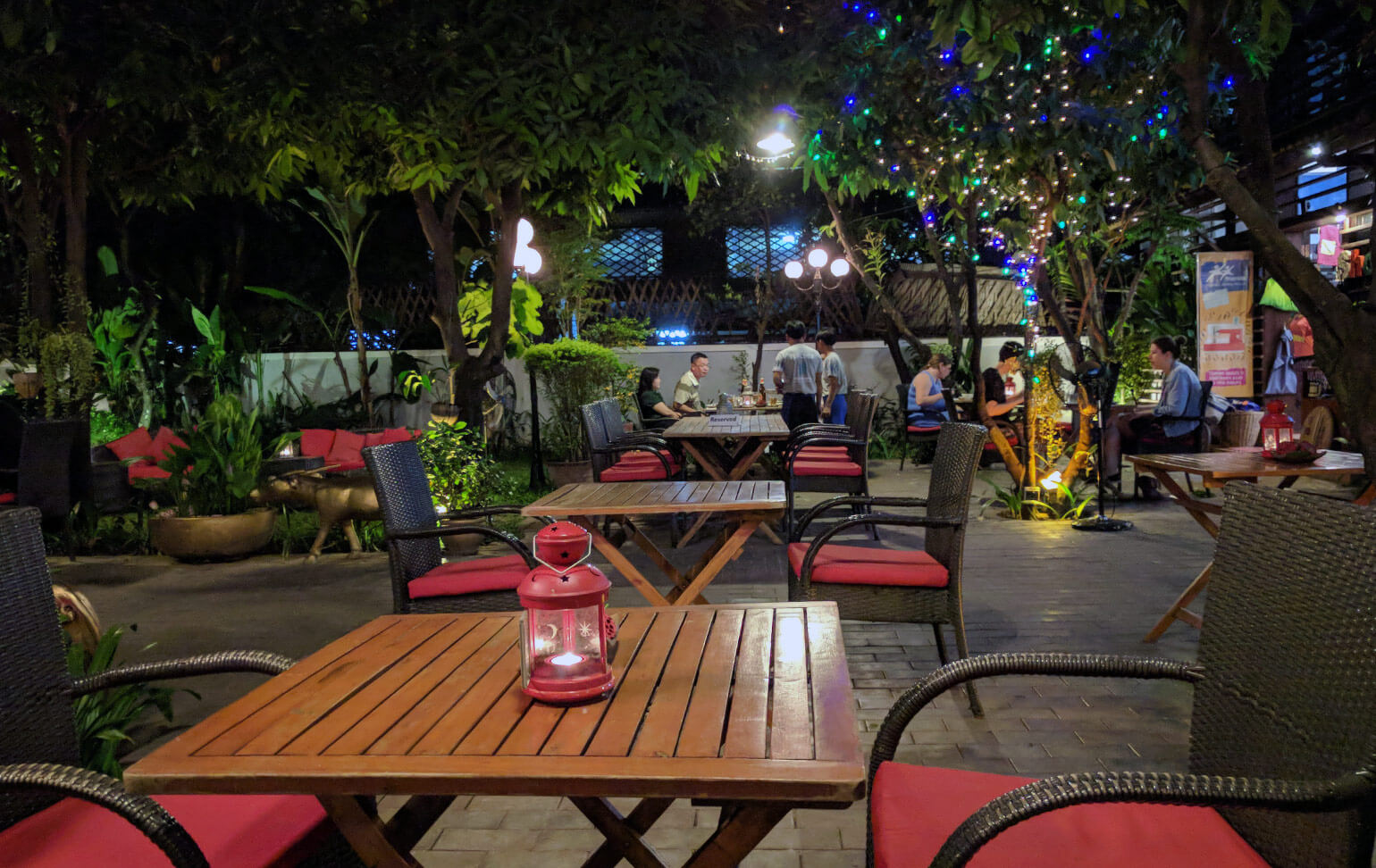 For a local no-frills restaurant with good food at very cheap prices go to Chae Ngek Restaurant. Most dishes cost US$1-2. We got a few dishes to share as well as some drinks for under US$10.
It is also worth trying the bamboo rice, or kralan, sold along the roadside to the south of Siem Reap. This is the road you will travel along if going to the 'floating villages' on Tonle Sap lake or to Phnom Peng. It is made from sticky rice mixed with grated coconut, coconut milk, sugar and black beans. It is then stuffed inside a section of bamboo and roasted.
For beers, there are plenty of places around Pub Street that sell beers priced between US$0.50 and US$1.50. If you are looking to watch the football (soccer) or any other sport from any of the major leagues around the world then Score sports bar and grill is the place to go. They have a list of upcoming live sport here.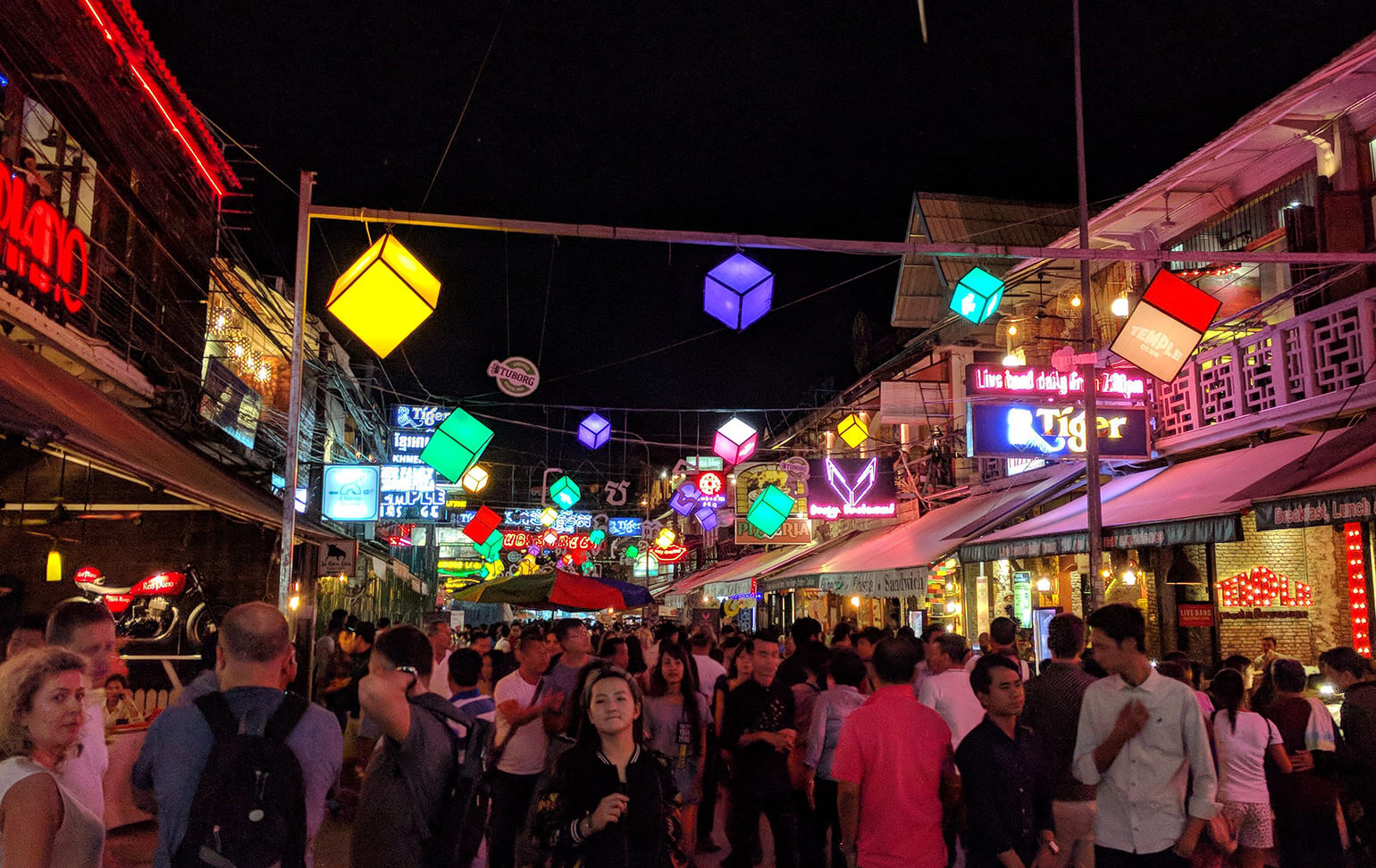 Angkor National Museum
The Angkor National Museum is a big modern museum with plenty of information on the history of the Khmer empire and the kings who ordered the different temples to be built. It also explains the meaning behind a lot of the things that you will see at each of the temples. This was one of the first places we went in Siem Reap and it definitely made our visit to the temples more enjoyable. The entrance fee is US$12.
The Temples of Angkor
After a bit of research on how much we could fit into a single day of exploring the temples, we decided that we would visit 4 of the most impressive-sounding temples at Angkor.
Angkor Wat
We started with the largest and most iconic temple, Angkor Wat. It has long been a symbol of Cambodia and has appeared on various Cambodian national flags since 1863.  Angkor Wat is absolutely huge. In fact, according to the Guinness World Records, it is the largest religious structure ever built at 162.6 hectares.² Originally built in the early 12th century as a Hindu temple, it was later converted to a Buddhist temple.
We arrived before sunrise but unfortunately didn't see much as it was very cloudy. Starting early did mean that we managed to miss the massive crowds that are sometimes there so it was still worthwhile. Expect to spend a few hours exploring this massive complex.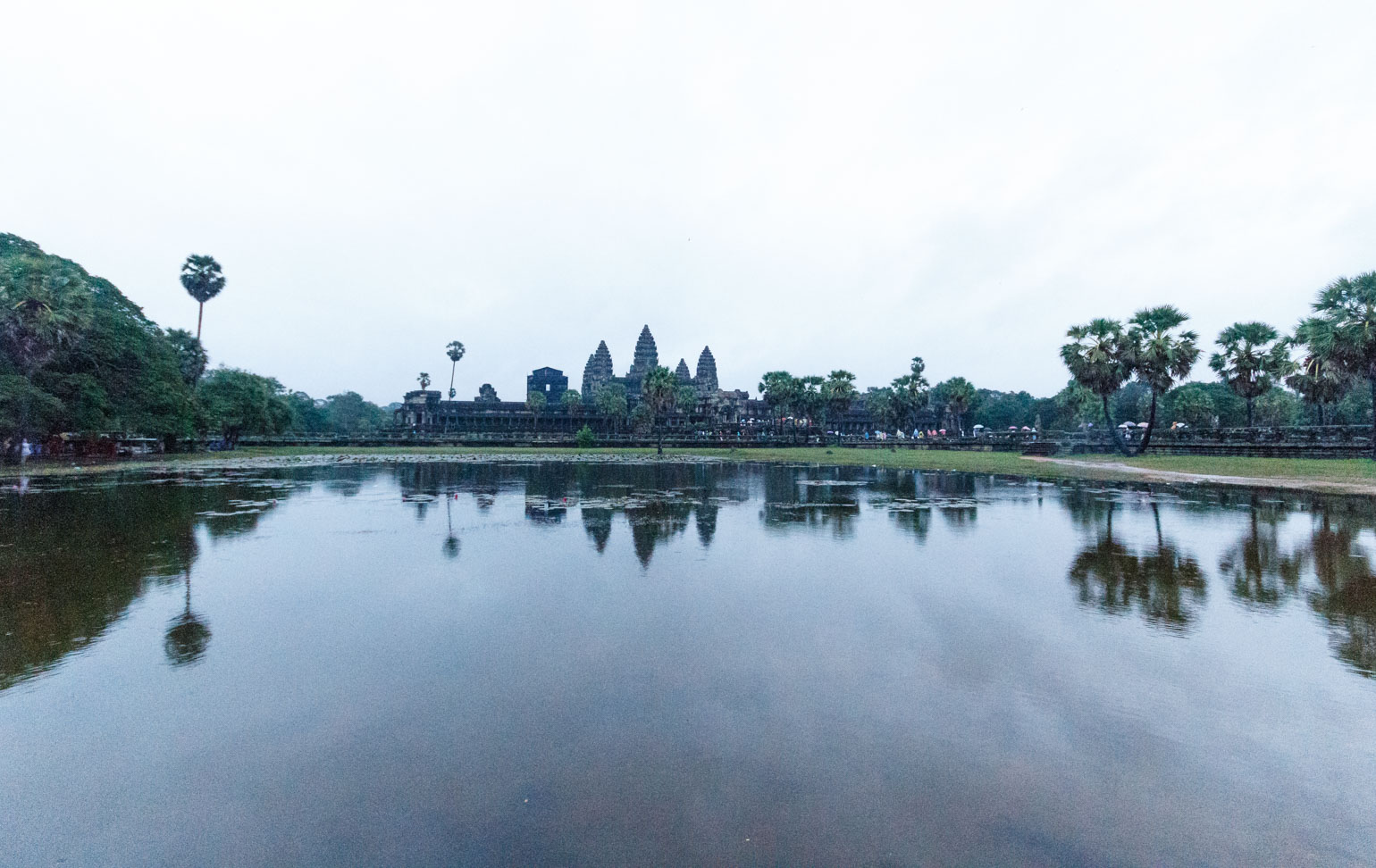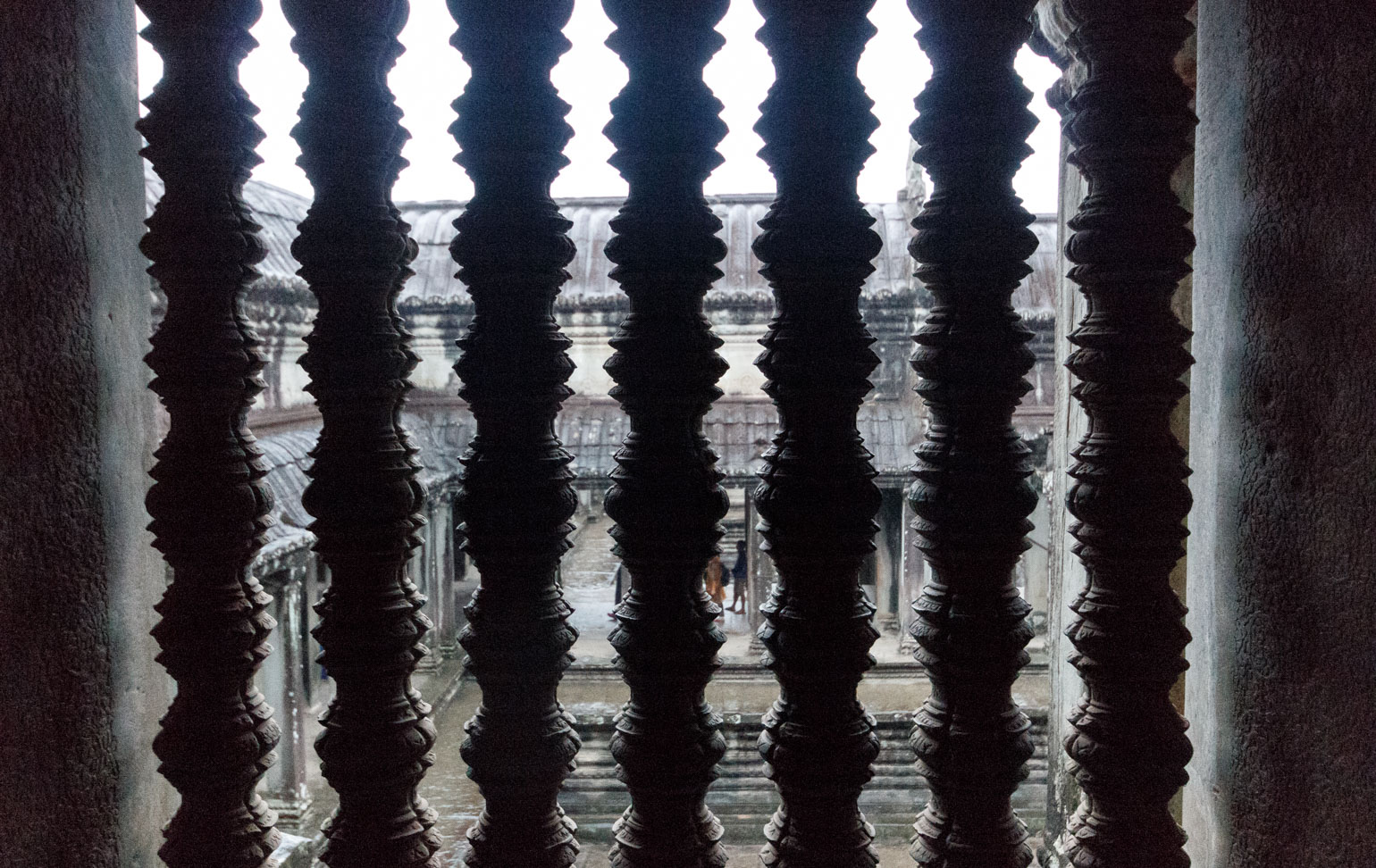 Banteay Srei
Next we visited Banteay Srei, which is about 30 minutes drive from the main temples. It was constructed in the 10th century and is not a particularly big temple. Unlike most of the other temples, however, it is built using red sandstone and has some of the most intricate (and best preserved) carvings anywhere in Angkor.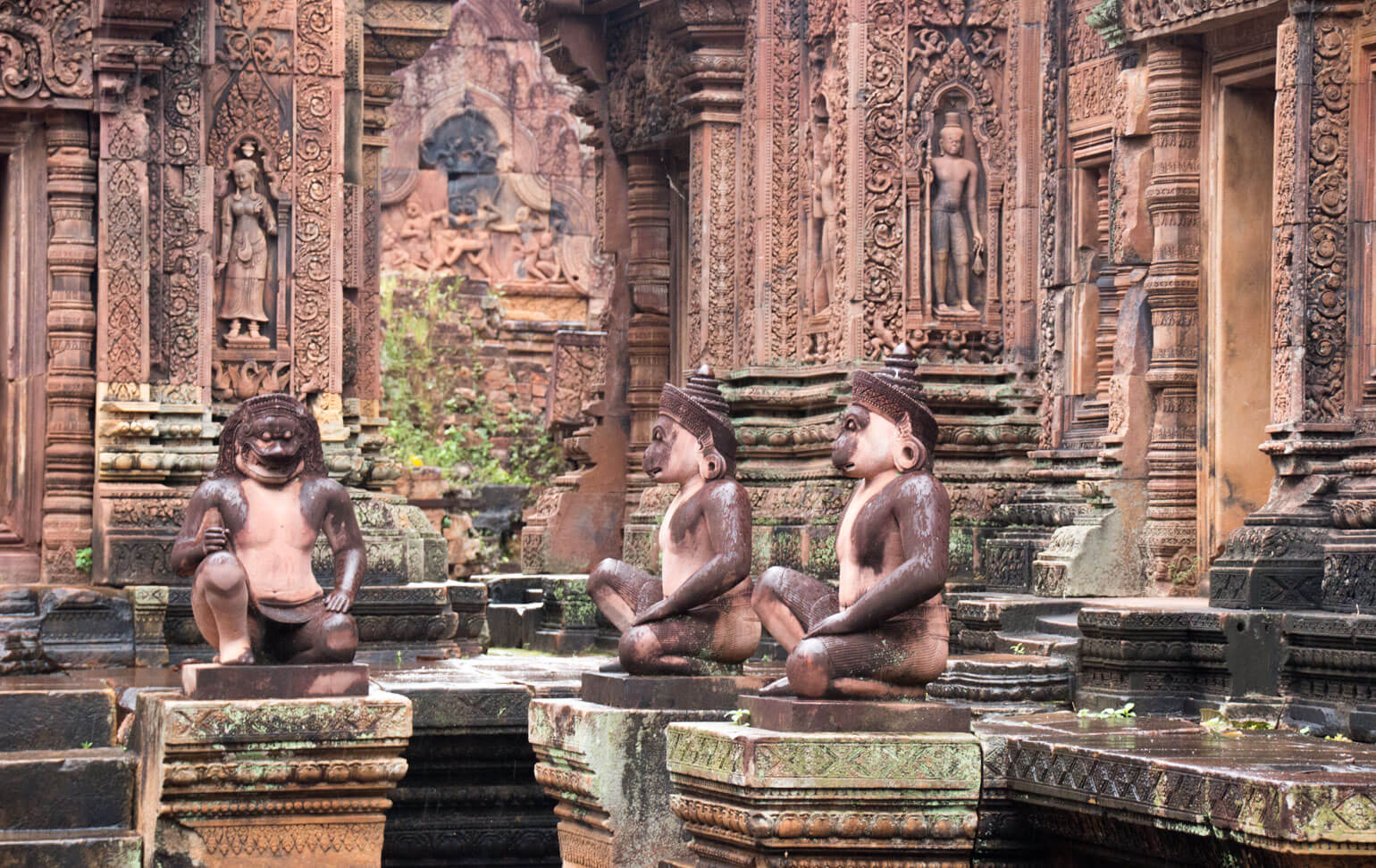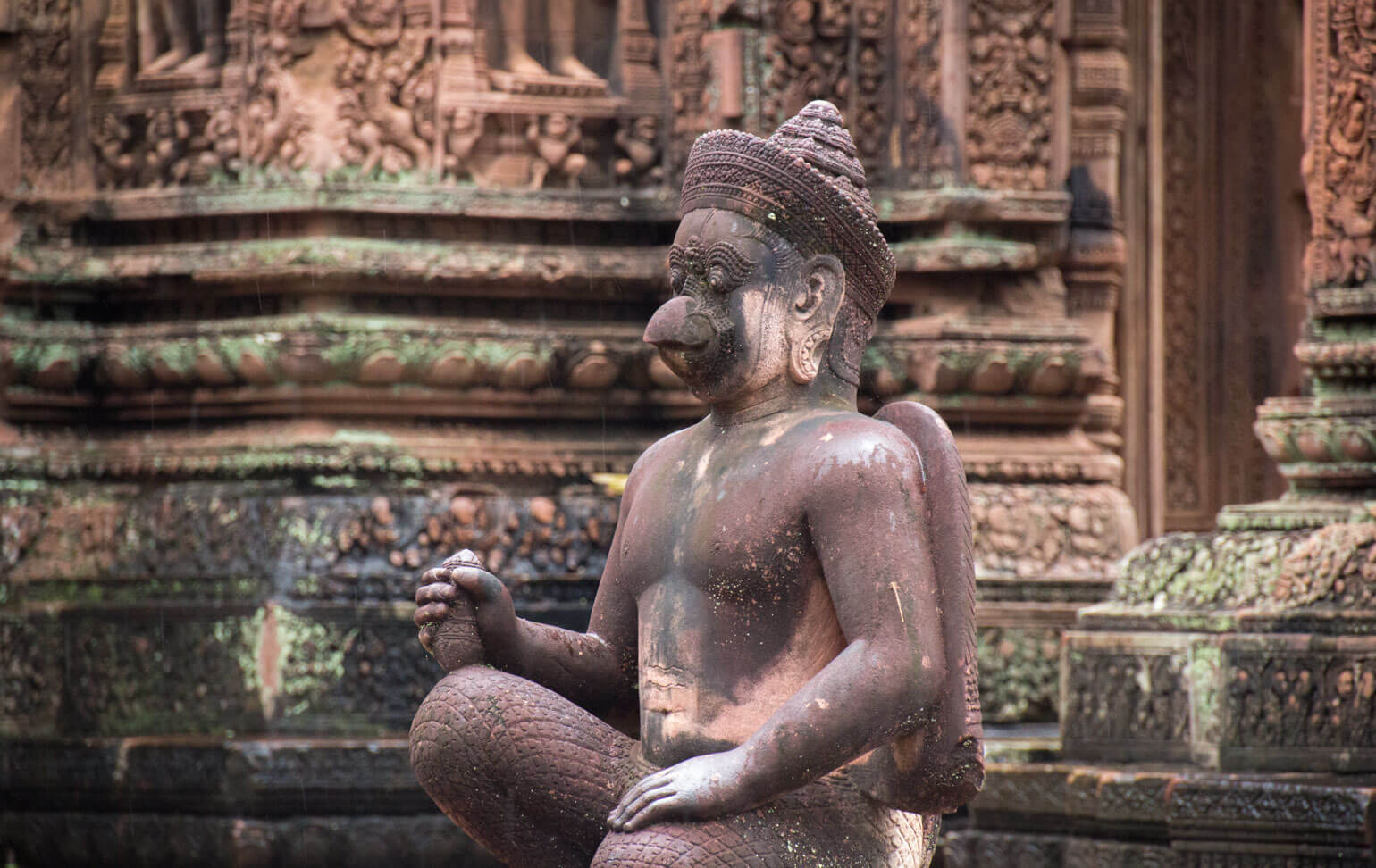 Ta Prohm
After that we visited Ta Prohm, which is sometimes known as the Tomb Raider temple, because some scenes from the 2001 movie Lara Croft: Tomb Raider were filmed there. Ta Prohm is interesting because there are trees growing all over the temple, showing nature reclaiming parts of a once-mighty empire.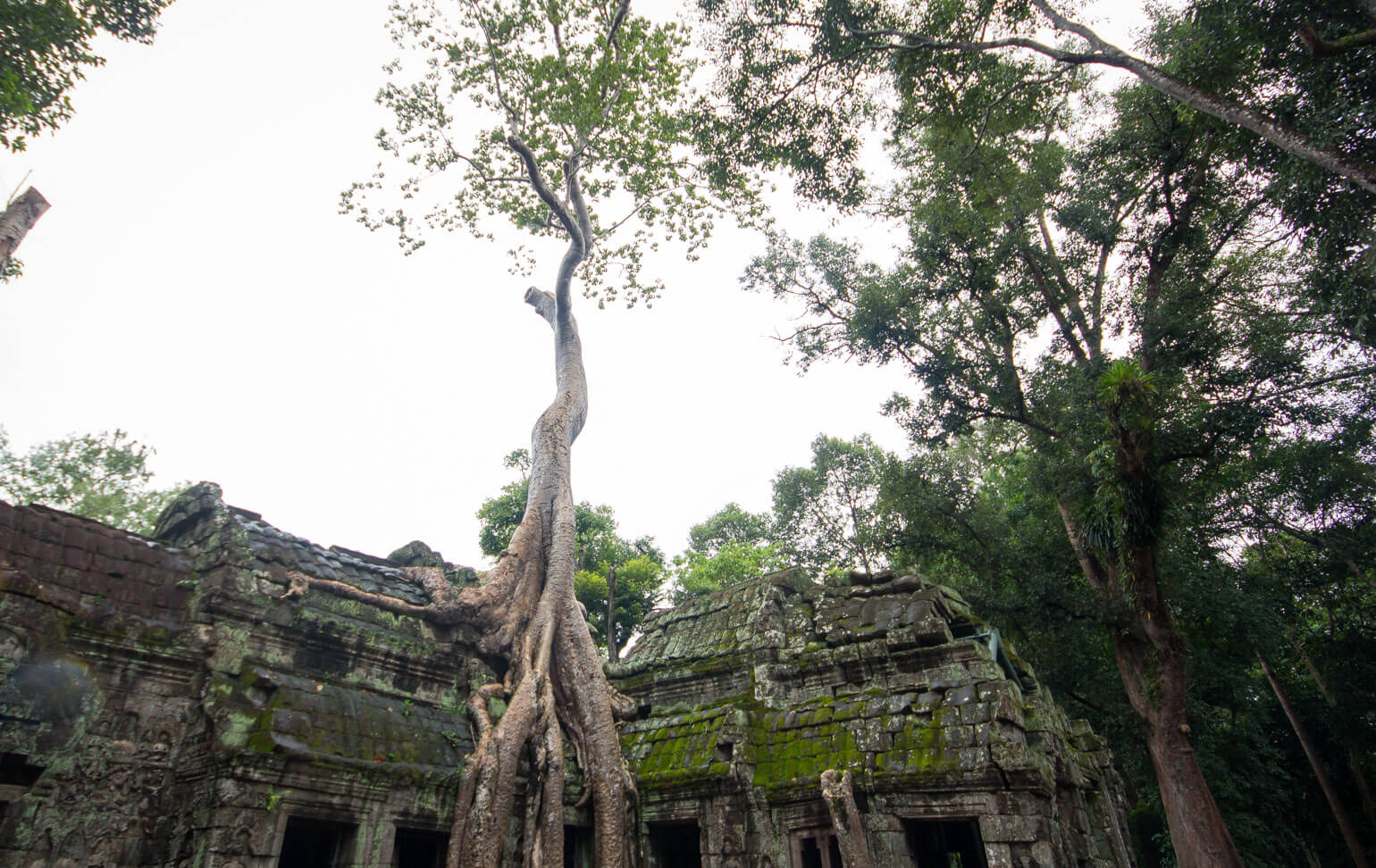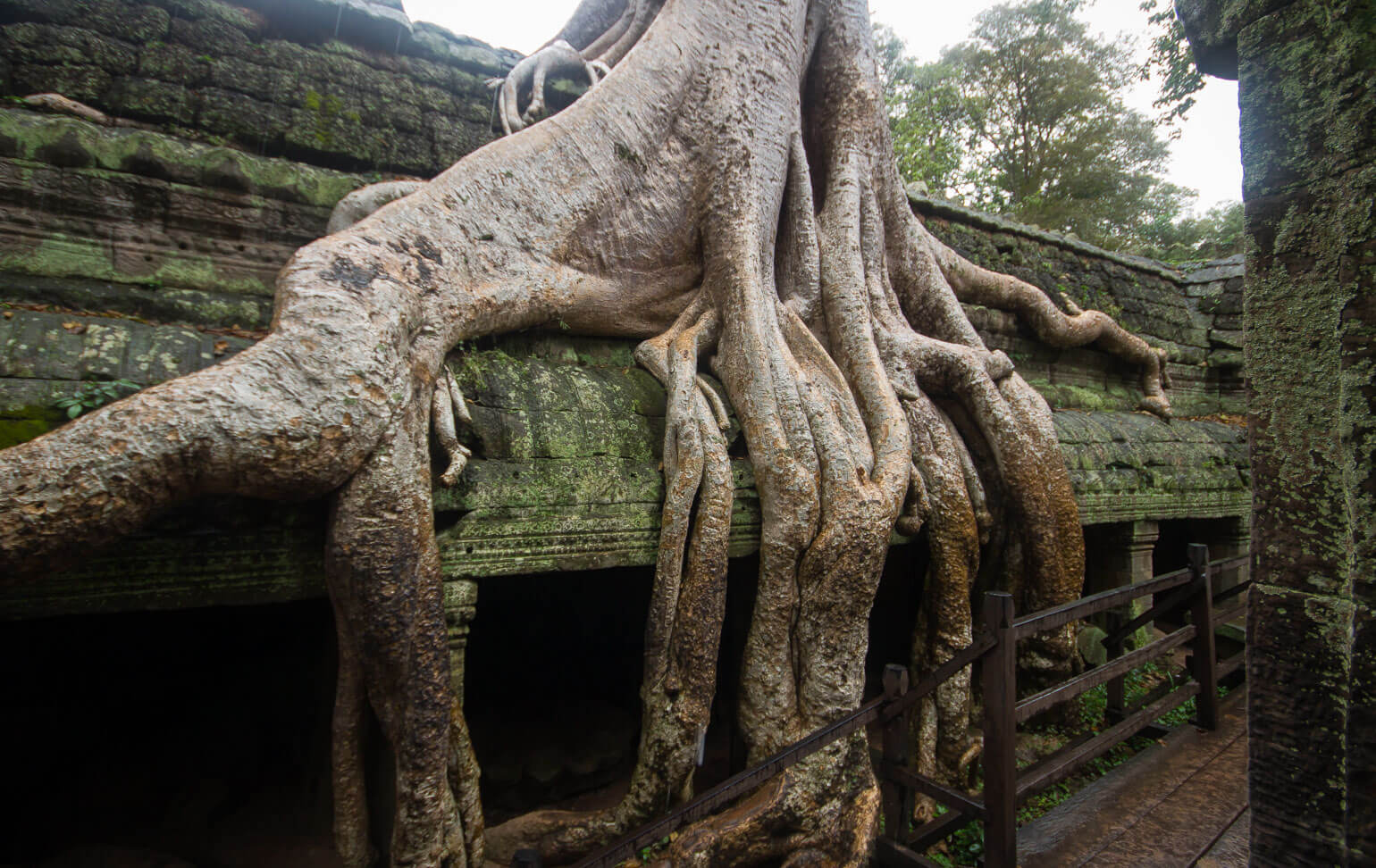 Angkor Thom and Bayon
The last place we visited was Angkor Thom, which is not a temple, but a huge walled city surrounded by a moat. Angkor Thom was built in the late 12th century, covers about 9 square kilometres and is surrounded by an 8-metre high wall. It literally translates as 'big city' and was the last capital of the Khmer Empire. Most of the structures that once existed inside the city walls were made of wood so no longer exist, but the size of the city and the surviving walls and temples are quite amazing.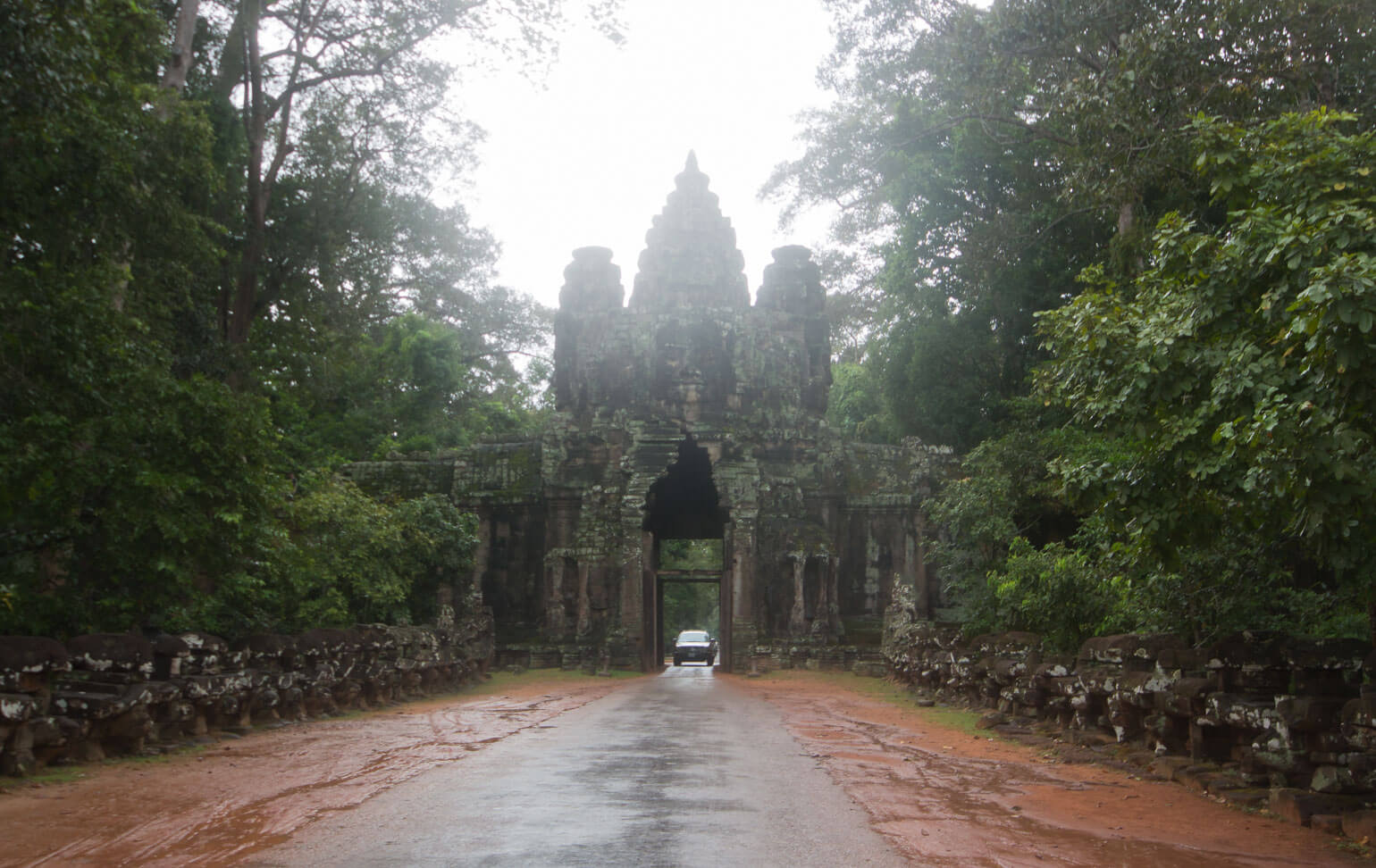 We stopped to view the walls, gates, and bridges over the moat, before visiting the Bayon temple at the heart of Angkor Thom. Bayon is famous for the iconic towers with huge stone faces on them. There are 216 faces altogether.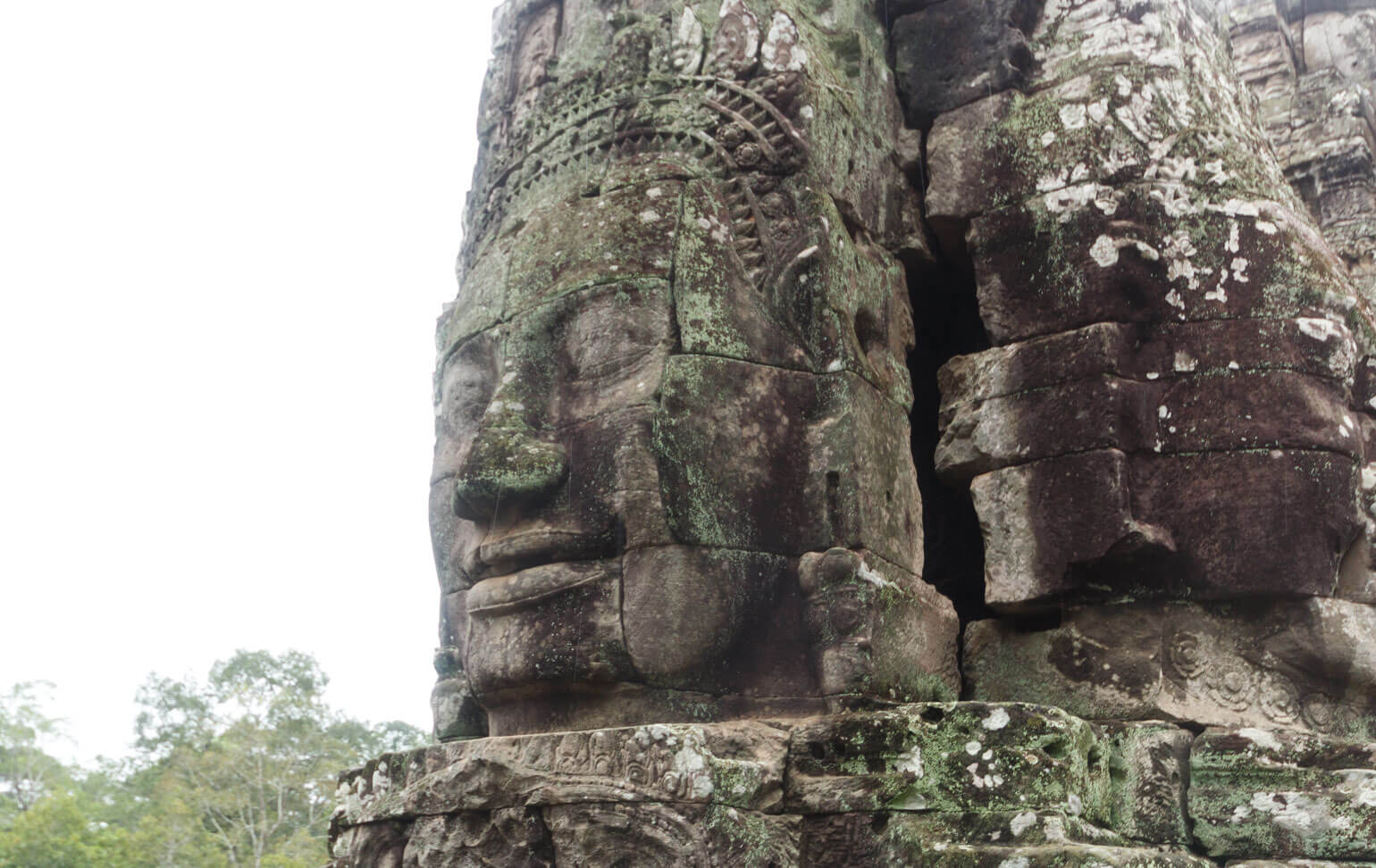 Cambodian Landmine Museum
If you decide to visit Banteay Srei, you should also stop at the Cambodian Landmine Museum on the way. Tragically, Cambodia is one of the countries with the most landmines in the world. The museum was founded by a former child soldier named Aki Ra. He had been forced to lay mines, but after the fighting was over he began to remove landmines by hand without any of the proper equipment to do so. Then he set up the first landmine museum where he would charge tourists to see the mines he had made safe. He used the money to look after many of the children who had been victims of landmines. The museum is fascinating and does a great job of explaining the issue of landmines in Cambodia.
Wat Thmei
On the way back from our visit to the temples our guide suggested we stop at Wat Thmei, somewhere that he described as a 'mini killing fields.' Wat Thmei is a temple with a memorial to people murdered by Pol Pot's Khmer Rouge during the Cambodian genocide from 1975 to 1979. Visiting this memorial is a sobering reminder of the horror inflicted on the people of Cambodia during that time. There is a glass-sided pagoda filled with the skulls and bones of some of the local victims. There are also a number of displays around the pagoda with information about the rule of the Khmer Rouge as well as photos from the time period.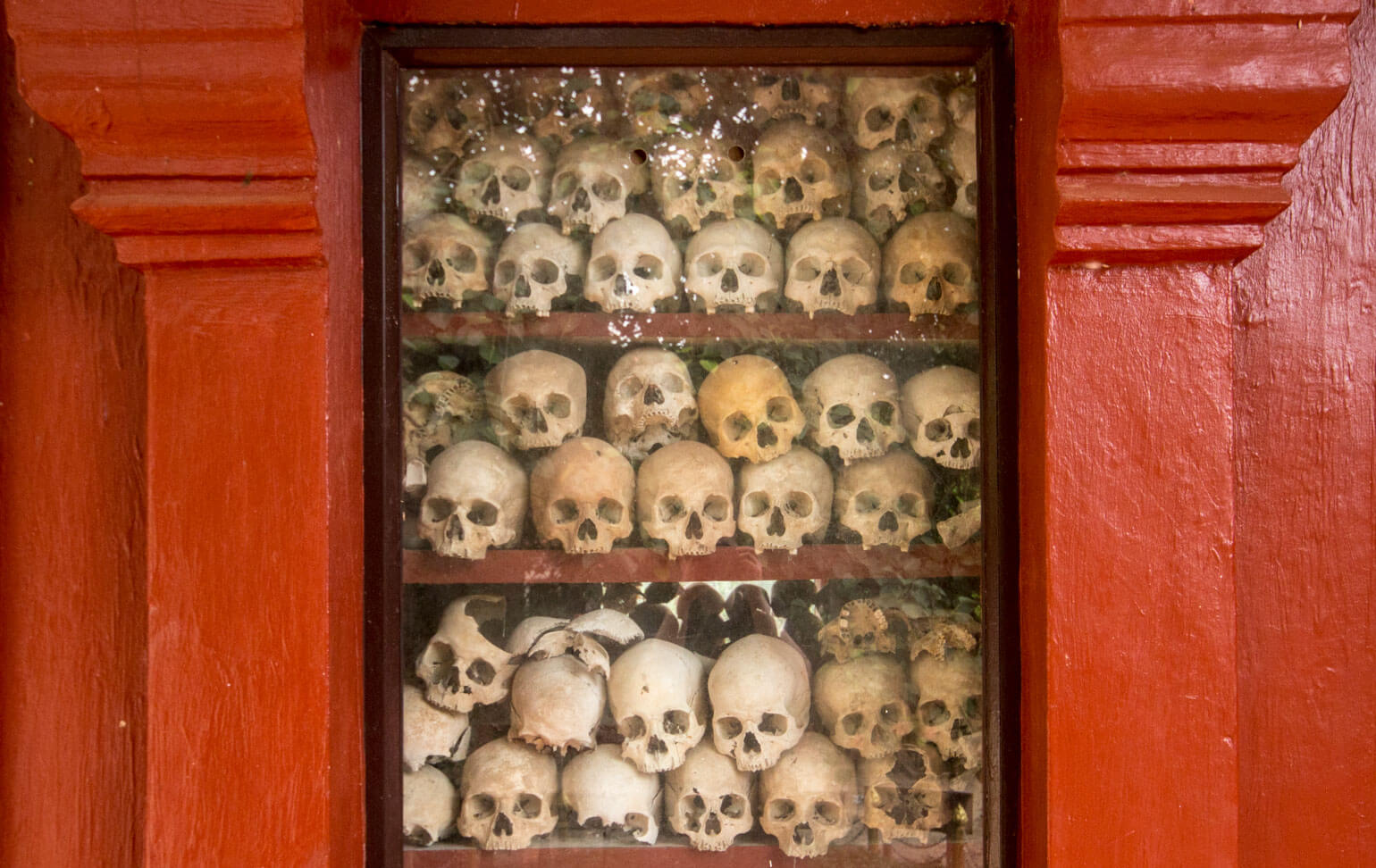 Kampong Khleang
Tonle Sap is the name of the lake near to Siam Reap. Along the edge of this lake there are a number of villages that are described as 'floating villages'. Some have buildings that are actually floating, but most are actually on stilts. We decided to visit Kampong Khleang which has both, but mainly buildings on stilts. It is slightly further away than the more popular Chong Khneas and Kampong Phluk but the other two are apparently very touristy and have become a lot less authentic as a result.
There were some other tourists there but it was very much still a fishing village with the locals going about their ordinary lives. We went on a boat trip that lasted about an hour and a half and gave us a good look at the whole village and some of the lake. It was an interesting experience and I'm glad we went, but it did end up costing us more than it probably should have. The boat trip cost us US$35 each, while the return trip to Kampong Khleang, our guide, and being brought to the airport after cost us a total of US$45 each.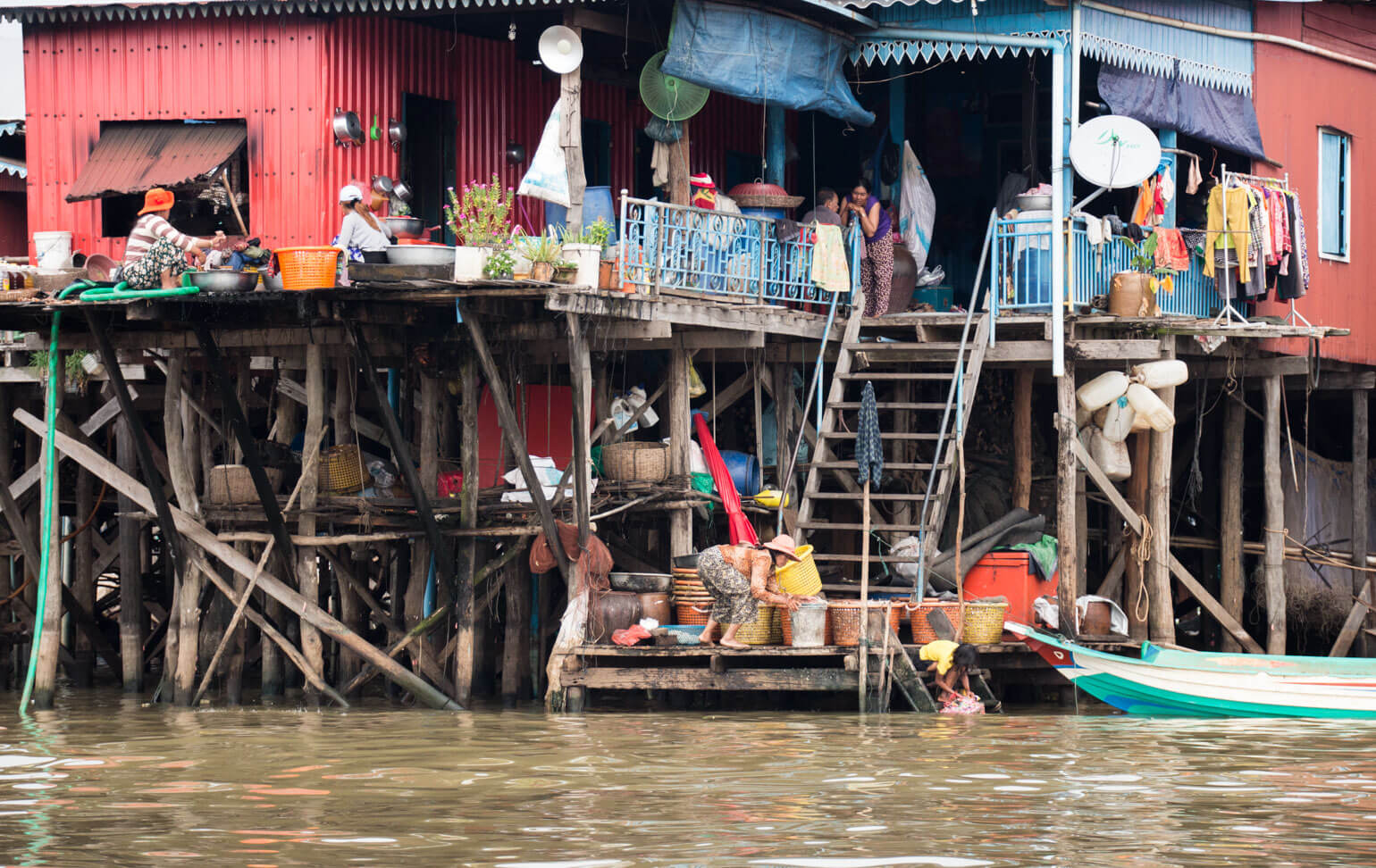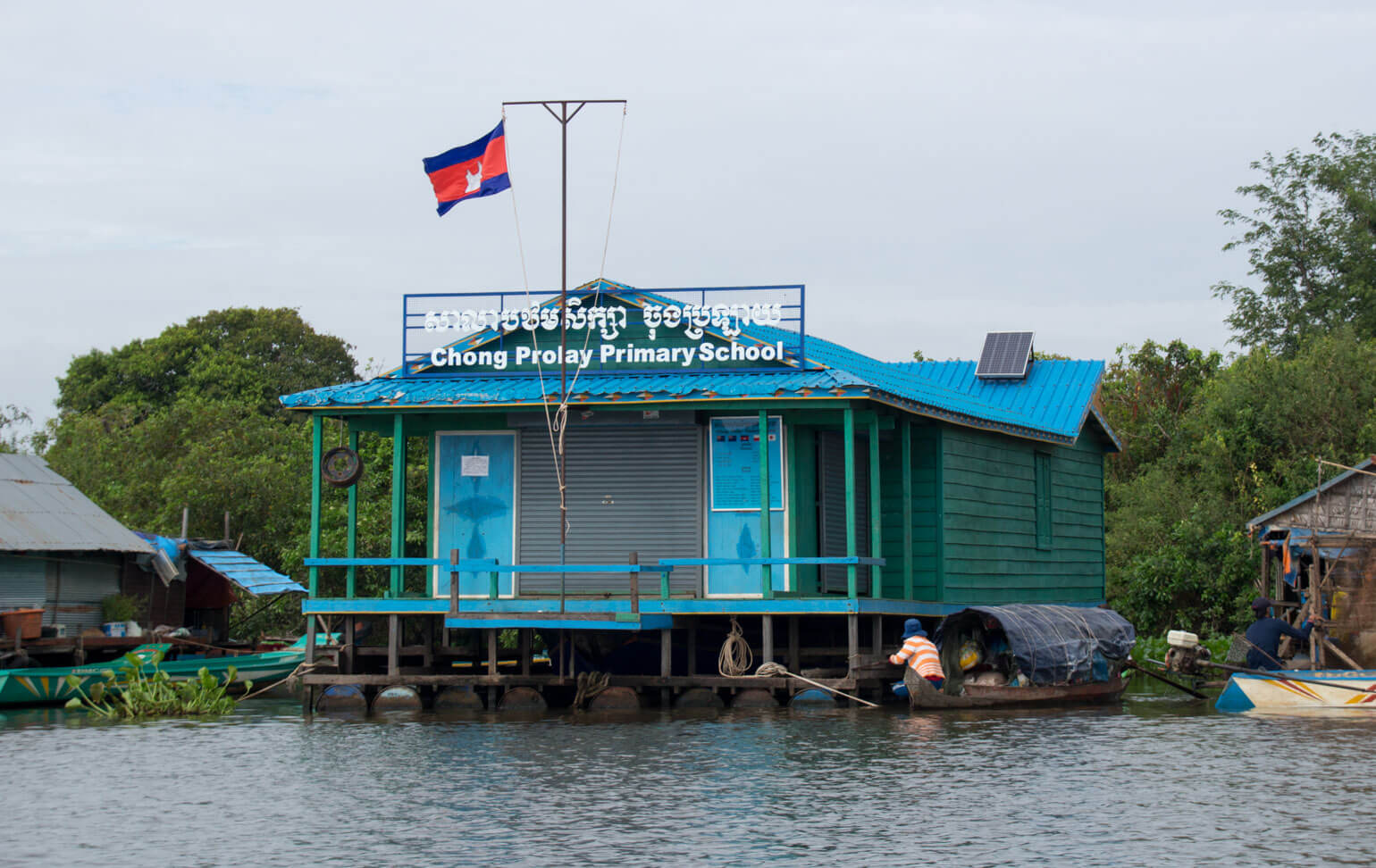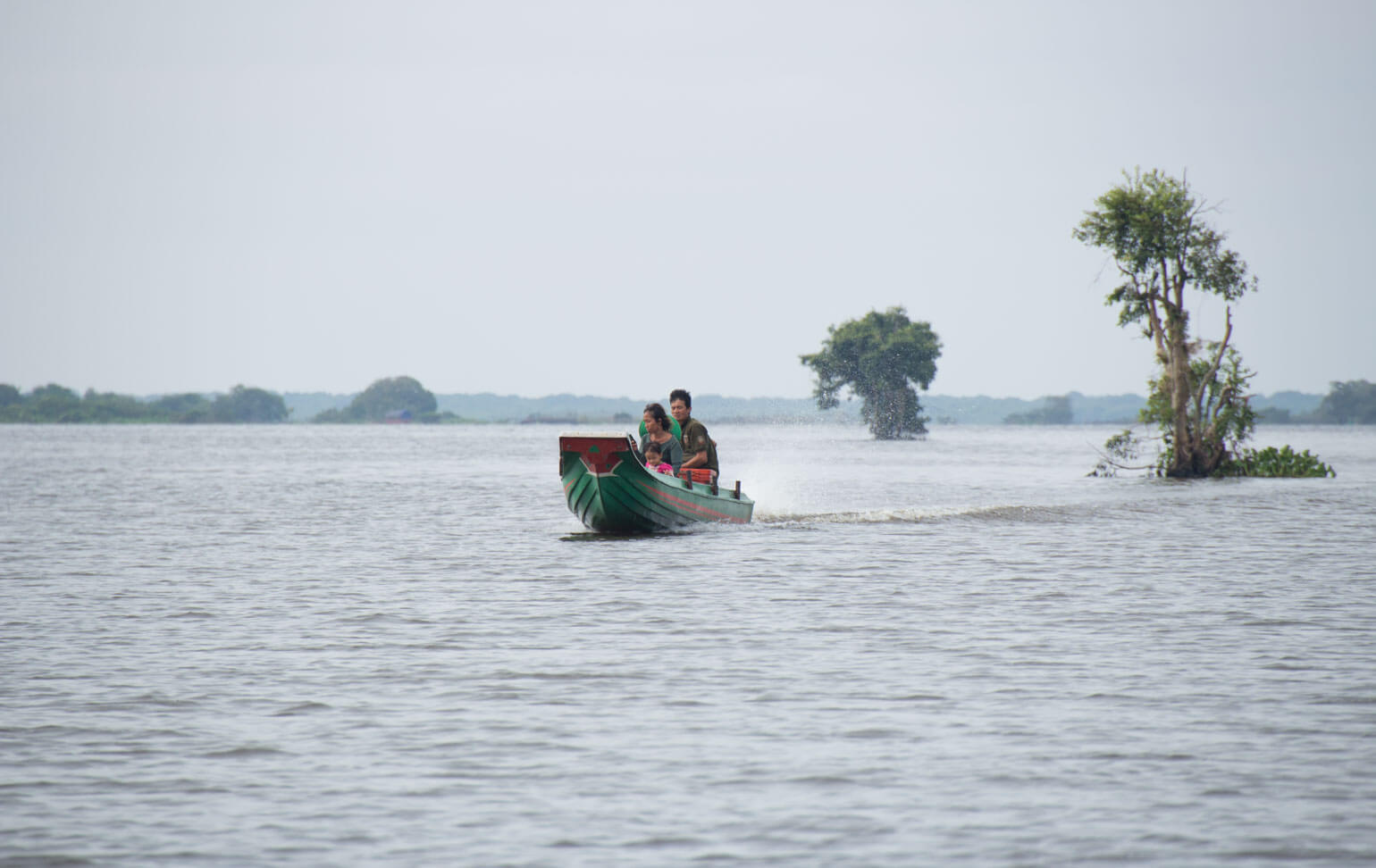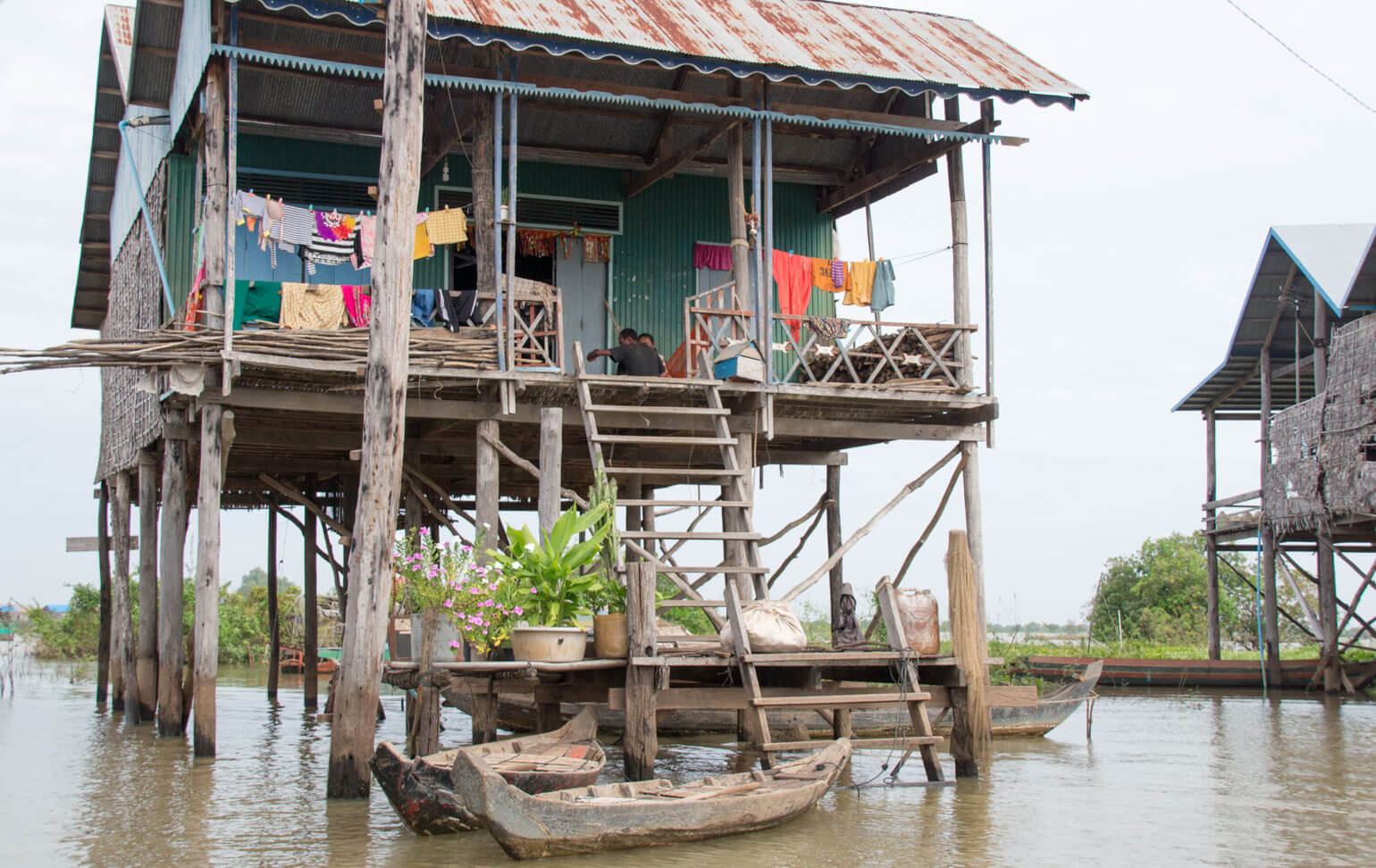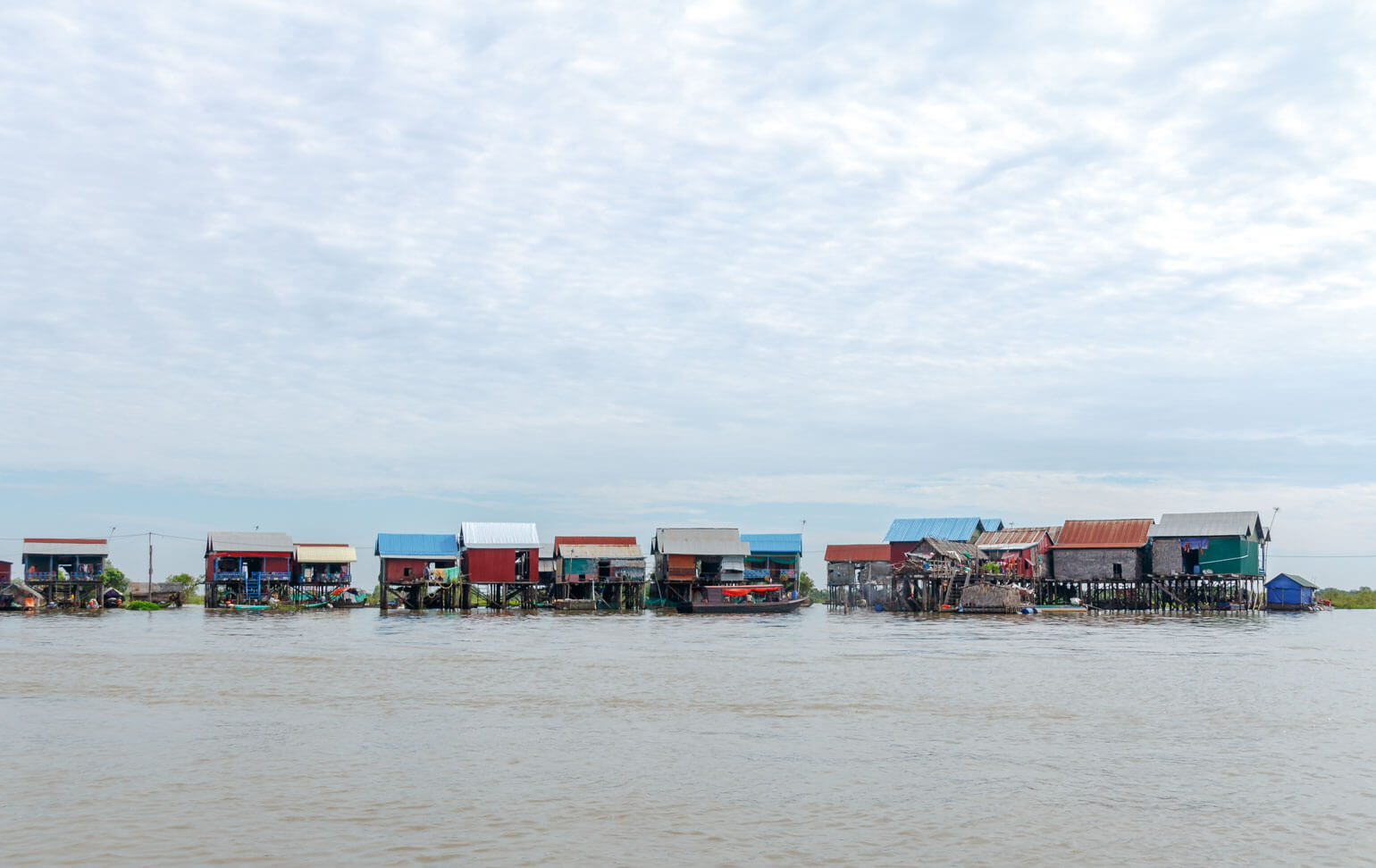 ---