Baku is the capital city of oil-rich Azerbaijan and the largest city located on the Caspian Sea. There are about 4 million people in the wider metropolitan area. Its blend of crazy modern architecture with traditional culture reminded me of Dubai.
One of the things that really struck me, having visited lots of former Soviet countries, was that Azerbaijan is the only one that I couldn't imagine as such. Nothing seems to remain from Soviet times, at least in Baku. In other countries, you will see facades still adorned with the hammer and sickle, or classic Soviet apartment blocks — little reminders of the past. In Azerbaijan I suspect the massive amount of money brought in from oil had led to a rapid and near-total transformation.
Unknown Azerbaijan
Most people in western countries still know very little about Azerbaijan, which in itself makes it an interesting place to visit. Knowledge of the country beyond its regional neighbours and the former Soviet Union is growing rapidly, but from a very low base. In recent years there has been an attempt to promote tourism to Azerbaijan by using the nickname 'Land of Fire', including on the shirts of the Atlético Madrid football team. The country has also tried to gain further international recognition through hosting major sporting events such as the European Games and the Formula 1 Grand Prix. The government has just recently created the National Tourism Promotion Bureau to further encourage people to visit the country.¹
A (not so) Muslim country
The majority of the population of Azerbaijan identify nominally as Muslim. The country is, however, officially secular and a Gallup poll showed that only 21% of Azeris consider religion an important part of their daily lives.² As a consequence, Azerbaijan is very different to many other Muslim countries. Women dress in western styles for the most part and alcohol is freely available.
'One nation, two states'
The Azeris are a Turkic people and they consider the people of Turkey to be their closest cousins. The 2 languages are often mutually intelligible. The former Azeri President, Heydar Aliyev, went as far as saying that the two countries were 'one nation, two states'.³
Language barrier
Unlike in Georgia and Armenia, where most people spoke some English and a lot spoke decent English, Azerbaijan required a lot more hand gestures to be understood. Not many people spoke English. Russian is better understood and Turkish is closely related so either of these would be an advantage.
The writing system used is the latin alphabet, so that does help in understanding place names, streets etc. Bear in mind that Azerbaijani has a few extra characters and diacritical marks compared to English.
---
Old City
Baku's Old City (İçərişəhər) is a medieval walled city with many buildings dating to at least the 12th century. It is well-preserved in parts and reconstructed in others. It is definitely worth spending some time wandering the narrow streets and discovering small courtyards and the patterned facades of some of the buildings.
Palace of the Shirvanshahs
This was my favourite part of the Old City. The palace consists of a number of buildings, some more interesting than others, but it is definitely worth the entrance fee of 4 manat (just over A$3). The buildings feature beautiful Arabic calligraphy and lots of geometric patterns typical of Islamic architecture. There is a small museum with plenty of historical artifacts and displays in English.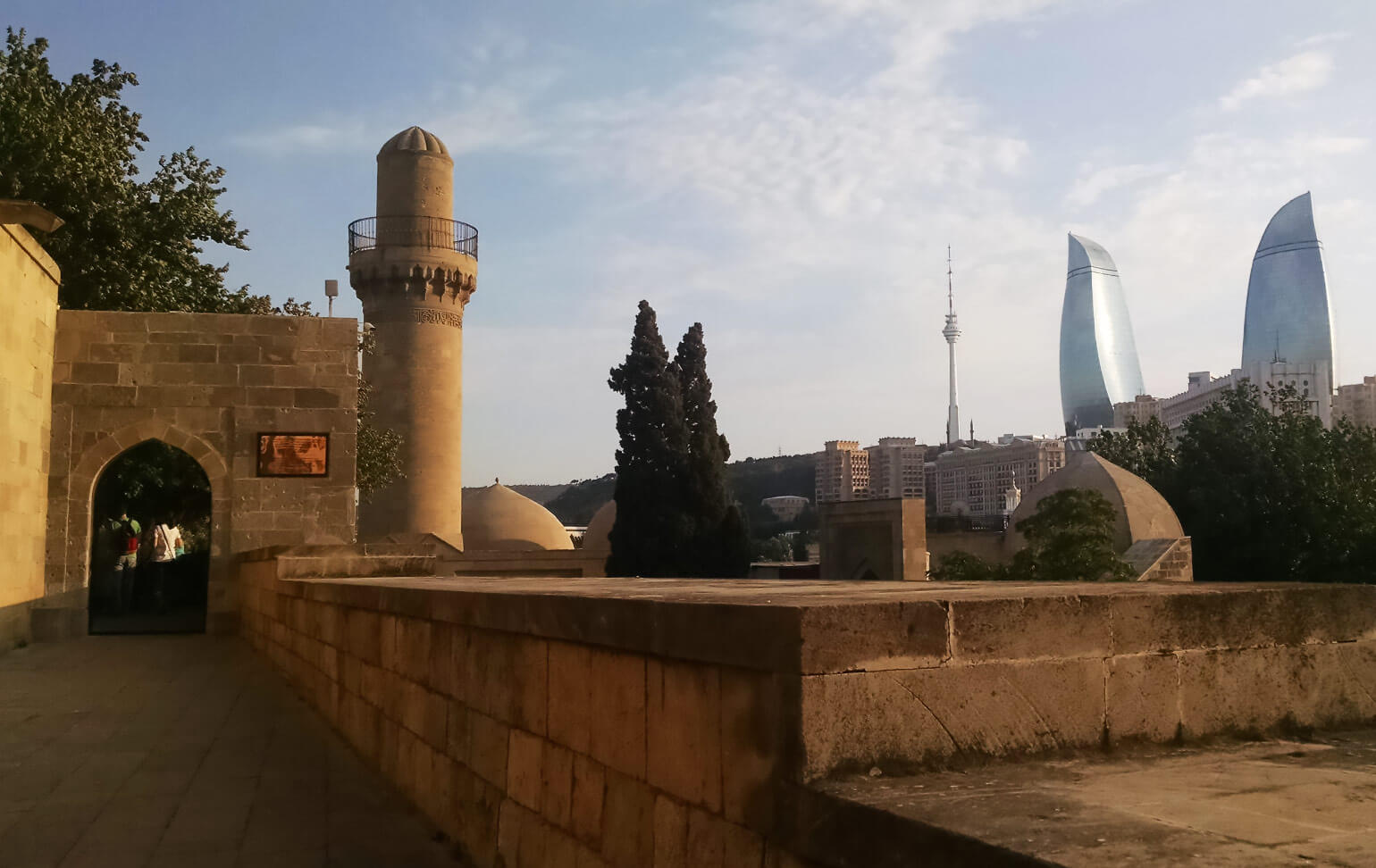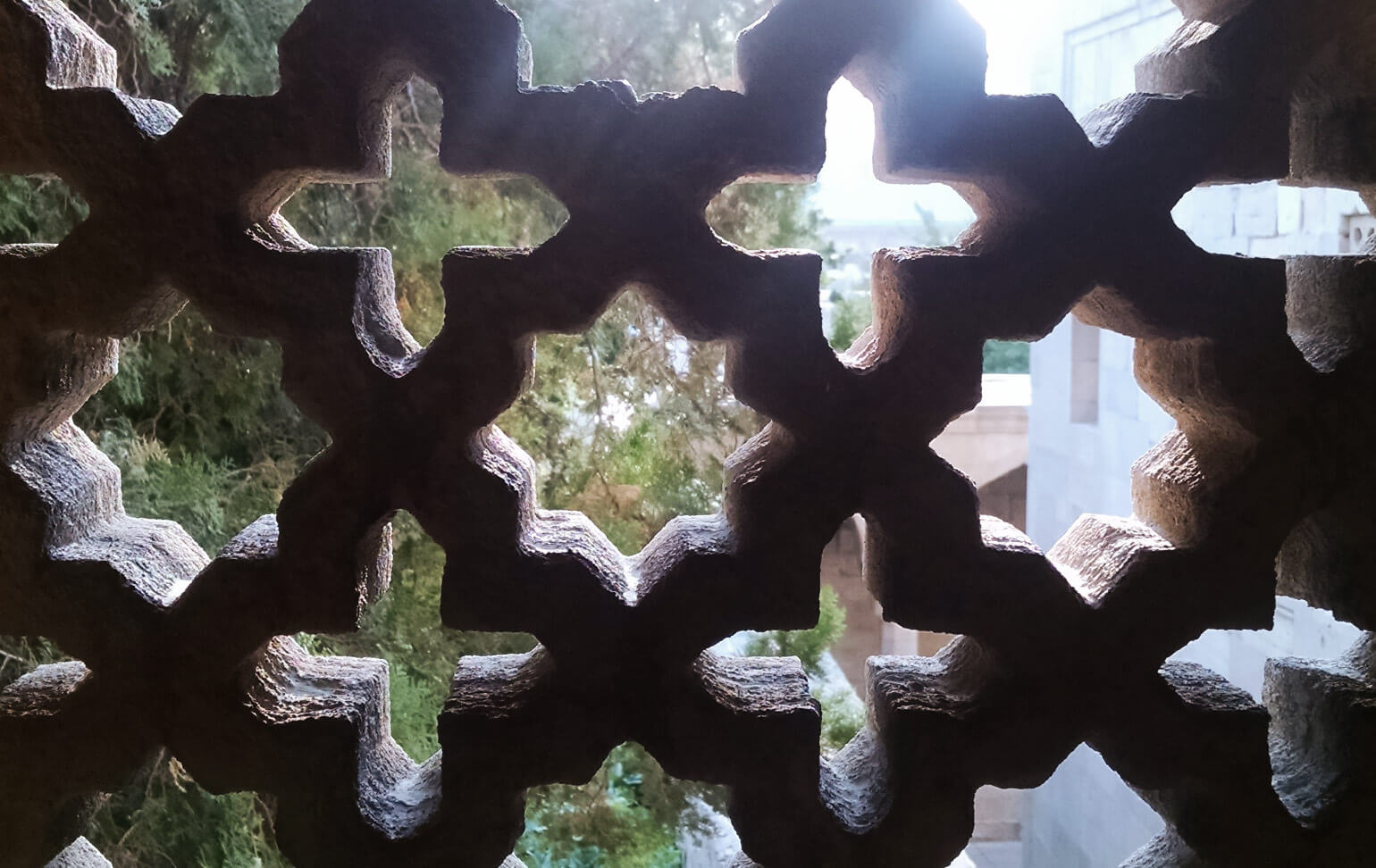 Maiden Tower
Also in the Old City, Maiden Tower is an iconic symbol of Azerbaijan, but is somewhat underwhelming considering the amount of legends and myths that surround it. There are various theories surrounding its history and previous uses, including that it was once possibly a temple, an observatory or a watch tower. There is a good view from the top, but not as good as other places in Baku (such as the Eternal Fire Memorial).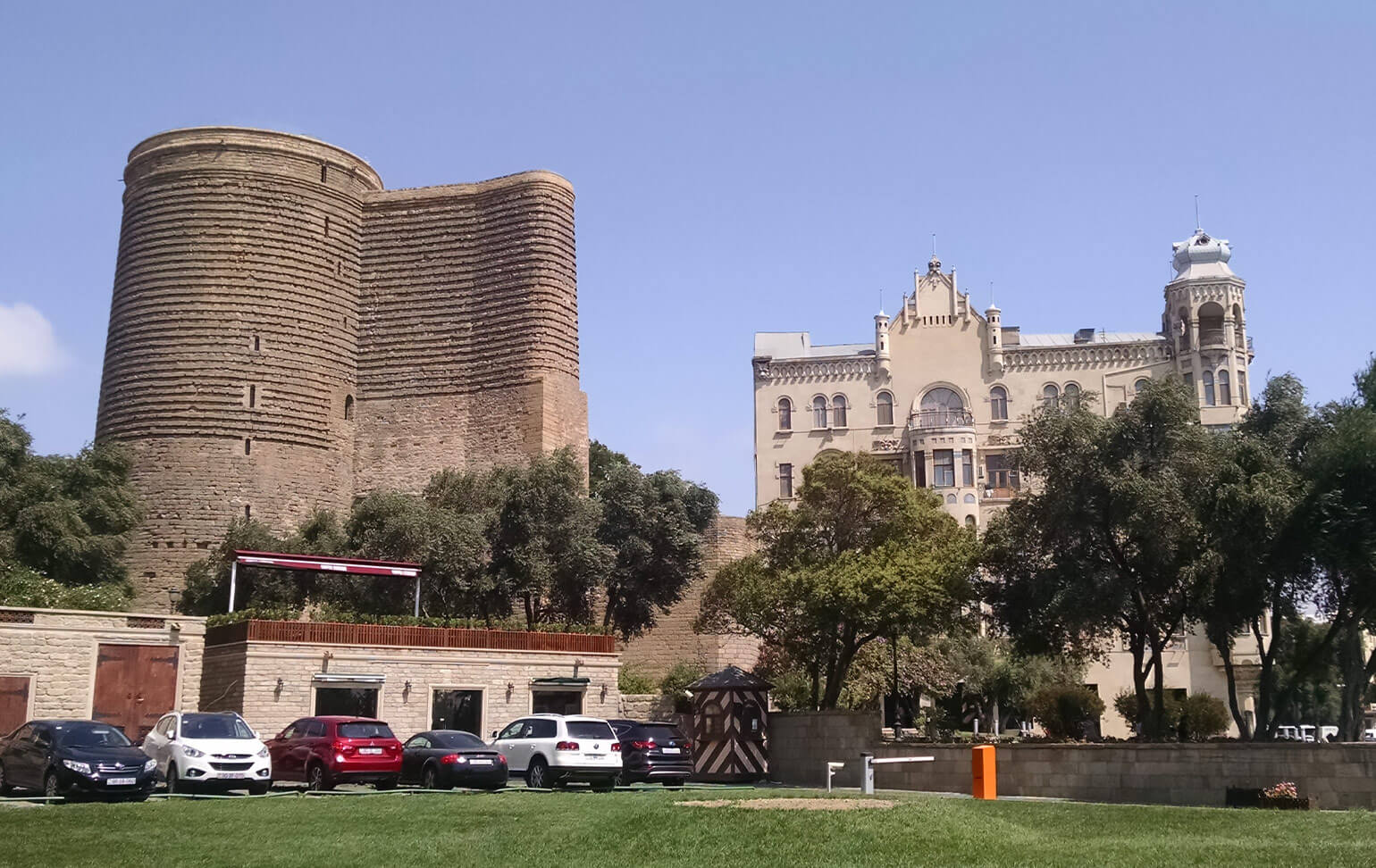 The Flame Towers
These 3 ultra-modern towers reflect the fire symbolism common in Azerbaijan. They can be seen from all over the city. At night they are lit up spectacularly with animations that alternately depict a waving Azeri flag and flickering flames.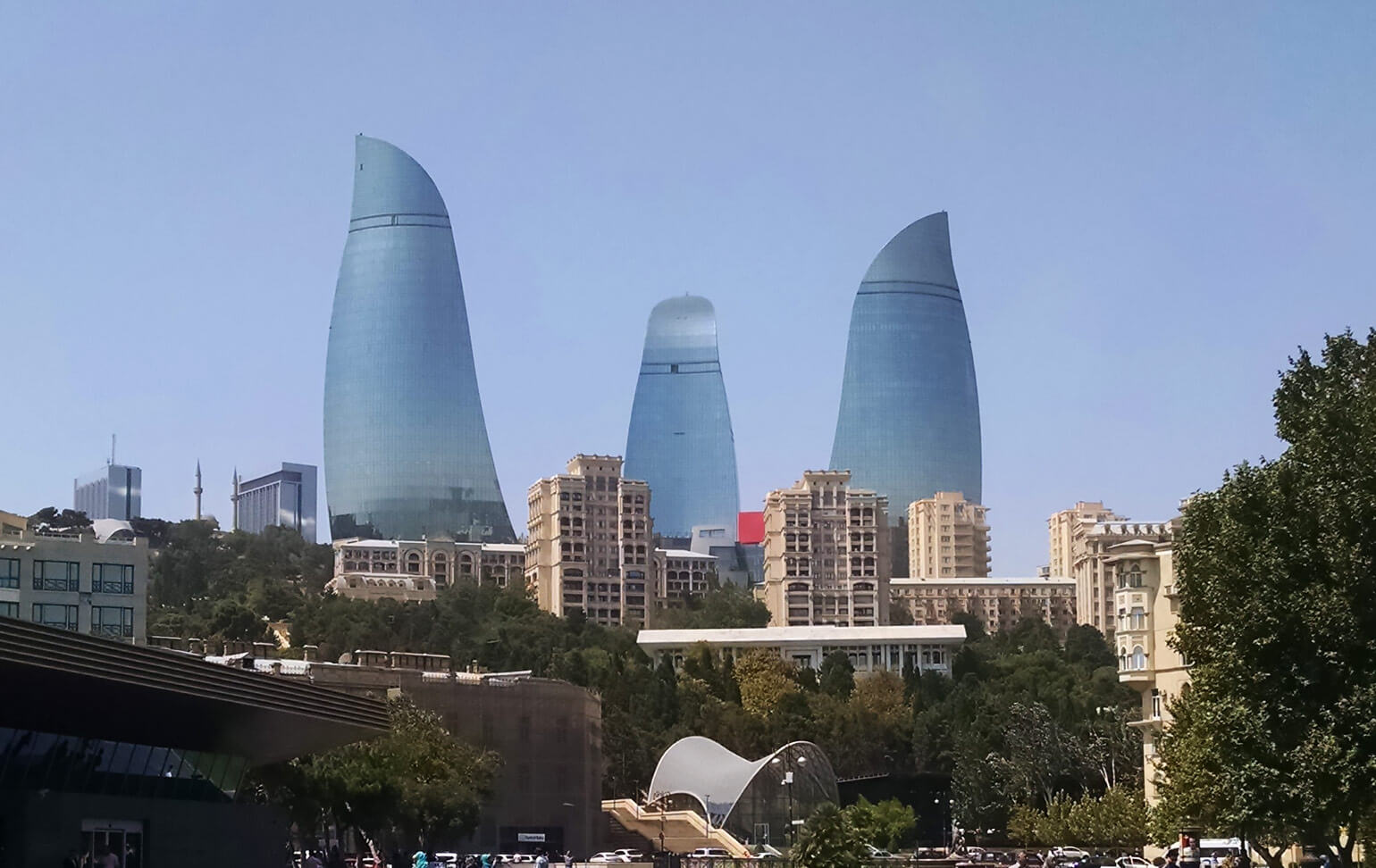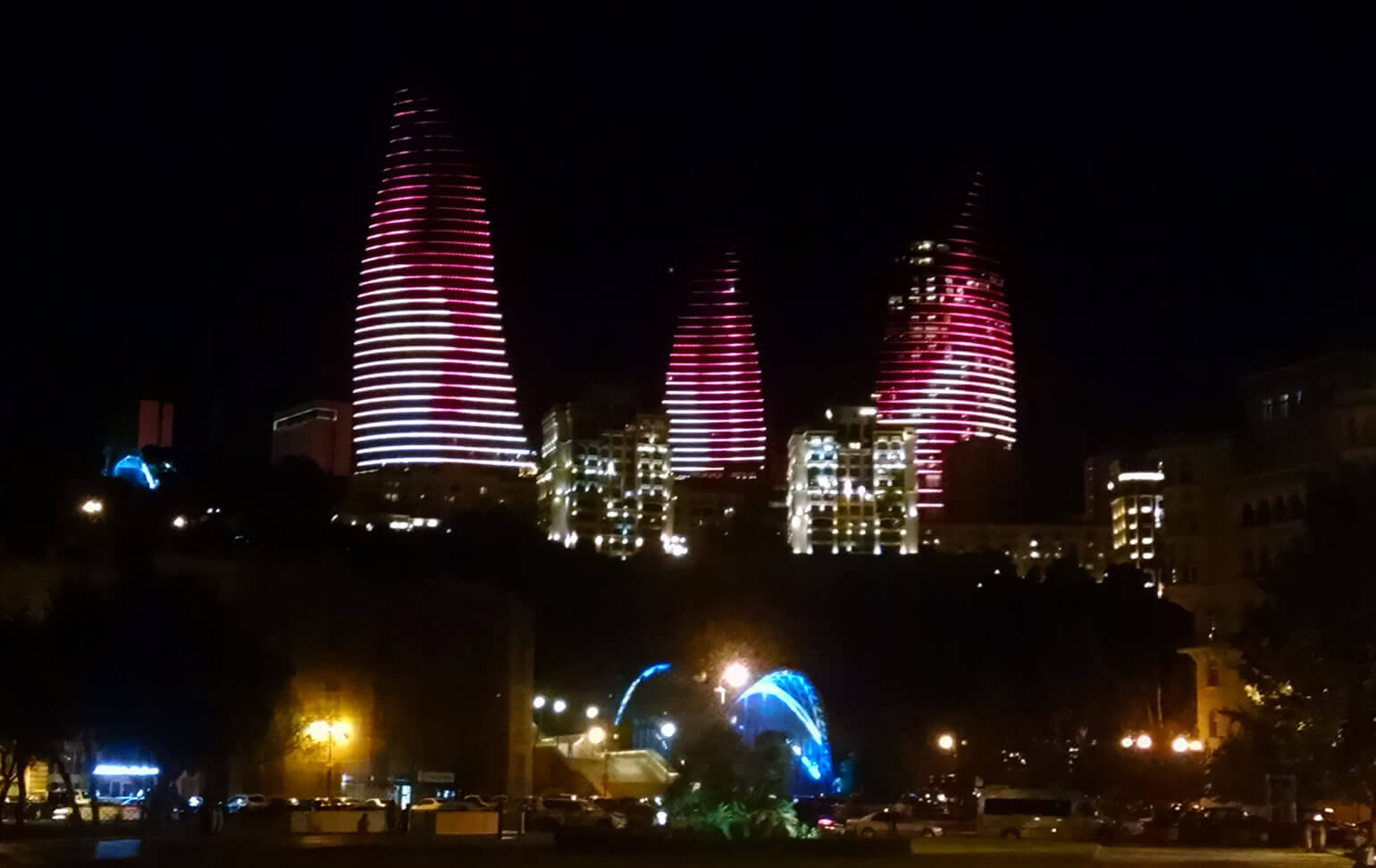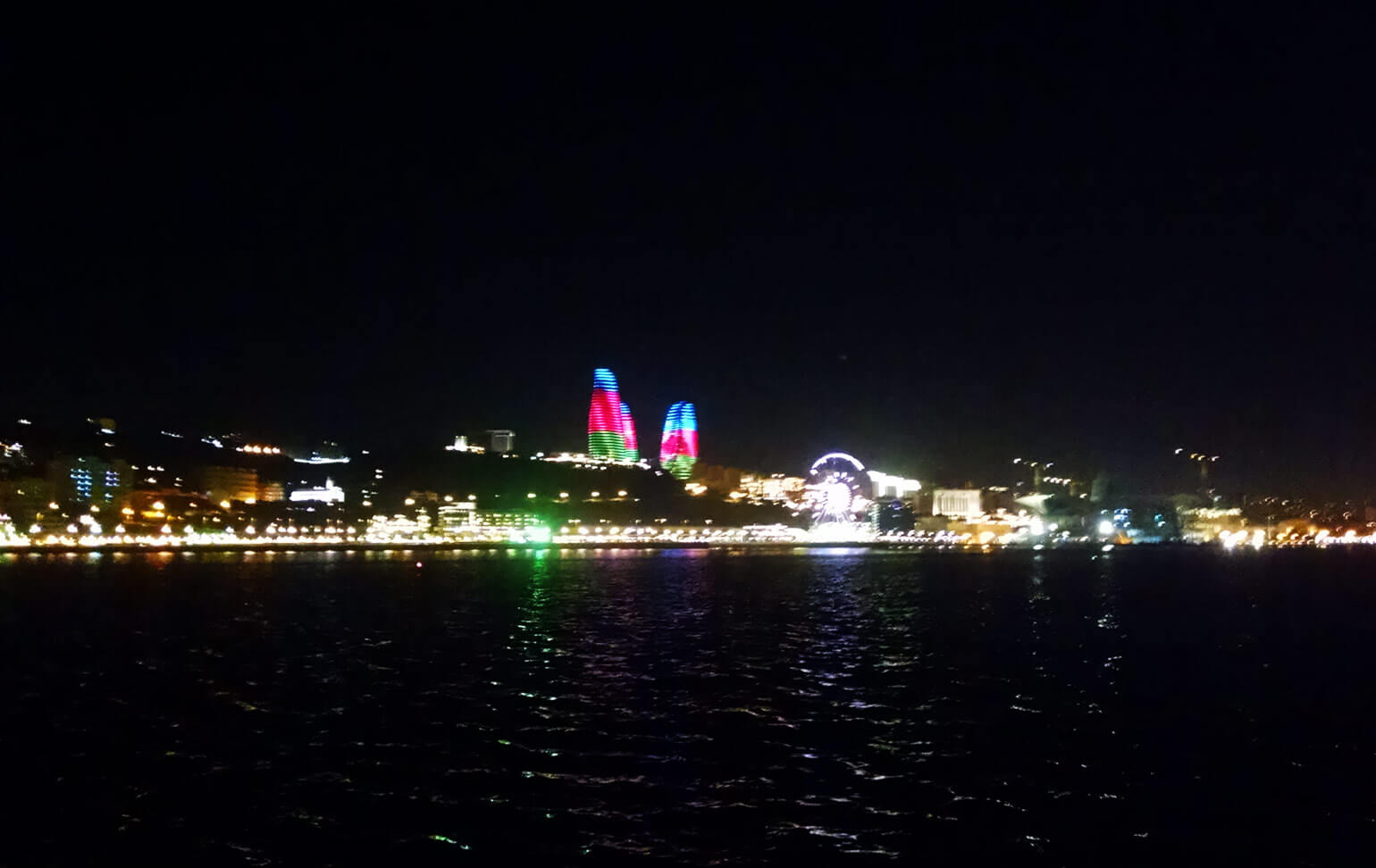 The Eternal Fire Memorial
The views from the Eternal Fire Memorial (which sits on top of a mountain and near the Flame Towers) are some of the best in Baku. You can see the whole city. It is a bit of a climb up numerous steps to reach the lookout but worth it. There is a funicular railway for those less inclined to walk the entire way up.
The Eternal Fire Memorial and Martyr's Lane beside it commemorate the soldiers that were killed protesting against the Soviet Union (during Black January) as well as those who died fighting in the Karabakh conflict.
Baku's waterfront area
The pedestrianised Baku Boulevard runs along the seafront. It is a popular place for people to congregate, walk, run, and cycle at any time of the day. There seems to be more going on in the evenings though. From here you can get some good views of both the sunset and the Flame Towers at night.
Carpet Museum
Along the waterfront, you will find the Carpet Museum with its building in the shape of a giant rolled-up carpet. The idea of paying to look at lots of different carpet patterns didn't appeal to me, but the building was worth seeing anyway, mainly for the weirdness of it.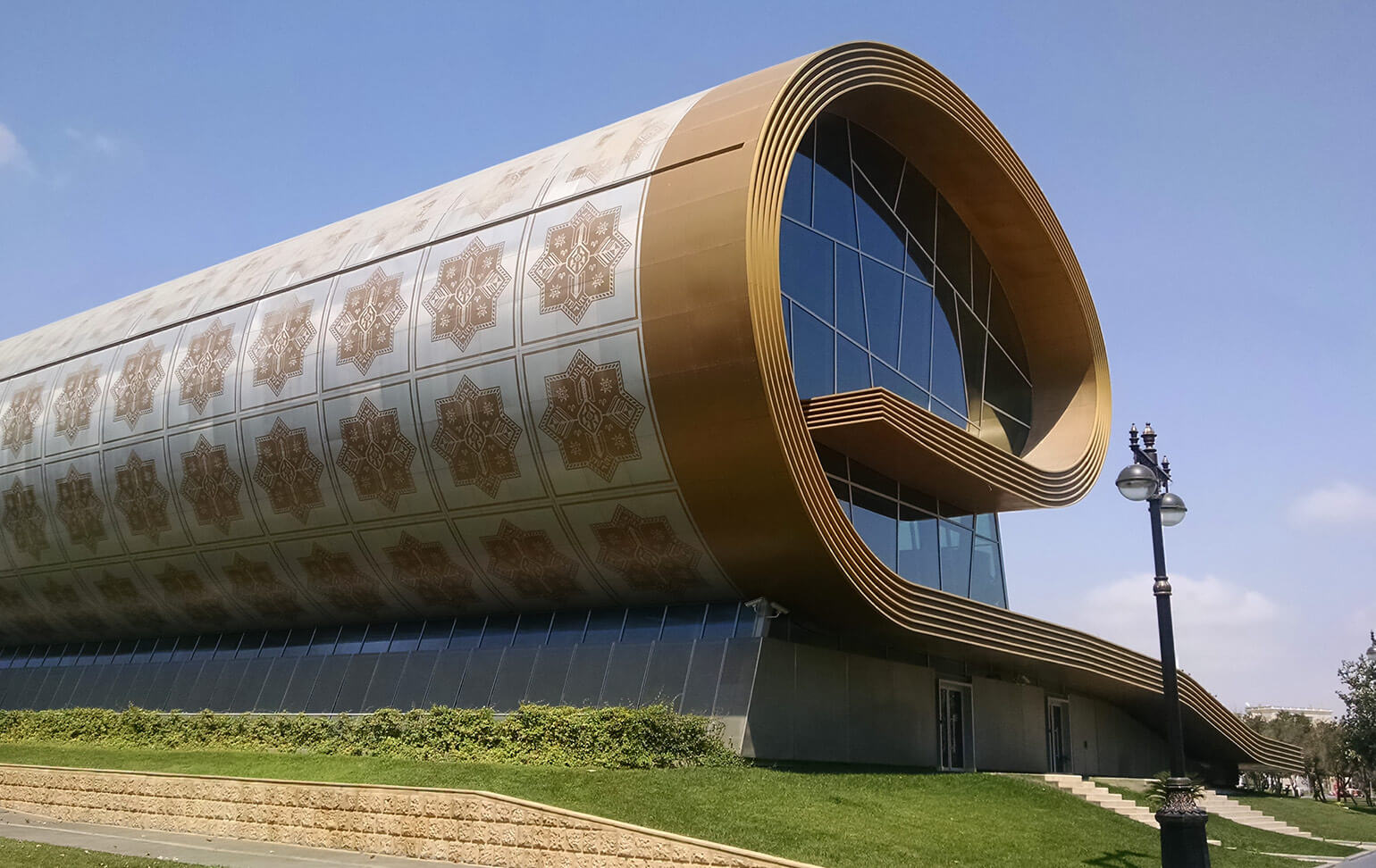 National Flag Square
At one end of the Baku Boulevard sits National Flag Square, which has a giant — you guessed it! — national flag of Azerbaijan. The flag measures 70 by 35 metres. The flagpole from which it flies was the tallest flagpole in the world when it was erected in 2010. It was overtaken by a taller one constructed in Tajikistan less than a year later. That one has since been overtaken by an even taller flagpole in Saudi Arabia. Who knew there was such a battle for flagpole height supremacy?
As you walk along the promenade towards it, you can see just how incredibly huge the flag is. There isn't much else to see at that end of the Baku Boulevard except the strange-looking Crystal Hall built to host the Eurovision in 2012.
Yanar Dag (burning mountain)
Yanar Dag is a natural fire that burns continuously because of the release of natural gas from the earth. It has been burning since the 1950s when it was apparently accidentally lit by a shepherd. It costs 2 manat to visit and is actually surprisingly unimpressive compared to how it sounds. I went to see it because it is an unusual phenomenon, but to be perfectly honest, it wasn't really worth it.
If you would like to see for yourself, you can take the metro to Koroğlu, where there is a bus station. Yanar Dag is the final stop on the number 217 and it takes about 40 minutes to get there.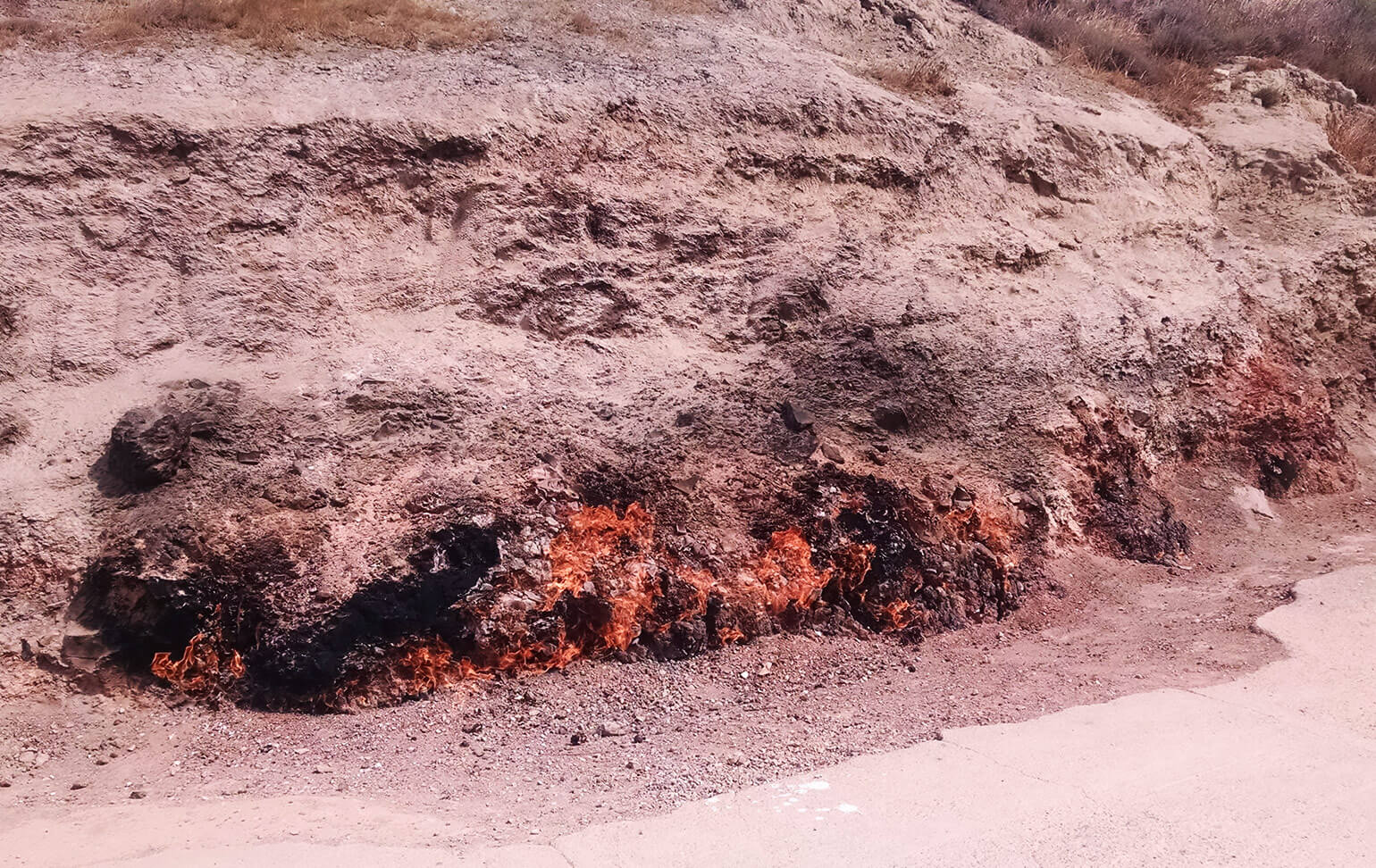 Gobustan Petroglyphs
The Gobustan Rock Art Cultural Landscape is a UNESCO World Heritage Site. According to UNESCO, the area has "more than 6,000 rock engravings bearing testimony to 40,000 years of rock art." Make sure you visit the museum first to get a better understanding.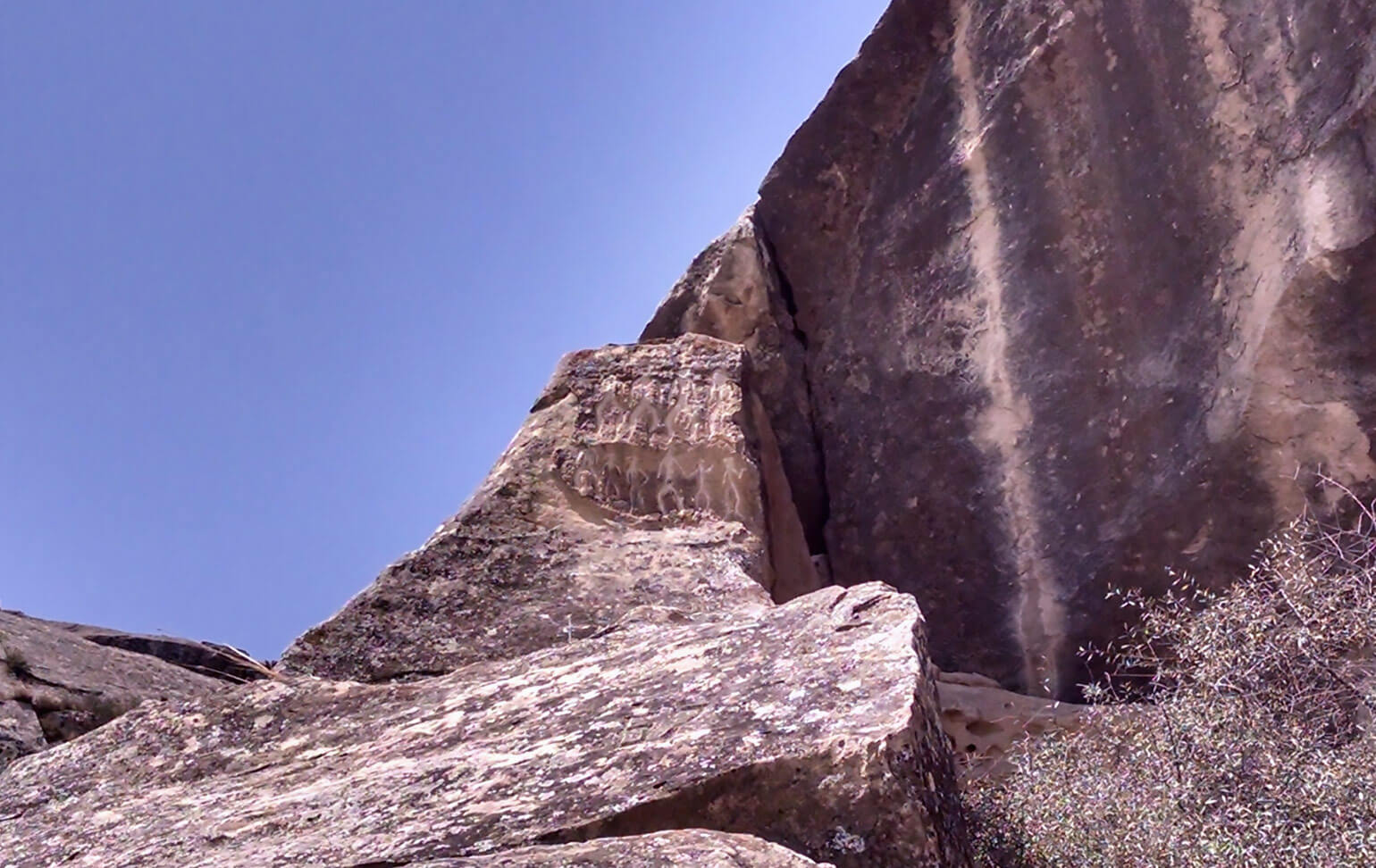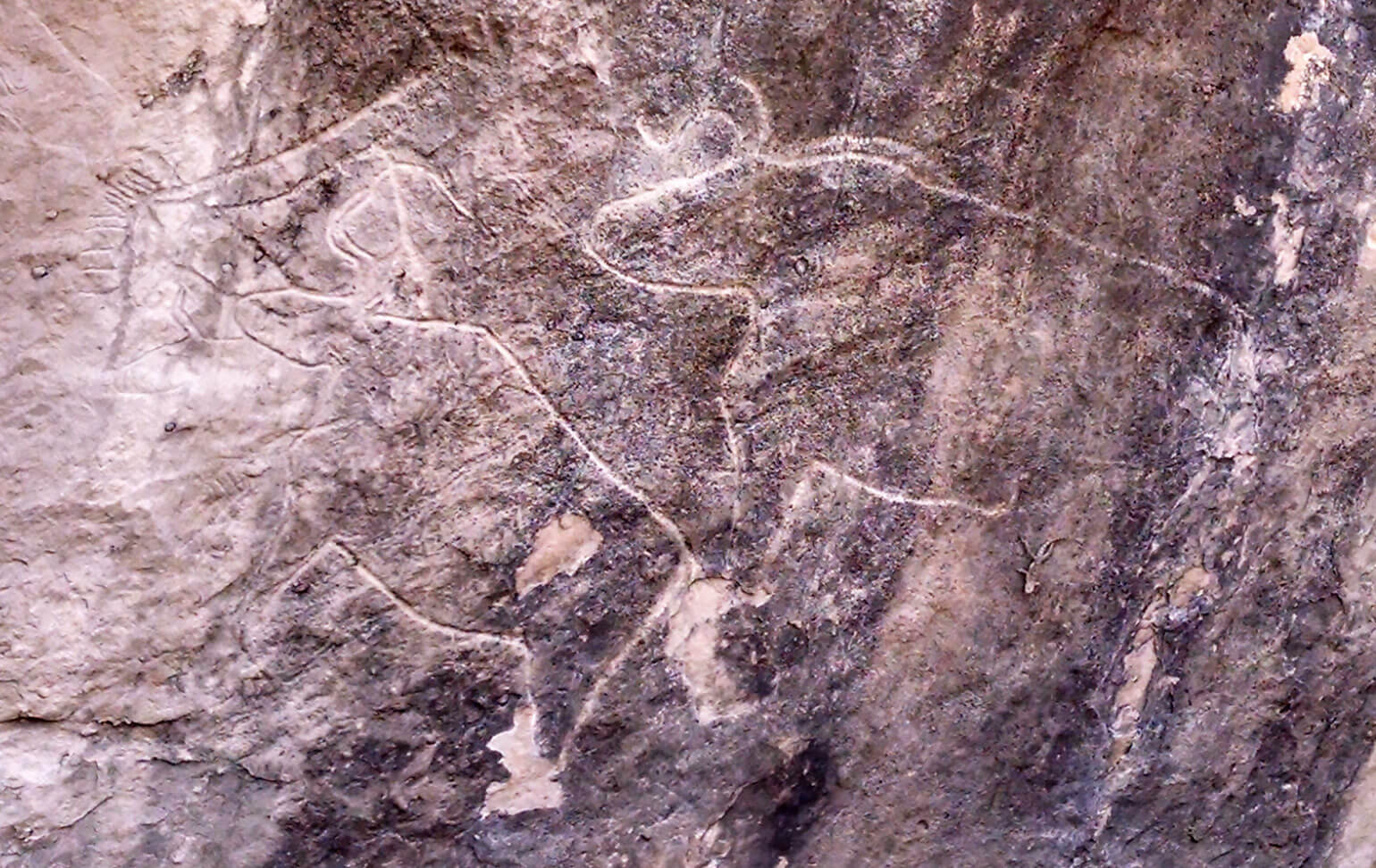 Mud Volcanoes
The highlight of my trip to Baku was seeing these strange mud volcanoes bubbling and gurgling out in the desert. For such an unusual and fascinating attraction I was surprised that they were in the middle of nowhere, down a dusty, poorly-maintained track.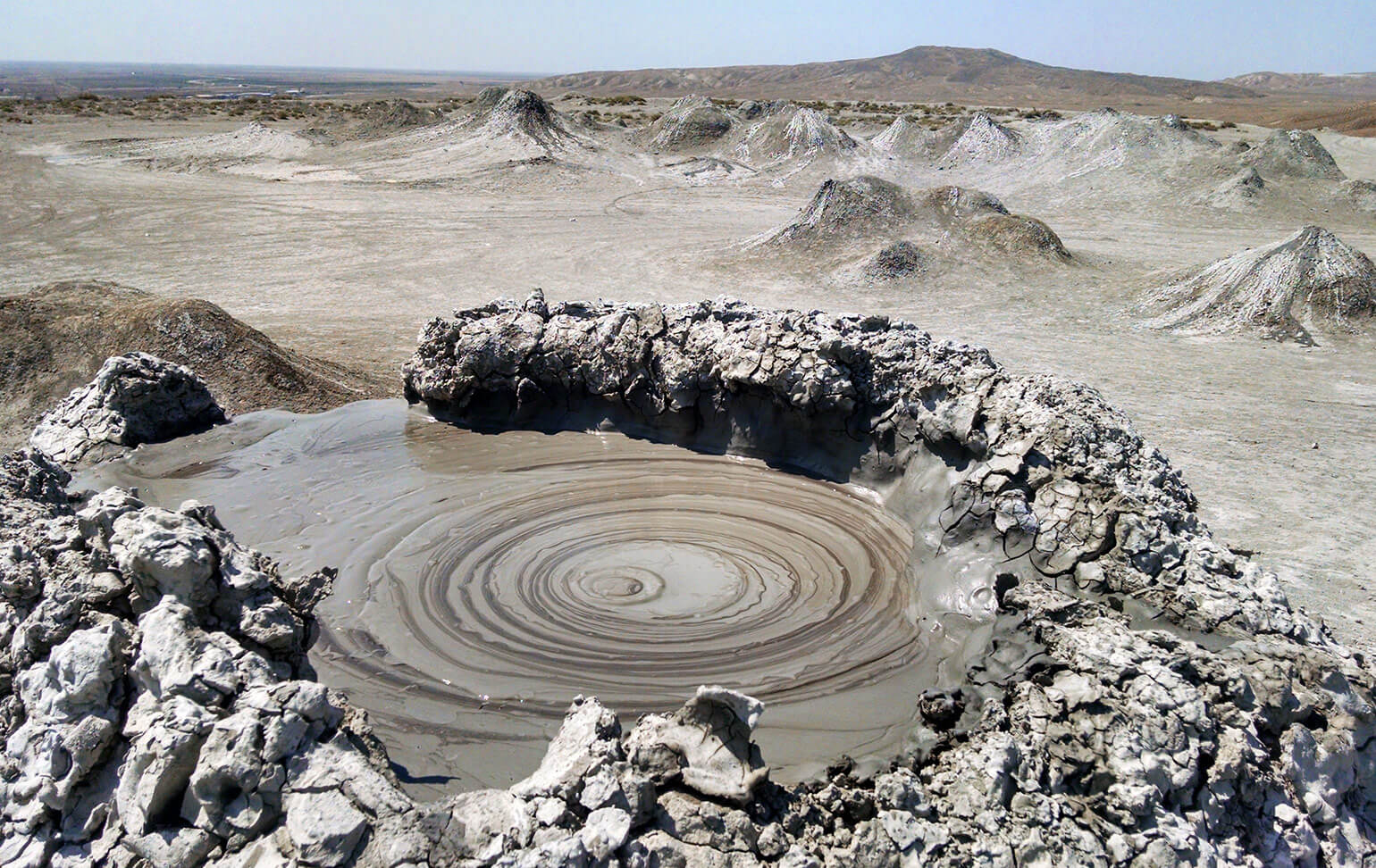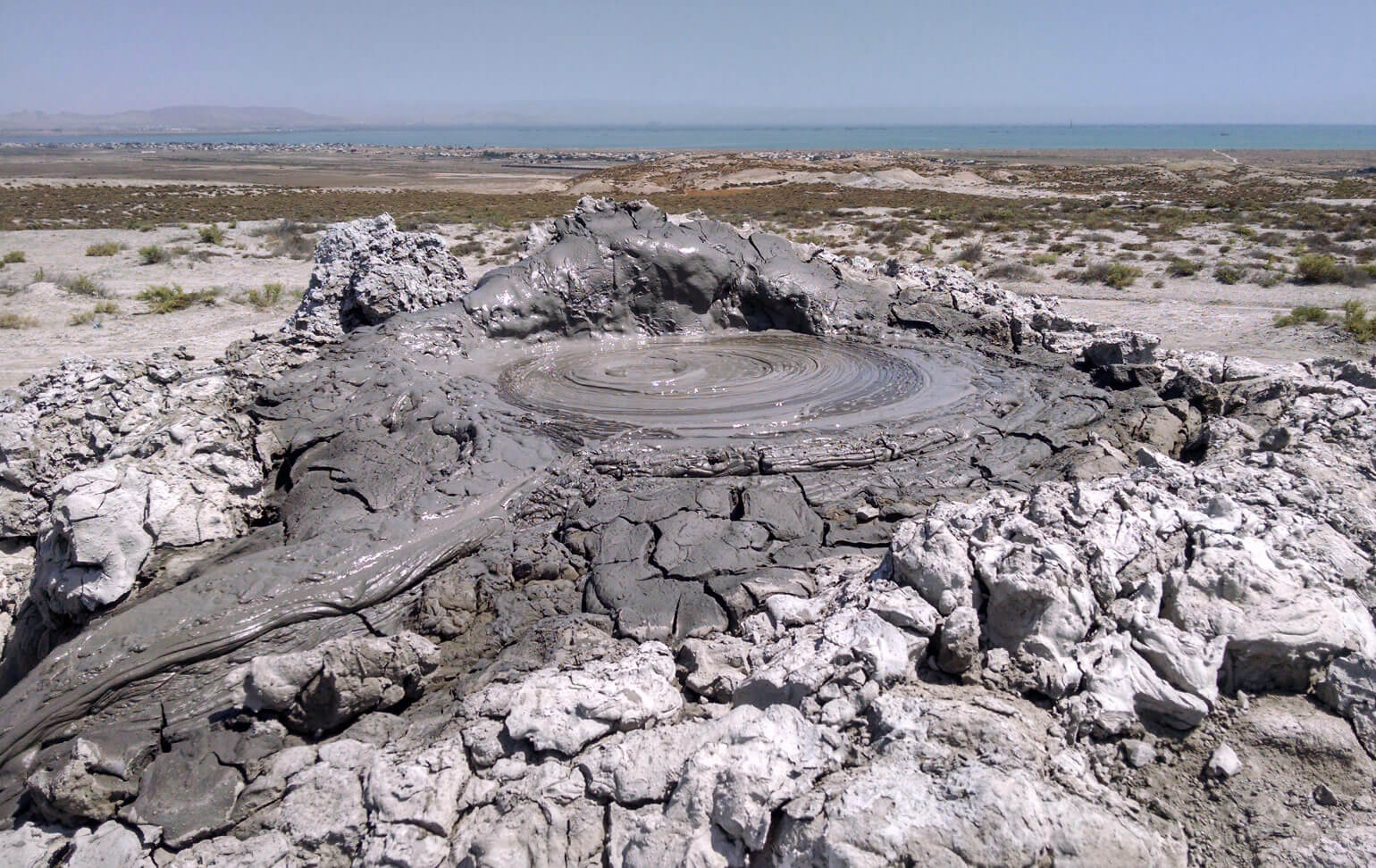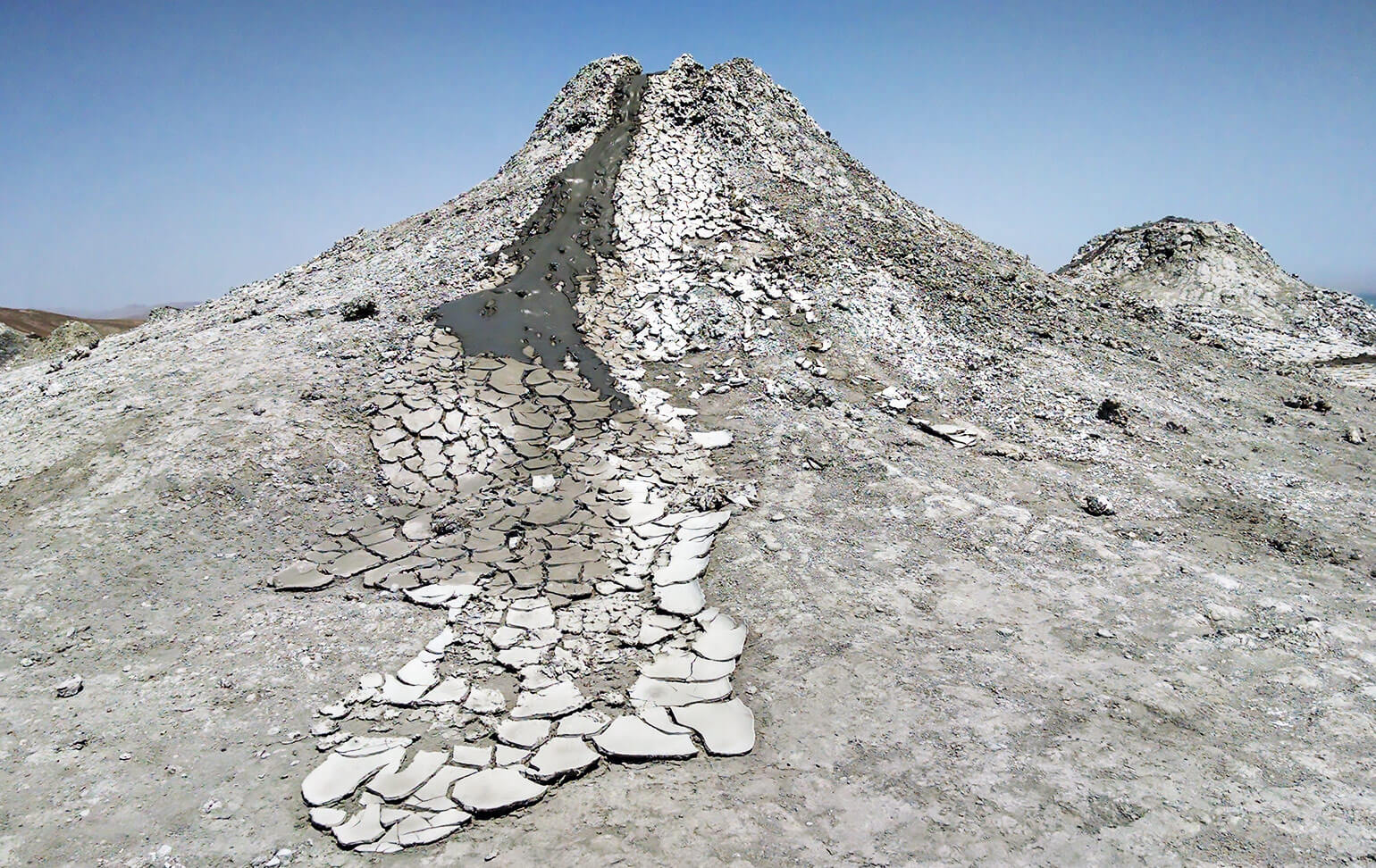 Getting to Gobustan
To get there you will need to catch the number 88 bus from in front of the Maiden Tower on Neftçilər Prospekti to the '20. Saha' bus stop. From there you can take the number 195 towards Alat and get off in Gobustan (written as Qobustan). These two buses will cost about 1 manat altogether. There should be taxis waiting there and willing to take you to the Petroglyphs and the nearby mud volcanoes. You should be prepared to haggle as they will probably start by quoting you a massively overinflated price. I paid 25 manat (A$20) to go to both the mud volcanoes and the petroglyphs.
---
Getting there
The most common ways of getting to Baku are by train from Tbilisi or flying directly. Baku International Airport is well-connected, especially through Azerbaijan Airlines. Some of the cheapest routes are from Istanbul and Dubai. Another route worth mentioning for those in Europe is Budapest to Baku with Wizz Air, a Hungarian budget airline.
An overnight train leaves Tbilisi every evening and arrives in Baku the next morning. The second class 4-berth sleeping carriages are quite comfortable and cost 46 Georgian Lari (about A$26/US$19/€17). Tickets can be bought from the train station in Tbilisi and it is a good idea to buy them a few days in advance if possible. Make sure to bring your passport to the station when buying your ticket. The train leaves Tbilisi at 5:50pm and arrives in Baku at about 7:20 the next morning. Remember to bring any food and drink you will need as nothing is sold on the train.
---
Where to stay
I stayed at the Baku Palace Hotel, in a large room that they had converted into a dorm. The place was perfectly fine for a few days but nothing special. The staff were very helpful, however, in organising a visa. Accomodation prices in Baku are a bit higher than Georgia and Armenia (and even other parts of Azerbaijan) so it may be a bit of a shock to people travelling around the region. There does seem to be a growing number of hostels in Baku — good news for those wanting to save some money. For booking hostels I always use Hostelworld.
---
Getting a visa
It's important to note that citizens of most countries need to get a visa before entering Azerbaijan. When I visited in 2016, I had to pay a fee to the hotel that I stayed at for them to organise a visa. They then emailed it to me. The alternative was to send my passport and application form to an embassy. As I was travelling at the time this wasn't an option.
The good news is that as of January 2017 the rules have changed and citizens of 82 countries (including nearly all European countries, the United States, Canada, Australia and New Zealand) can apply for a 30-day e-visa on the new Republic of Azerbaijan Electronic Visa Portal. You will receive your visa within 3 working days and it costs US$23 (including the US$3 service fee).
---
A note on Armenia
Despite the shared border it is not possible to travel from Armenia to Azerbaijan. Armenian citizens and all people of Armenian descent are also banned from entering Azerbaijan due to the ongoing dispute and conflict over the Nagorno-Karabakh region. The region is recognised by the UN as being part of Azerbaijan, but it is populated by ethnic Armenians who consider it the Republic of Artsakh (previously the Nagorno-Karabakh Republic).4 The 'Conditions for issuing e-Visas' include the following:
Foreign nationals and stateless persons having visited the Nagorno-Karabakh and other regions of the Republic of Azerbaijan occupied by the Republic of Armenia without an official permission of the Ministry of Foreign Affairs of the Republic of Azerbaijan after 1991 may not be allowed to enter the territory of the Republic of Azerbaijan regardless of whether or not they obtained an electronic visa.5
What this means in practice is that you can visit Armenia before visiting Azerbaijan, but you cannot visit Nagorno-Karabakh or any of the other small areas under Armenian control that are claimed by Azerbaijan. Some websites claim that you cannot visit Armenia at all before visiting Azerbaijan but that is completely untrue. The Azeri border guards had no problem with the Armenian stamp in my passport as long as I did not have any products from Armenia with me. One of my fellow passengers on the overnight border crossing train (from Georgia to Azerbaijan) had a bottle of Armenian cognac and was told that he could either finish it before we arrived in Baku or they would confiscate it. He promised to finish it before the end of the journey and promptly proceeded to do so.
Don't mention the war
It is good to be aware of the very strong feelings that surround the Nagorno-Karabakh conflict, heightened by regular propaganda regarding the issue. It is not a topic to bring up lightly or, in general, to express an opinion about.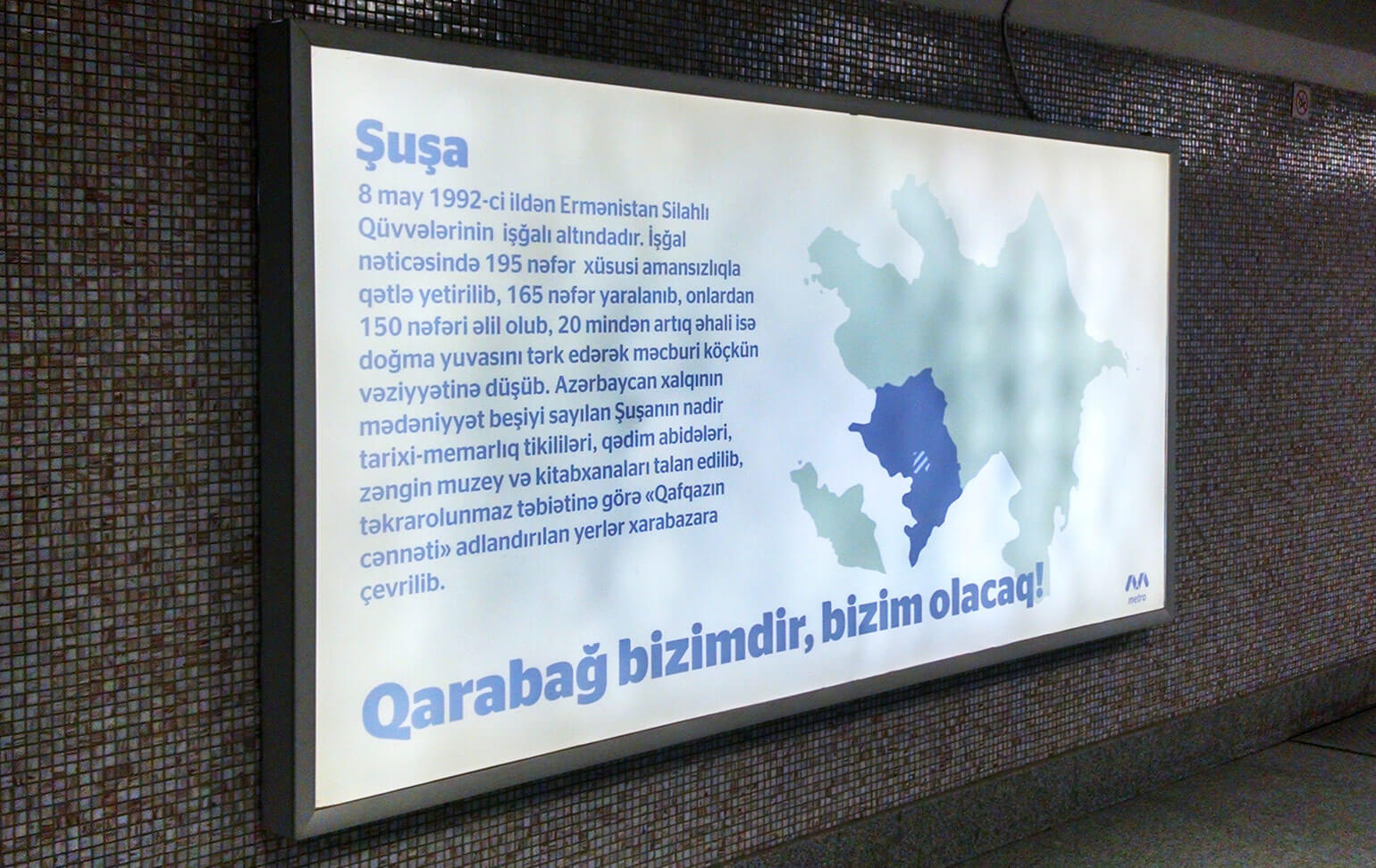 ---