Sri Lanka has so much variety, from beautiful beaches to terrific hill towns, and so much in between. However, something that many don't expect is that you can go on safari in savannahs that you might be more likely to find in east Africa. One place worth exploring on the back of a jeep is Udawalawe (ooh-dah-wah-lah-way) National Park, located conveniently between Sri Lanka's southern beaches and the tea-filled hill towns high in the mountains.
The stars of the show in Udawalawe are definitely the elephants. It's amazing to get so close to them in the wild. Some of the other animals you may see are water buffalo, crocodiles, lizards, snakes, deer, eagles and lots of other types of birds. There are two types of monkeys as well, both of which I saw on my visit. They are the toque macaque and the tufted gray langur. There are also some Sri Lankan leopards in the park, but a sighting of one is unfortunately very rare.
---
How to get to Udawalawe by bus
From the South
I travelled to Udawalawe on local buses from Galle. It required 3 different buses, with changes at Matara and then at Tangalle. It took about 5 hours, including some waiting between buses at Matara and Tangalle. The buses are quite an experience. The seats are uncomfortable (when you have one), the roads are bumpy and the air conditioning generally consists of a flow of air through the open windows. Between the traffic outside and the blaring music inside, the noise can be crazy. I was very glad I had my headphones and some podcasts to listen to. Having said that, the buses are an interesting experience of ordinary Sri Lankan life. They are also super cheap. My 5-hour journey cost less than 2 dollars!
From the North
From Ella, you will need to take two buses, changing at Wellawaya. The journey should take about 4 hours. The bus journey closer to Ella is very scenic as the roads wind down from the mountains.
---
Finding accommodation and organising a safari
Udawalawa Junction is the best place to get off the bus. There are a huge amount of guesthouses nearby. If you have booked one already it will be easy to get a tuktuk from there. It is a very good idea to book ahead if you are visiting between November and February because it is the high season.
If you haven't booked anything, you will probably be approached about staying somewhere as soon as you get off the bus. As I visited in the low season, there were a number of people competing for my attention. I was very wary of the promises of the people who approached me at first, mainly because I had been in India until a few days beforehand. I had gotten used to the idea that some people would be trying to rip me off. Thankfully, Sri Lanka is very different and this wasn't the case at all. A guy with a tuktuk told me about his family's guesthouse and that they could organise a safari for early the next morning. The place was a few kilometres away. He must have sensed my hesitation, so he said that if I didn't like the place he would bring me back for free.
The place I stayed at was called Palm Land Safari Lodge. Apart from having a lot of mosquitos, it was very nice. It was in a beautiful jungle setting, quite far from the main road. Luckily I could buy meals there as well. The safari they organised worked out really well, as I was by myself and didn't want to pay for the full jeep. They had a few other guests staying too and so they organised a shared jeep for everyone.
I only stayed for one night, getting up early the next morning to go to the national park and then leaving to make my way to Ella, a scenic hill town to the north.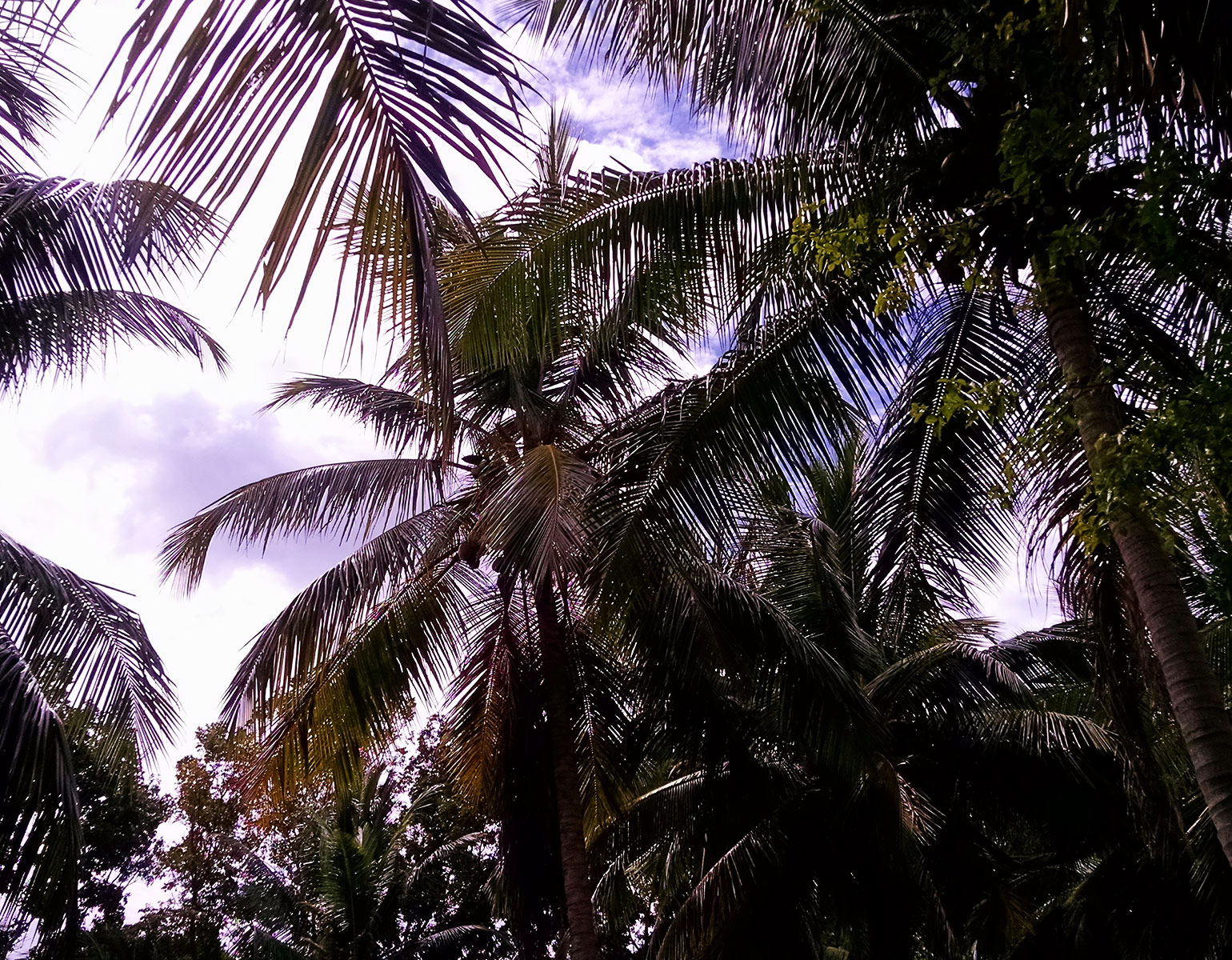 ---
The safari
The best time to visit the park is very early in the morning, so we had to get up at 5:30 and clamber aboard the jeep.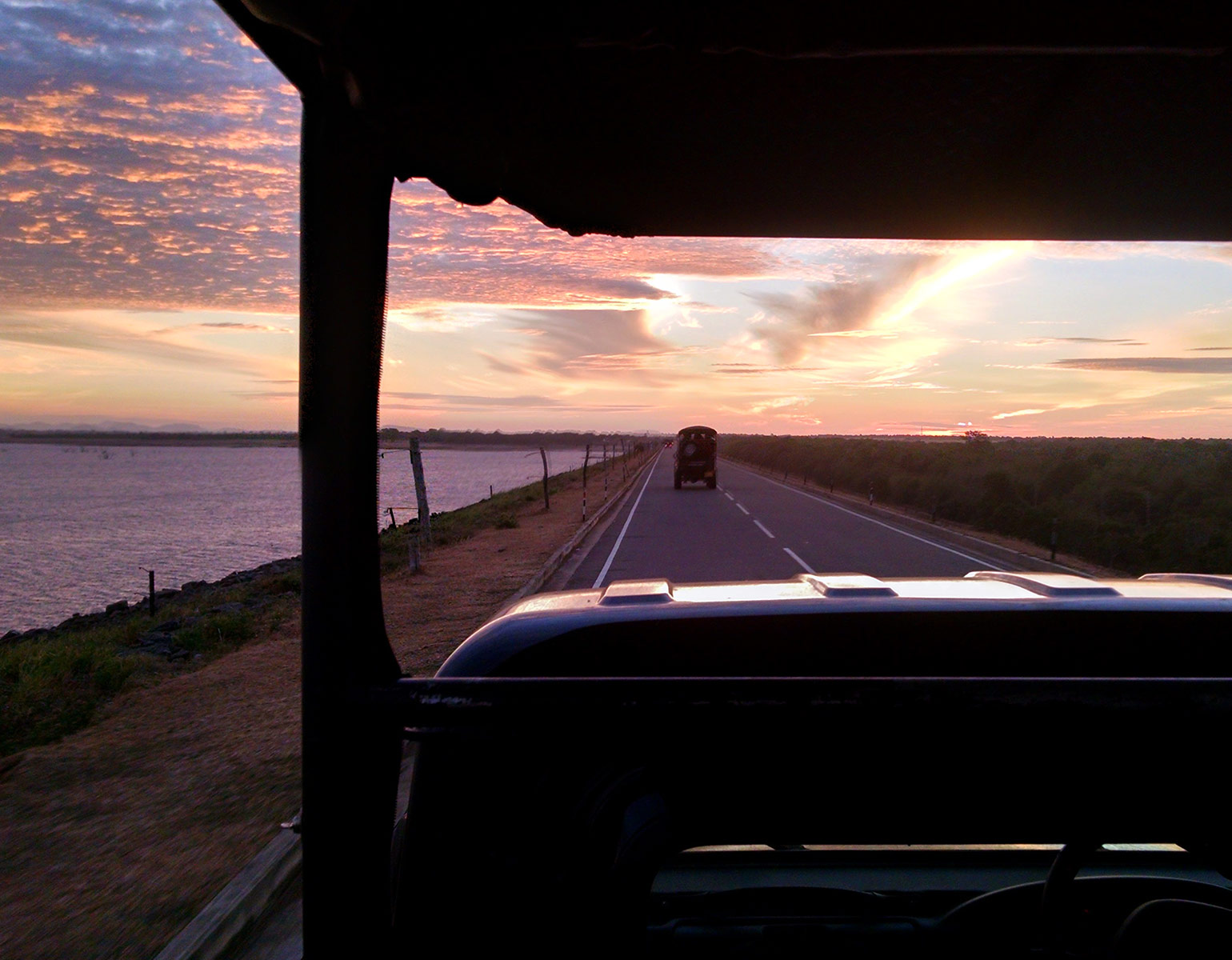 Once we got inside the park in didn't take too long before we spotted an elephant. It came right up to us, which was pretty cool.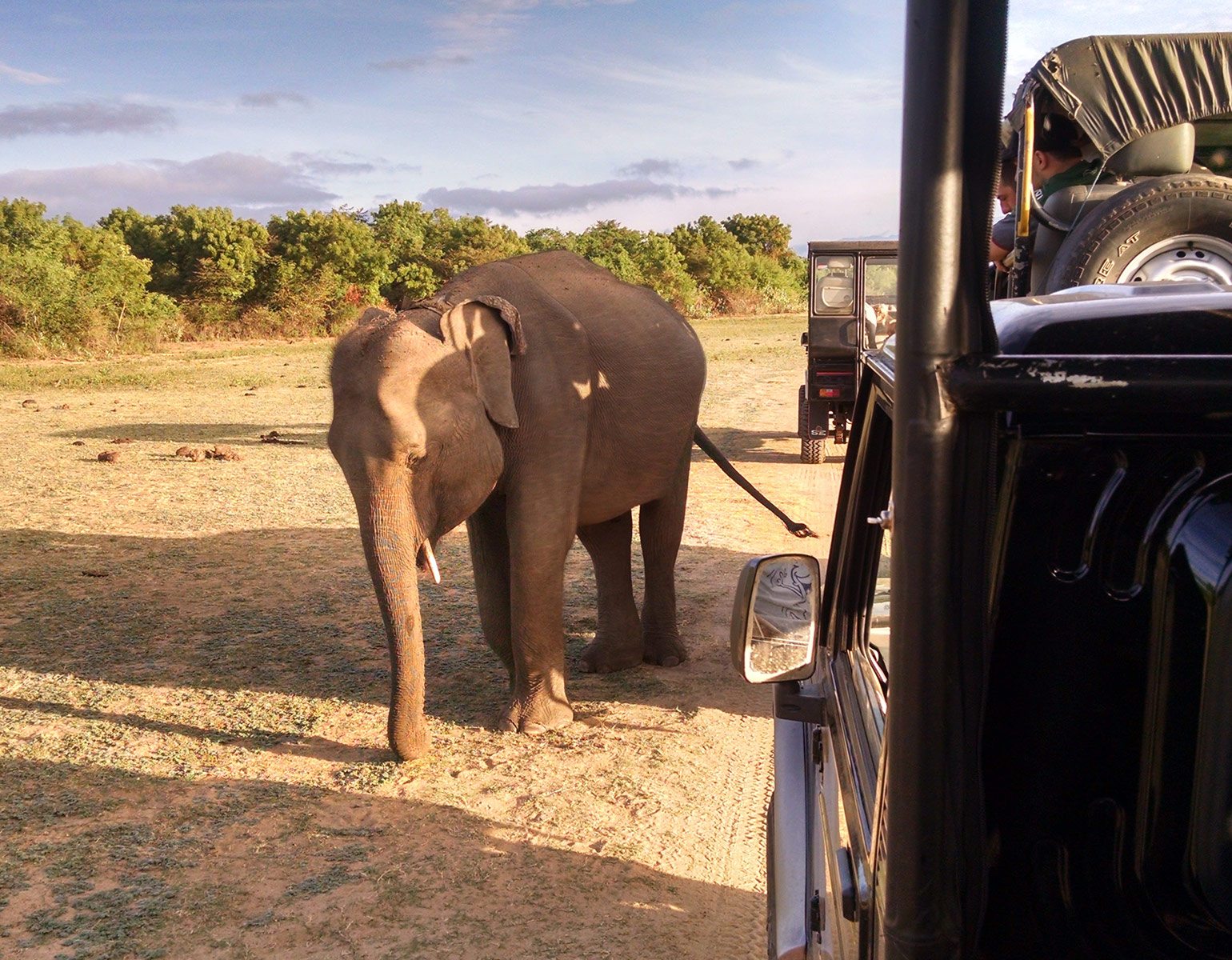 Water buffalo rushed past us as we continued to explore the park.
Later on we stopped for a break and saw this monkey up close. Some people got a little too close and the monkey grabbed one of the girls hair and wouldn't let go.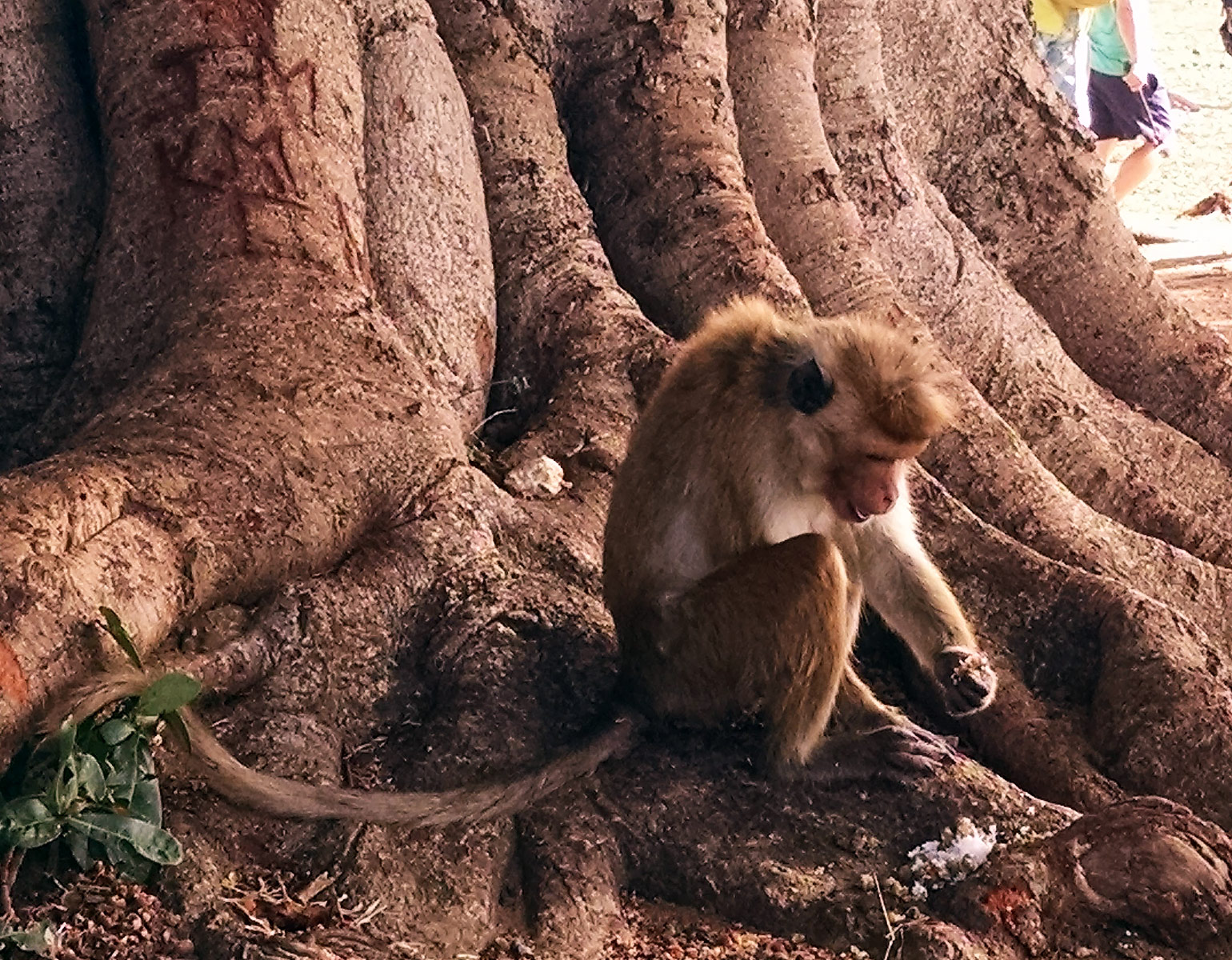 We saw more elephants later on.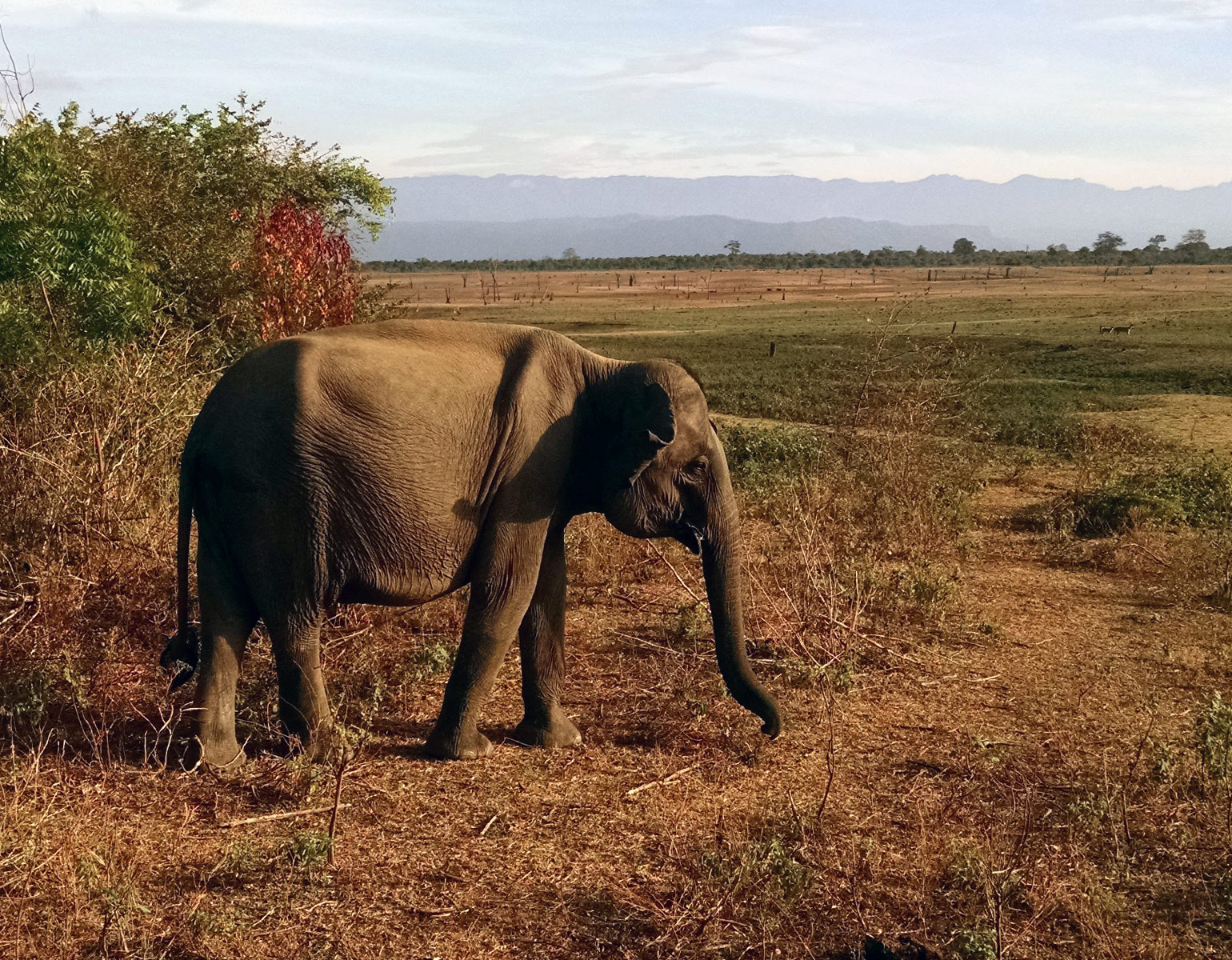 This elephant stays near to the fence at the edge of the park because the road goes by here. The elephant has sadly learnt that if it waits here it will get food from passers by instead of having to find food for itself.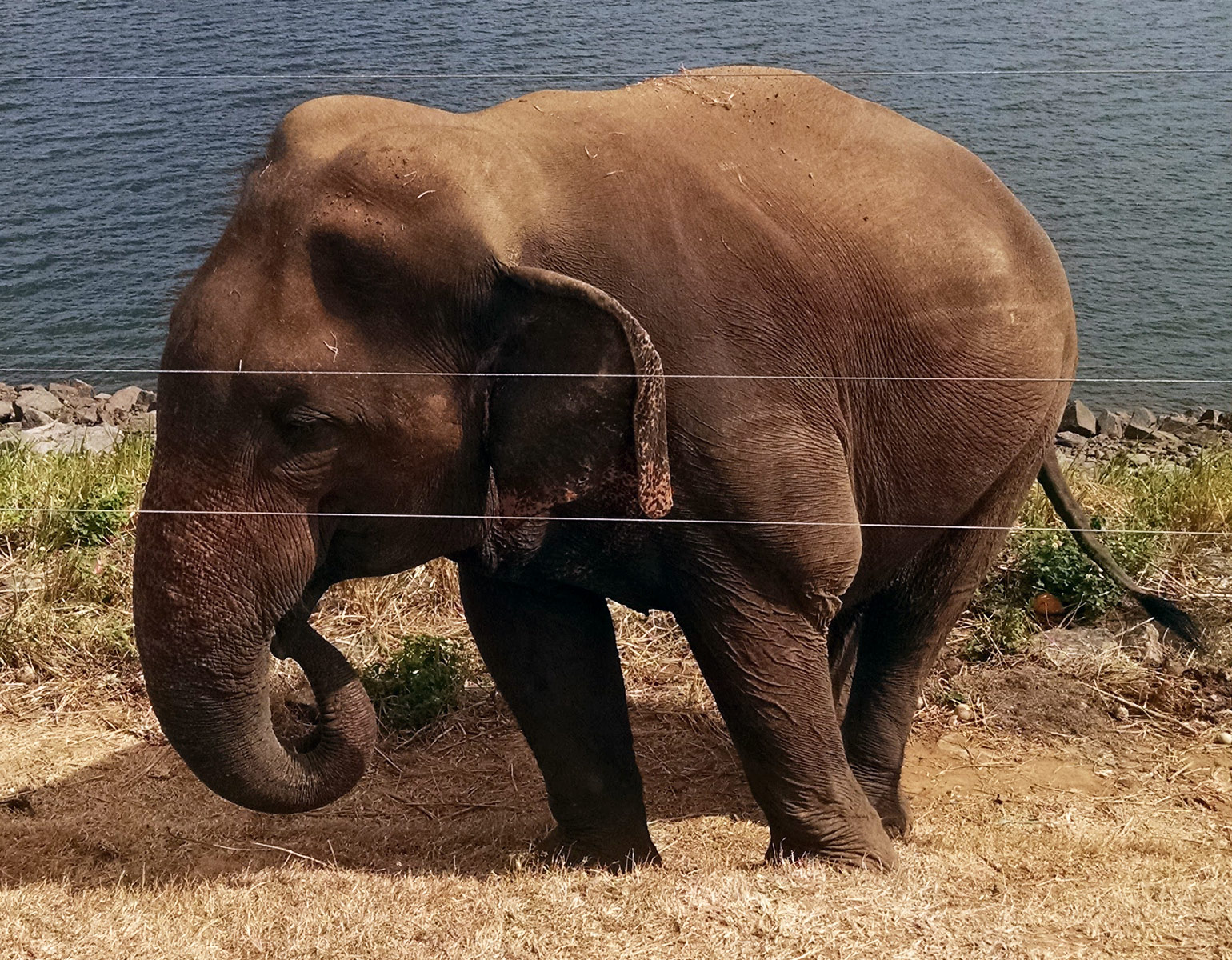 ---
Costs
I visited in September, which was the low season. Prices may be higher (especially for accommodation) in the high season months of November to February.
(Rs = Sri Lankan Rupees) All prices are approximate.
Safari including National Park entrance fee (one place in shared jeep): 4150 Rs (A$36, US$27, €26)
Accomodation (private room): 1500 Rs (A$13, US$10, €9.50)
Dinner at guesthouse: 600 Rs (A$5, US$4, €3.75)
Breakfast at guesthouse: 500 Rs (A$4.30, US$3.30, €3)
Buses from Galle to Udawalawe: 215 Rs (A$1.85, US$1.40, €1.45)
Buses from Udawalawe to Ella: 200 Rs (A$1.70, US$1.30, €1.25)
---