Iceland is an incredible country with so much to see and do. This is a list of 12 things to do in Iceland that you won't want to miss during your visit. Although Iceland is an expensive country to visit in general, a lot of the places on this list are free to visit. That's one of the great things about a country famous for its natural beauty.
1. Marvel at Jökulsárlón Glacier Lagoon & Ice Beach
Icebergs of all shapes and sizes float slowly across Jökulsárlón Lagoon. Some are an incredible blue colour that is barely believable. Of all the incredible scenery that exists across the country, this was my favourite place in Iceland. Be sure to check out the black sand beach on the opposite side of the Ring Road to the lagoon. A small river (Iceland's shortest, in fact) connects the lagoon to the sea. It allows some of the icebergs to float out to sea before washing up on the beach. The contrast between the glistening white and blue colours of the small icebergs and the black sand is surreal and spectacular.
Boat trip
It's possible to do a boat trip across the lagoon to get closer to the icebergs and to the glacier that they break off from (technically called calving, by the way). Even if you can't afford the expensive 1-hour boat trips (roughly A$110/€76/US$83 per person), the views from the shore are amazing and don't cost anything. As with most things in Iceland, if you are visiting in the Summer months of June, July and August then it is important to book the boat tour ahead of time. You can book here: icelagoon.is.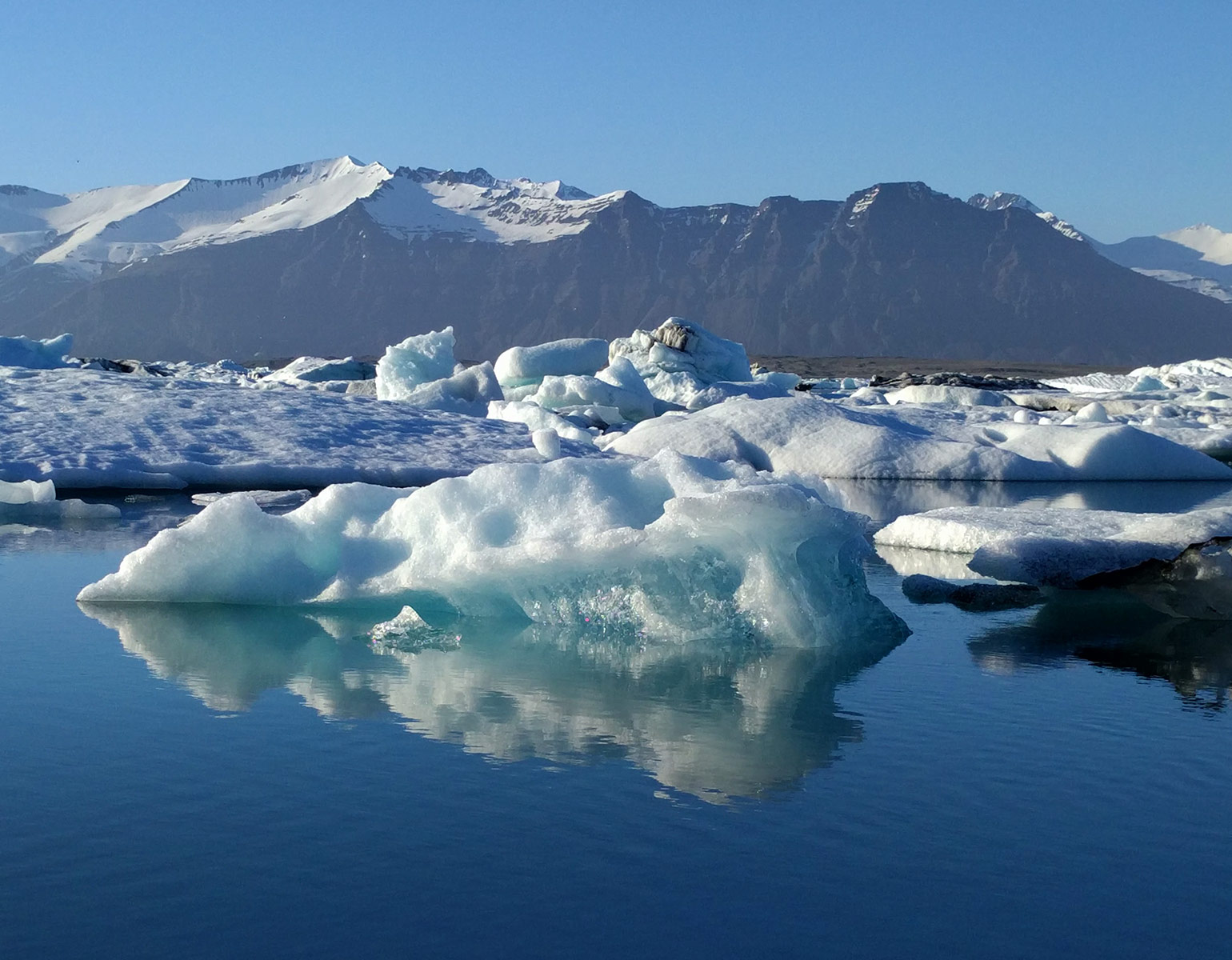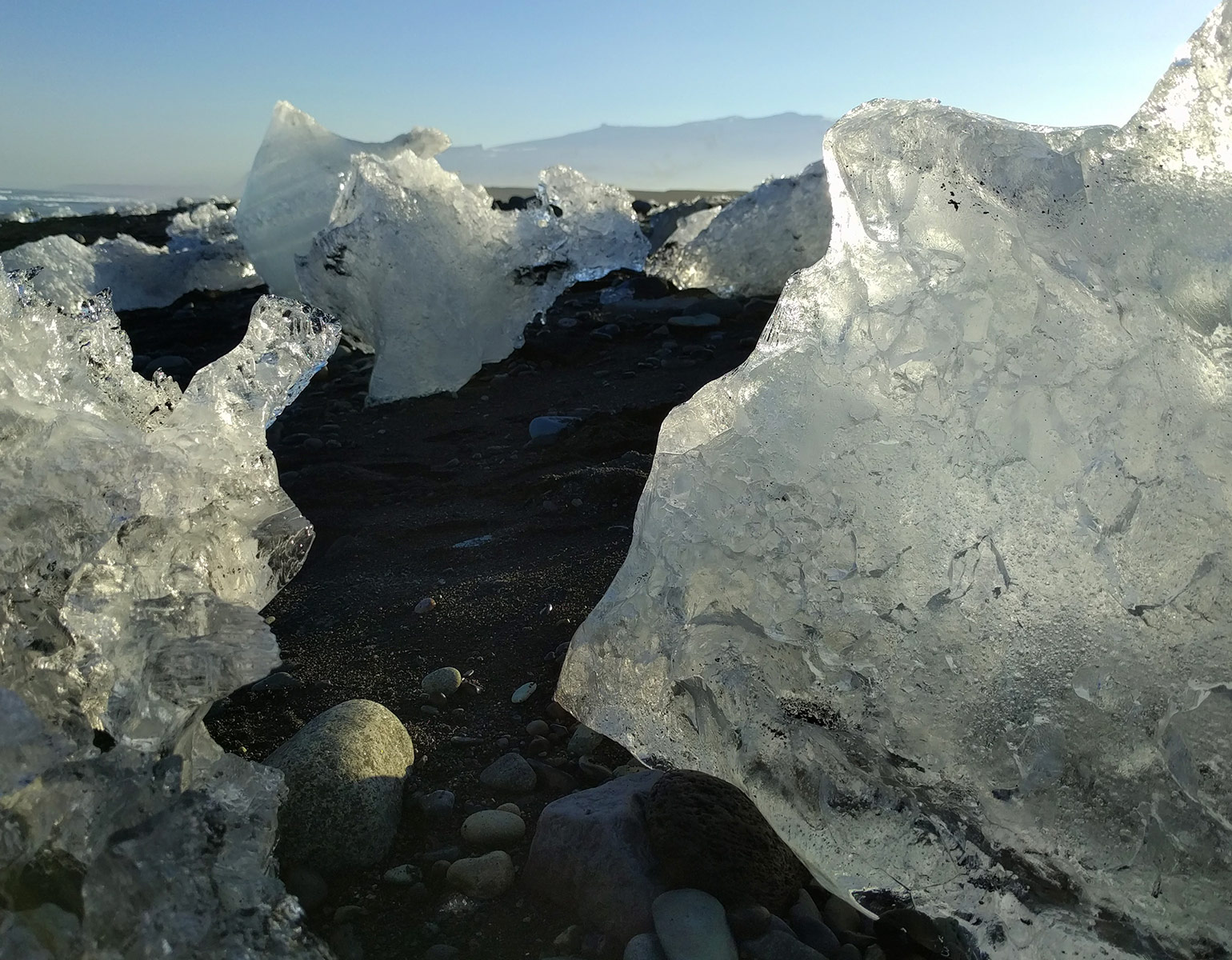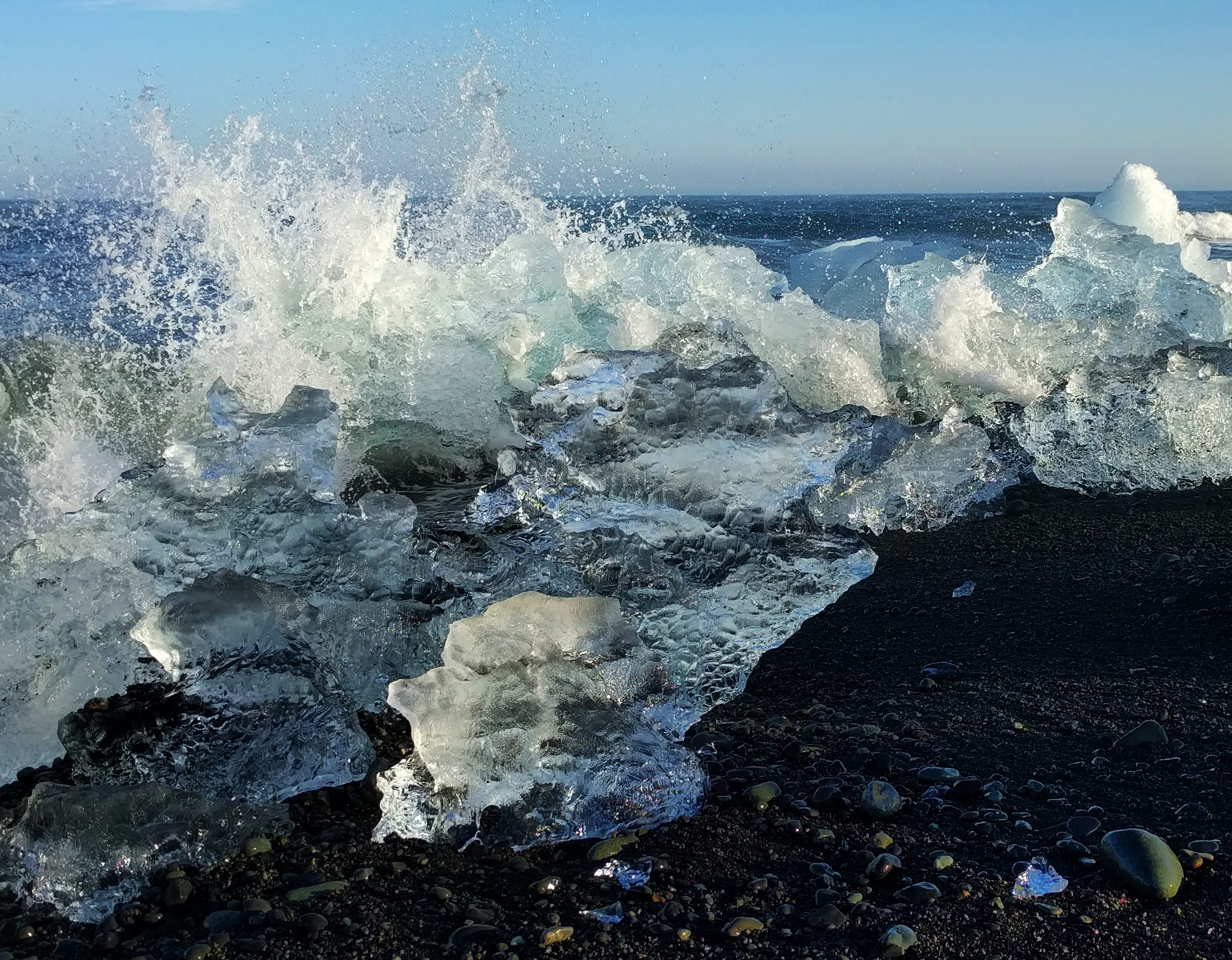 ---
2. Watch Strokkur Geysir shoot boiling water up to 30 metres into the air
Strokkur is located about 100 metres from the legendary Great Geysir, which hasn't regularly spouted for over a hundred years. When it did so, it actually reached heights over double those of Strokkur. This knowledge, however, doesn't take anything away from the incredible sight of Strokkur shooting water high into the sky. This happens every 10 minutes or so.
Strokkur is located about an hour and a half drive from Reykjavik on the so-called Golden Circle. Because of its proximity to the capital, the route can be very overcrowded at times. It is, however, worth putting up with the crowds to see some of the amazing sites along this route. If you have never seen a geyser before then Strokkur is something you definitely don't want to miss.
---
3. Get up close with Gullfoss
Another of the Golden Circle's highlights is the waterfall at Gullfoss. The sheer volume of water rushing over these falls makes them spectacular. As do the 2 drops, one after another, with the second at a right angle to the first.
Gullfoss is located about a 10 minute drive from Strokkur Geysir. These two, along with Þingvellir, make up the main attractions of the Golden Circle. Þingvellir (pronounced 'thing-vell-ear') was the location of Iceland's first parliament. It also sits on the boundary between the North American and Eurasian tectonic plates. As such, it has a lot of historical, cultural, and geological importance to Iceland. Having said that, there isn't a huge amount to see there apart from some nice scenery. It is worth a short stop if you are on your way to or from Strokkur and Gullfoss.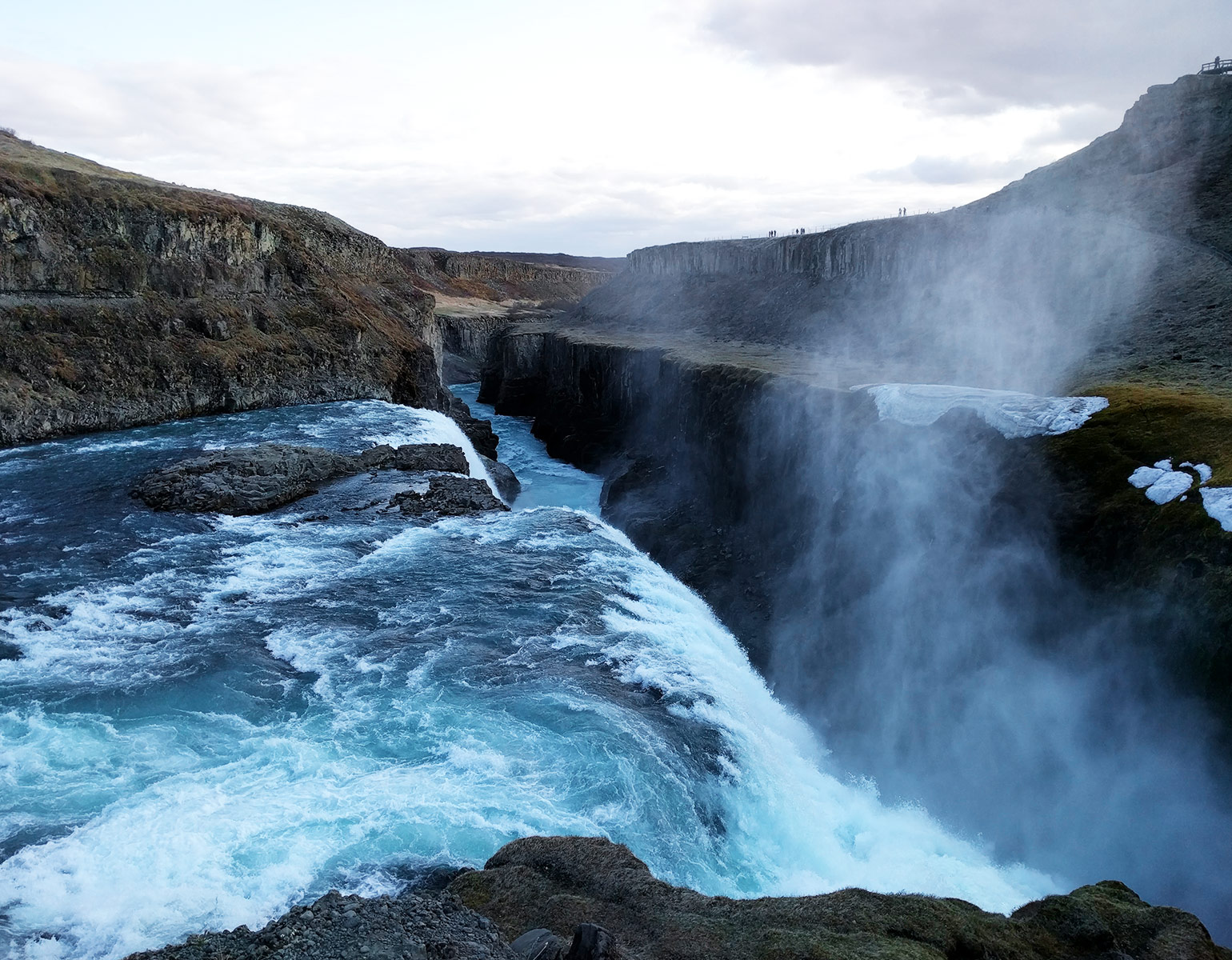 ---
4. Swim in hot springs across the country
Iceland's hot springs are amazing! Most people have probably seen pictures of the Blue Lagoon, but that is only the tip of the iceberg. Iceland has hundreds of hot pots and geothermal pools in all shapes and sizes across the country. Some are heavily touristed, built up and expensive, like the Blue Lagoon and, to a slightly lesser extent, Myvatn Nature Baths (located in the north of Iceland, not too far from Iceland's second city, Akureyri). Both of these provide heated changing rooms, showers and lockers. Others are free outdoor rock pools surrounded by nothing other than Iceland's natural beauty. There are plenty more somewhere between these two extremes, including geothermal swimming pools in a lot of towns.
An extremely useful website to help you find hot springs across the country is hotpoticeland.com.
Should you visit the Blue Lagoon?
A hotly debated topic, with many calling it a tourist trap. Yes, it is expensive, but so are many things in Iceland. And yes, it's true that it is not a natural pool. The water is actually the result of runoff from the geothermal plant next door. But, here's the most important part; it looks amazing and feels even better. It is a different experience to most of the geothermal pools around the country and, unless you plan to go to Myvatn instead, I would encourage you to visit here as well as some of the other hot springs.
Here are a few tips for visiting:
Book ahead. Booking is required and you can do so at bluelagoon.com.
Go early in the morning. It opens at 8.00am and that is the best time to visit as it gets more crowded throughout the day.
Go straight from the airport. I arrived very early in the morning after an overnight flight from the United States. It was the perfect way to feel refreshed after the flight, as well as a great introduction to Iceland. The Blue Lagoon is 23 kilometres from Keflavik airport. I hitchhiked from the airport but there are also bus transfers to and from both the airport and Reykjavik. The bus transfers can even be booked with your ticket.
---
5. Eat delicious seafood
I don't think that the excellent quality of Icelandic seafood will surprise anyone given the country's location. It is essential to the Icelandic culture, history and economy; It is also delicious. Some of the myriad ways you will find fish prepared are in soups, stews and pies, as well as baked, fried and dried.
The dried fish is called harðfiskur. It is wind-dried and could reasonably be described as 'fish jerky'.Harðfiskur is extremely popular in Iceland and it is available from nearly every supermarket. It is packed with Omega 3 fatty acids and can be up to 80% protein so, who knows, maybe it will catch on globally as some kind of 'superfood' one day. Often butter is spread on it. In my opinion this is the best way to eat it, as it can be a bit dry otherwise. Personally, I love the taste of it and have even researched getting it in Australia (with no luck so far). Having said that, a lot of people describe it as an acquired taste. It seems to divide people in a similar manner to Vegemite or Marmite.
The best fish 'n' chips I have ever eaten was in a place called Icelandic Fish and Chips in Reykjavik. And I don't say that lightly as it is one of my favourite meals in general. Try the rosemary garlic potatoes with your fish. You won't regret it.
Saegreifinn (aka Sea Baron) is another place worth trying in Reykjavik. It is known for its delicious lobster soup. They also serve minke whale in tiny portions. It is interesting to try, and tastes more like a delicious steak than in any way fishy. It's important to note that the minke whale, unlike other larger species of whale, is not endangered. Far from it, in fact. They are labeled as 'least concern' by the International Union for Conservation of Nature. Having said that, there are ethical concerns around the methods used to hunt minke whales. It is worth researching and deciding for yourself. As a starting point, here are some articles for and against.
For more information on Iceland's longstanding connections to fishing, you can visit the surprisingly interesting Icelandic Herring Era Museum in Siglufjörður, a beautiful little town that was previously known as the "Herring Capital of the World". Herring processed in Siglufjörður regularly accounted for over 20% of all Icelandic exports at the industry's height. Then, in the late sixties, the herring population crashed, and so did the town's economy. In the 1920's the town had 18 bars catering to the massive herring workforce. Today it has 2. (Source)
---
6. Walk behind the waterfall at Seljalandsfoss
An incredible waterfall and one of the best known and most visited in Iceland. You can walk along a path that goes behind the falls. Seljalandsfoss is located on the southern ring road about an hour and a half from Reykjavik.
---
7. Explore the Svínafellsjökull glacier tongue
Made up of ice that is a thousand years old, Svínafellsjökull is an outlet of the huge Vatnajökull Glacier. Vatnajökull covers over 8000 square kilometres. It is possible to get close to and see great views of the glacier without going on a tour, which is what I did. Unfortunately I didn't have enough time to go on one of the guided glacier hikes. You can find out more information and book a tour at extremeiceland.is. If you just want to see the glacier up close without the tour then the place to go is here.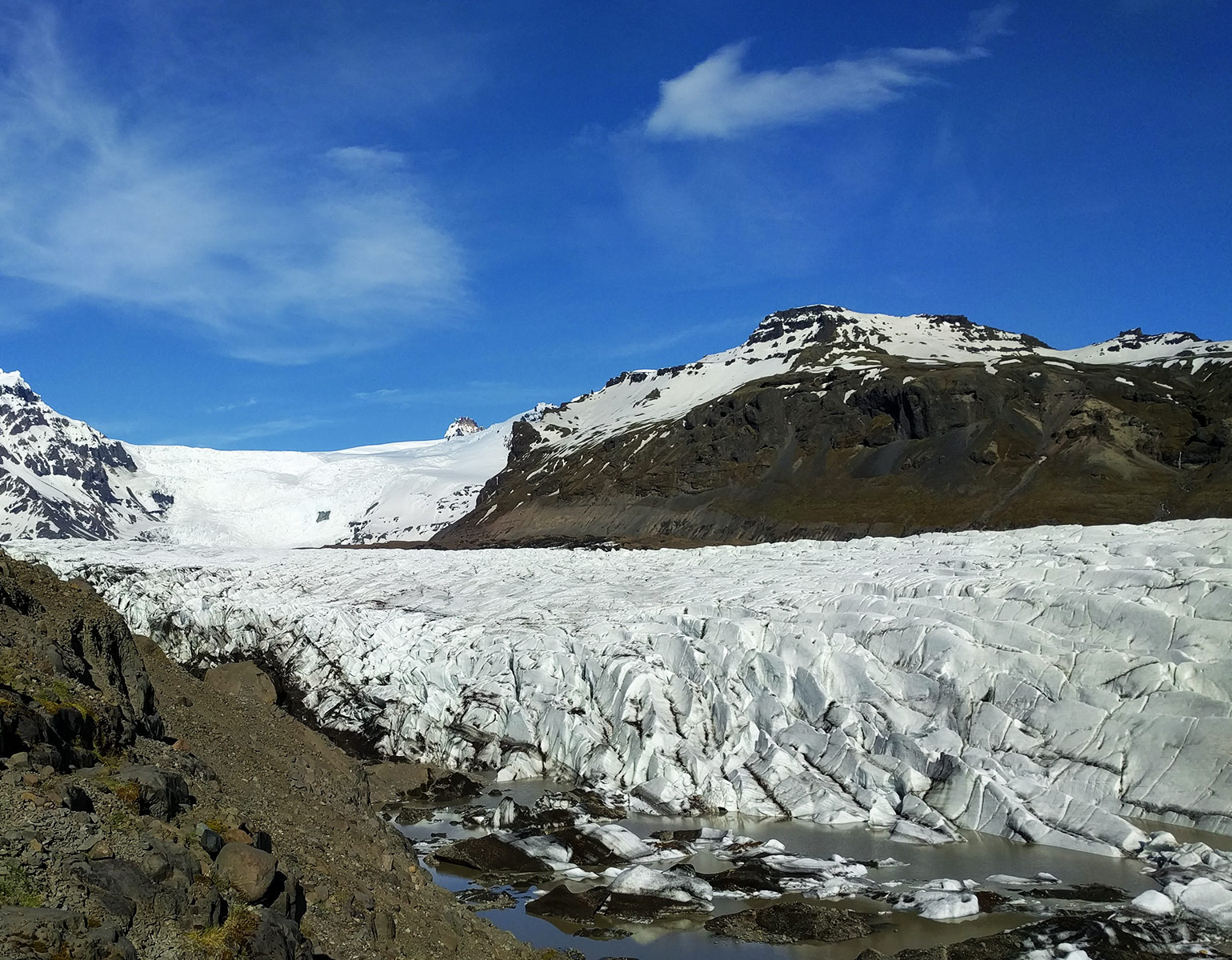 ---
8. Stroll along the Black Sand Beach at Vik
Reynisfjara Black Sand Beach has basalt columns, lava formations, towering cliffs, and a huge cave. The beach itself is made up of volcanic black pebbles. Coming from Reykjavik the beach can be reached by taking the last right turn before reaching Vik. The right turn before it leads to Dyrhólaey, which has a giant arch in the sea. It also has some stunning views over Reynisfjara. You may also see puffins nesting there.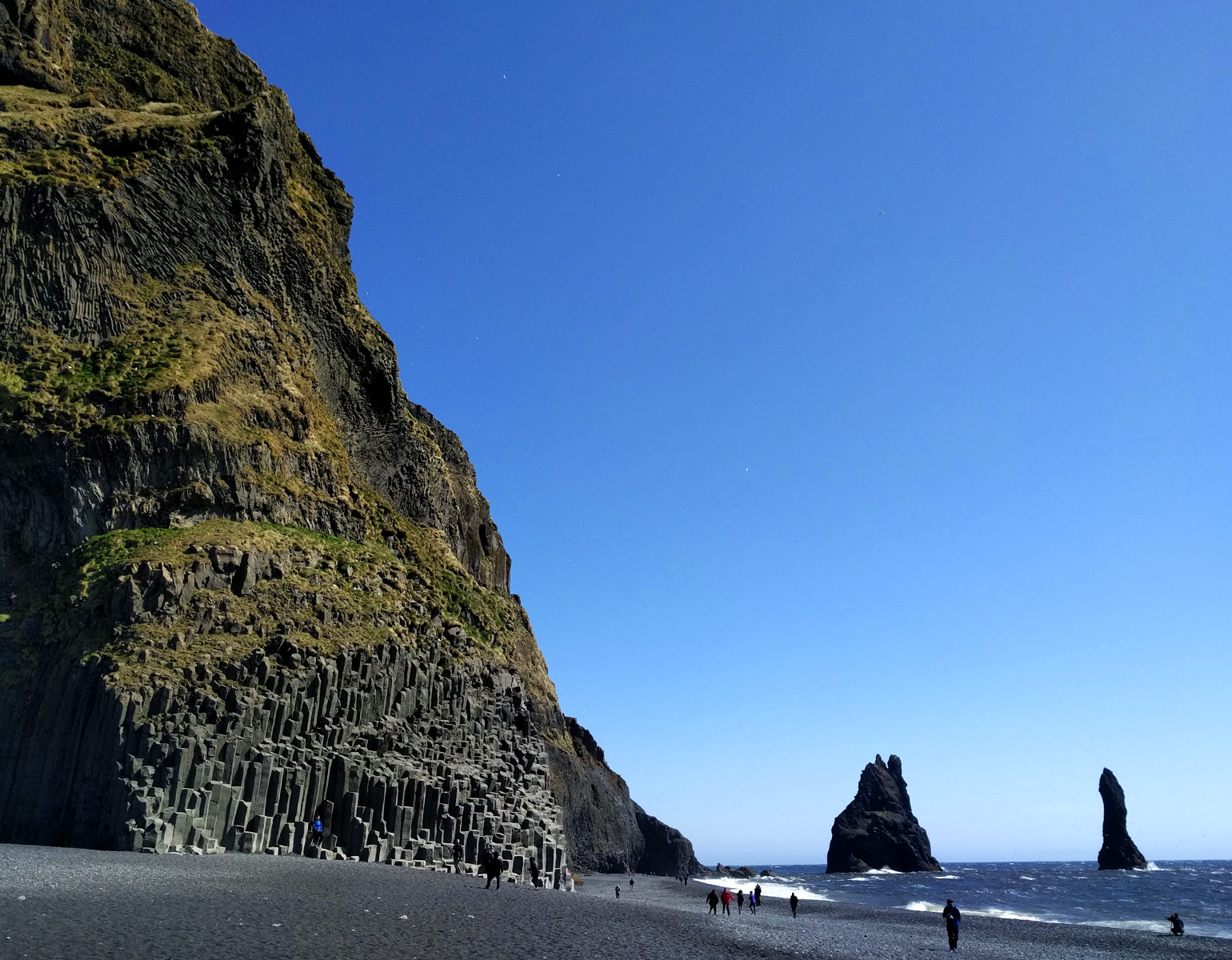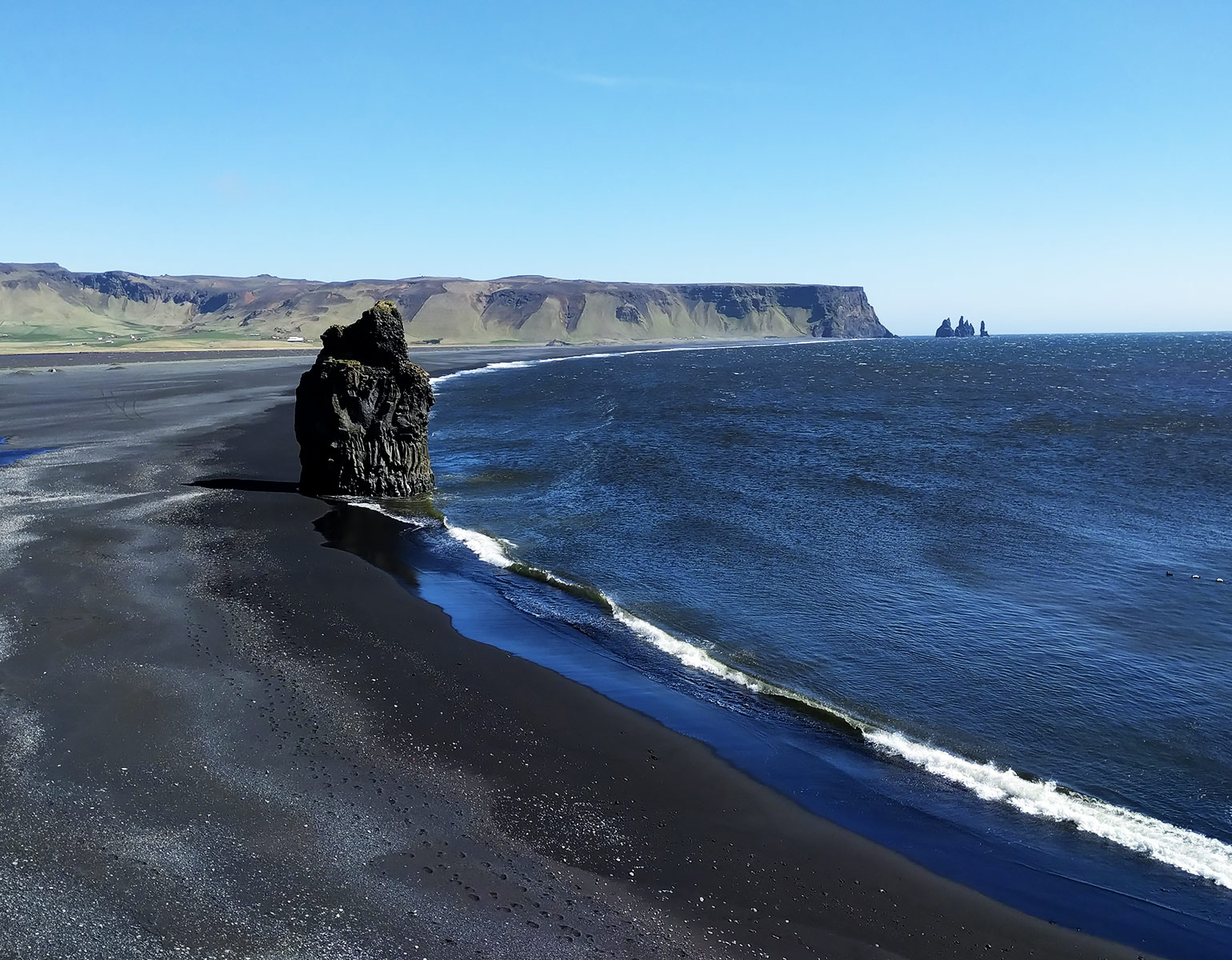 ---
9. Visit the picturesque town of Seyðisfjörður
Surrounded by snowcapped mountains, this beautiful little fishing town in the Eastfjords is incredibly charming. It is at the end of a 17 kilometre long fjord of the same name and is reached by driving over a high mountain pass. This is where the weekly car ferry connects Iceland to Denmark via the Faroe Islands. The ferry operates between April and October. To get there from the ring road take the scenic Rte 93 drive from Egilsstaðir.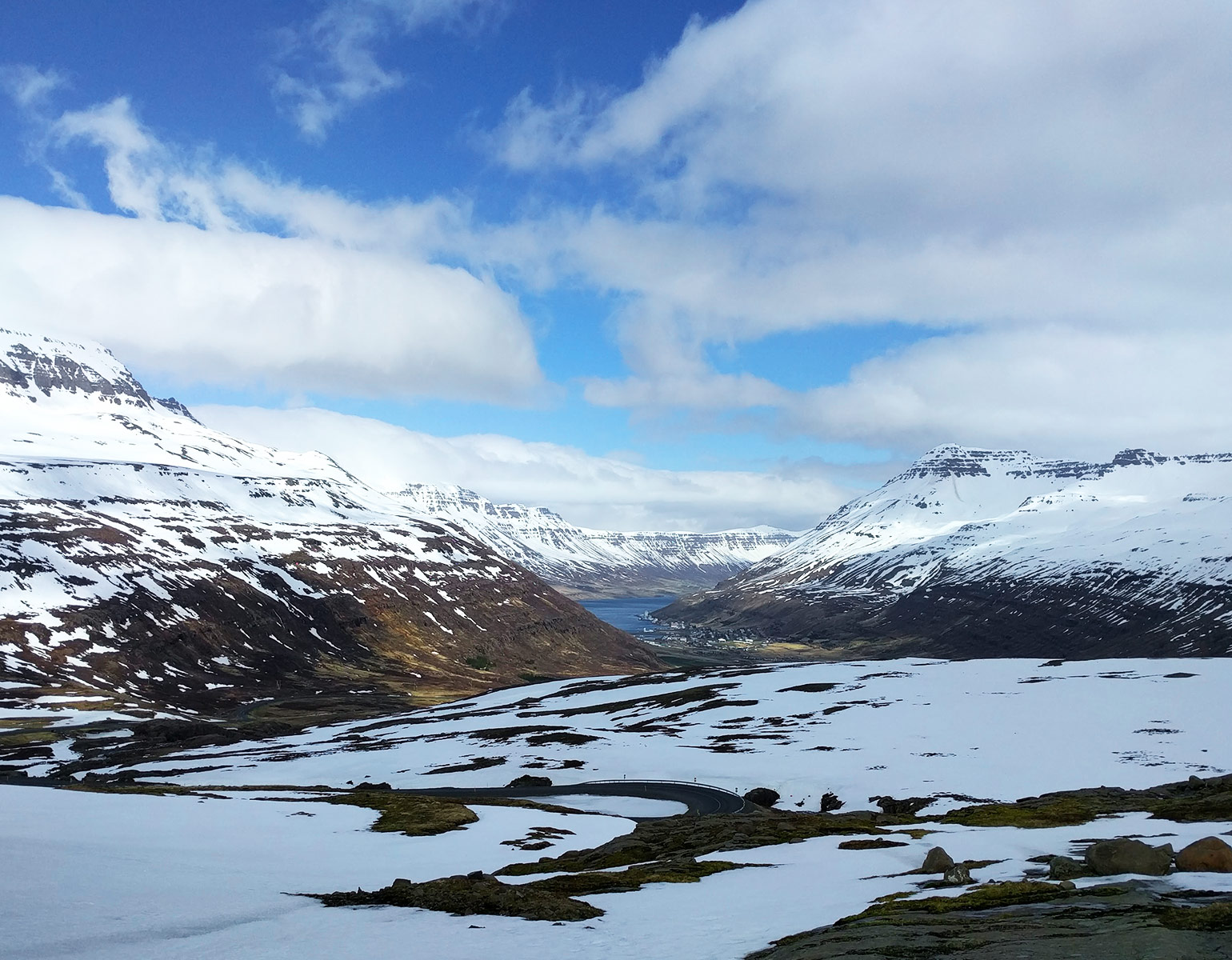 ---
10. Check out the amazing Selfoss & Dettifoss waterfalls
Two spectacular and contrasting waterfalls in the northeast of Iceland. Dettifoss is the most powerful waterfall in Europe. Selfoss is more picturesque, but also quite incredible. When I visited in May, snow and ice covered nearly everything. It made it a bit harder to get to the waterfalls from the parking area, but it also made the scene all the more intense and stunningly beautiful.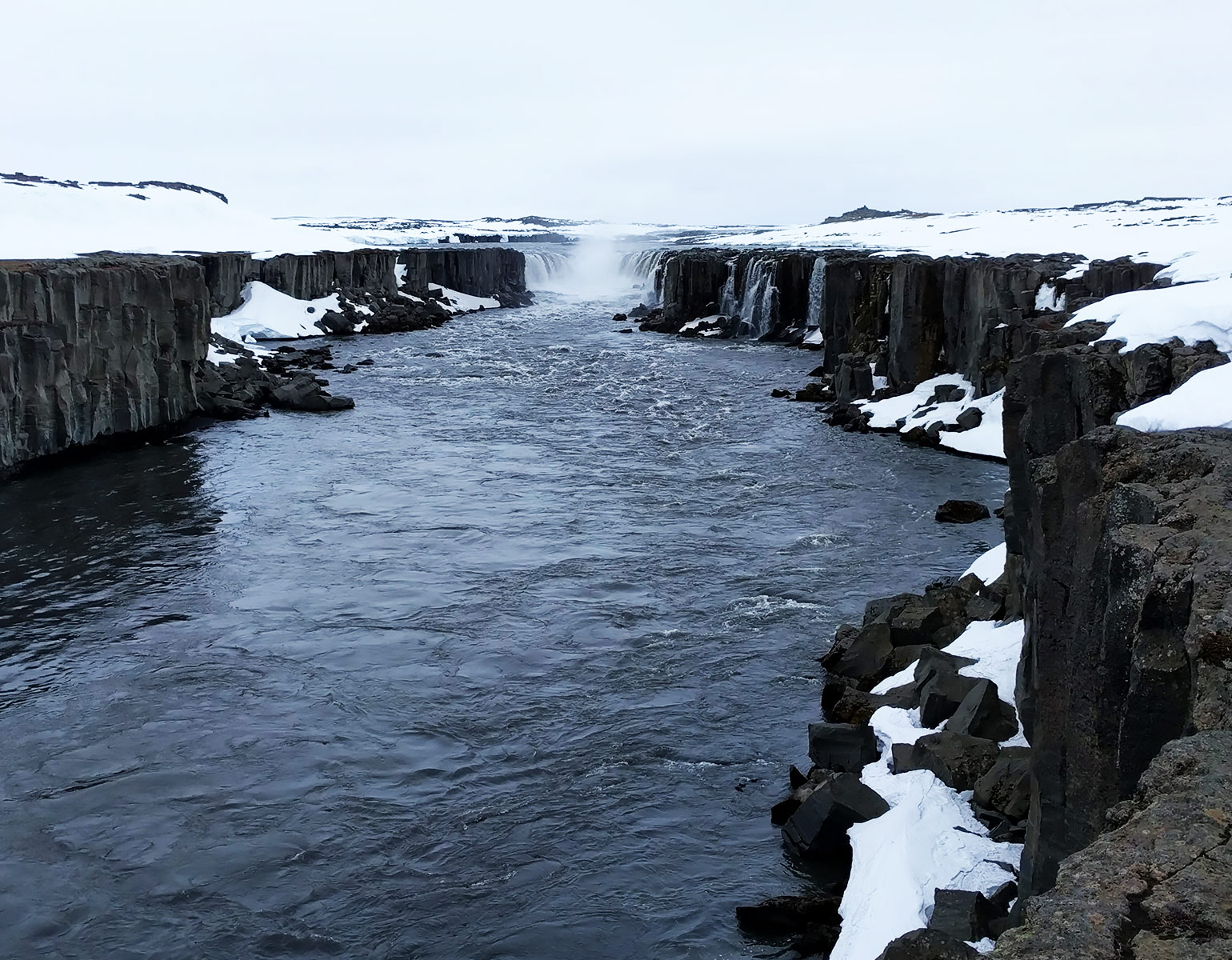 ---
11. Admire the view at Héðinsfjörður
A semi-deserted picturesque fjord with sweeping mountains on both sides. Héðinsfjörður is on the Tröllaskagi peninsula in the north of Iceland. Previously only connected by winding roads over the mountains, it is now connected to nearby towns by tunnels completed in 2010. To the west is the town of Siglufjörður and to the east is Ólafsfjörður. Driving to Héðinsfjörður from Akureyri takes about an hour.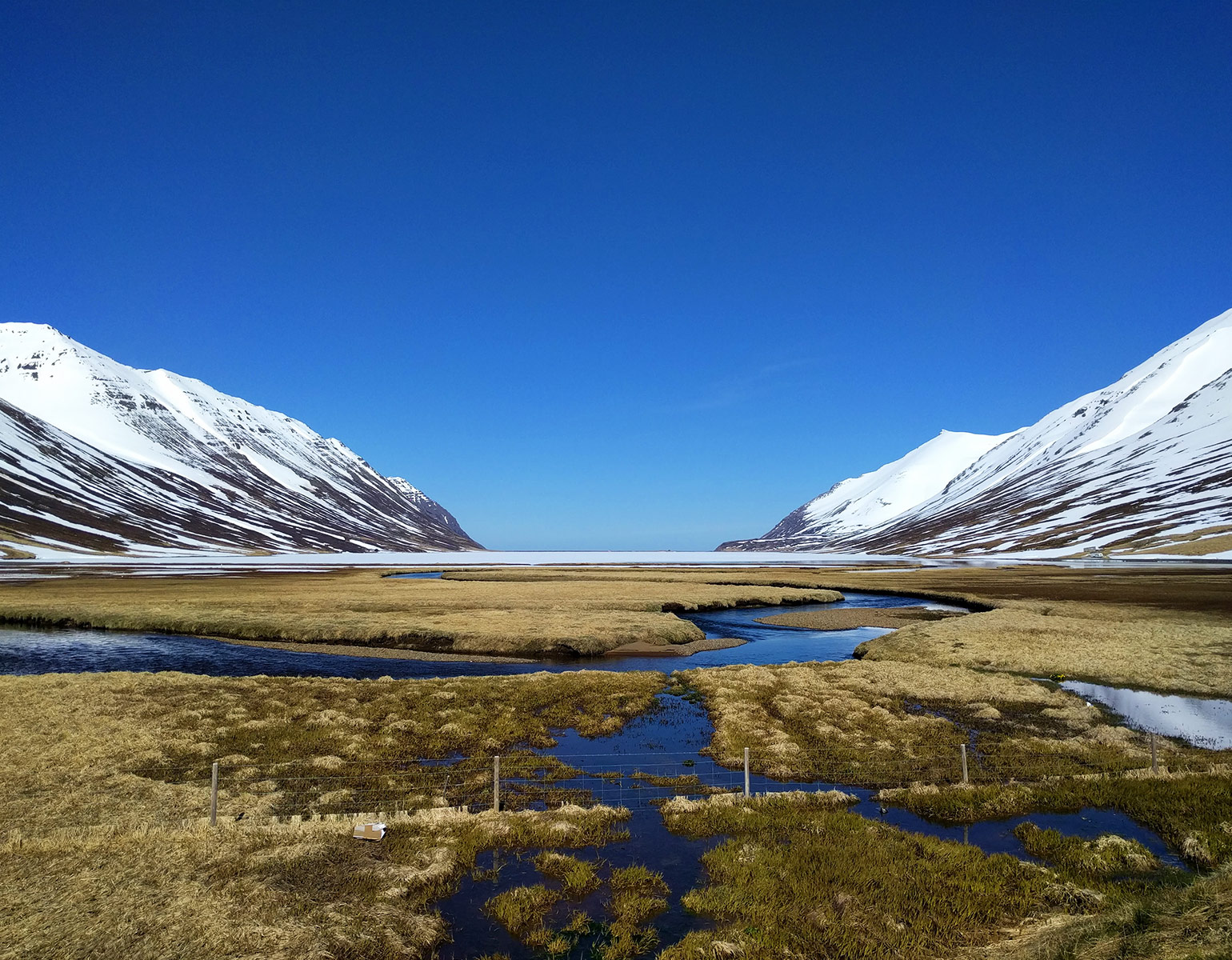 ---
12. Drive through the scenic Westfjords
Despite the massive increase in tourism to Iceland in recent years, this is a place that could be described as Iceland's best kept secret. The Westfjords is the least visited region of Iceland, but has some of the best scenery. Because of its many long fjords the area actually has a third of Iceland's coastline. A lot of the roads travel along these fjords so it can take a long time to travel a relatively short distance. The long journey is very enjoyable though, with a steady stream of amazing landscapes all around you. The area contains awe-inspiring cliffs, mountains, and waterfalls, as well as plenty of hot springs.
At times, the Westfjords feels very remote. Its biggest town, Ísafjörður (which means 'ice fjord') has only 2,600 people. But if you want to get even further away from it all, Hornstrandir Nature Reserve awaits. The northernmost part of the Westfjords has no roads and is accessible only by boat from Ísafjörður.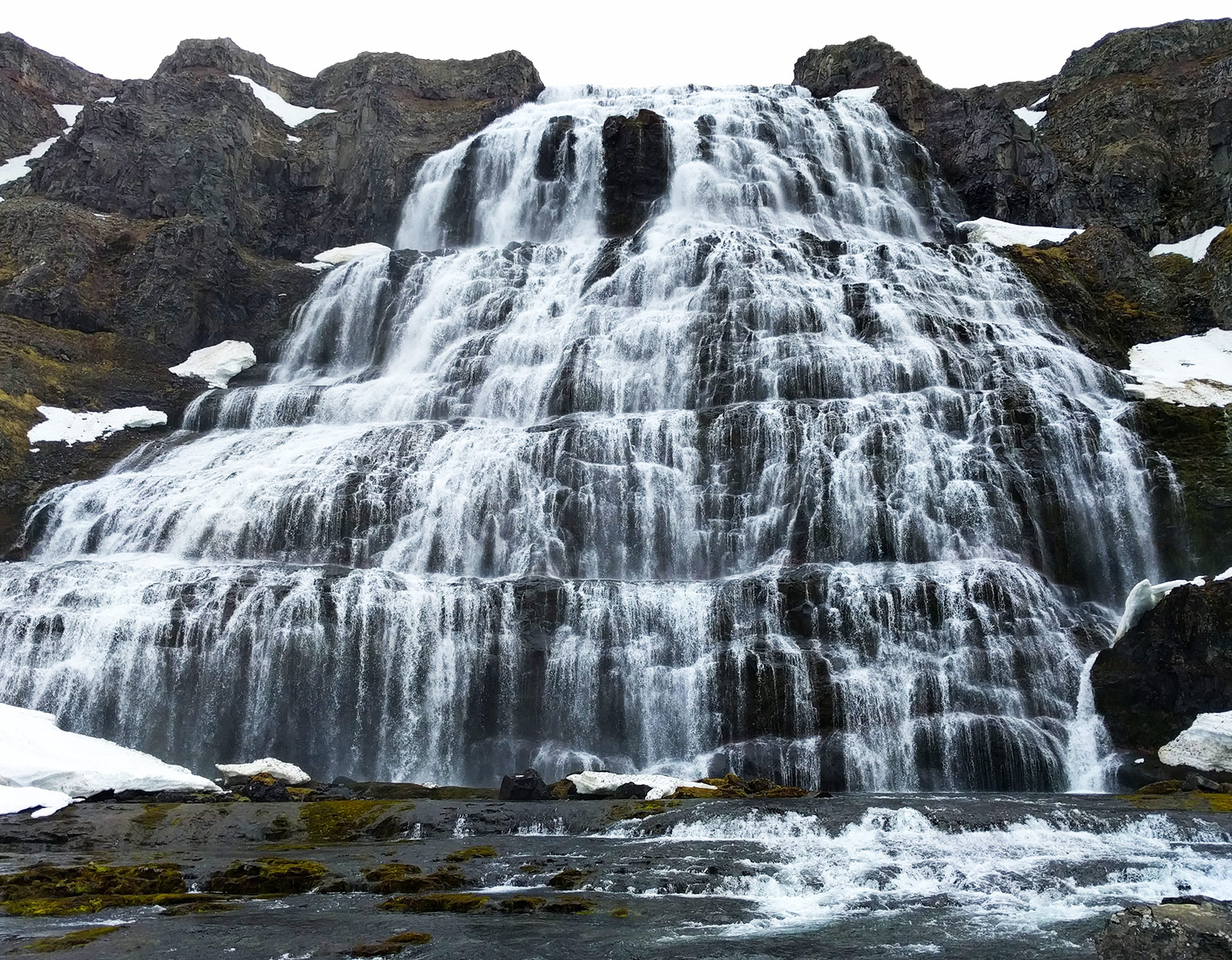 ---