The most beautiful part of Taiwan is only a few hours on a train from Taipei. Taroko Gorge and the Qingshui Cliffs should not be missed. Hualien is the nearest city to Taroko National Park and it makes for a pleasant starting point for the region.
Hualien
Despite being a relatively big city by eastern Taiwan standards, Hualien has a quiet and relaxed feel compared to larger Taiwanese metropolises such as Taipei and Taichung. It is the best place to stay if you would like to explore Taroko National Park. There is plenty of accommodation for all budgets, but for those looking for a recommendation we stayed at the Corner B&B, which is conveniently located 5 minutes walk from the train station. It was clean, convenient and the staff were helpful.
Getting to Hualien
From Taipei to Hualien the express train takes about 2 hours and costs about A$20. There are cheaper trains as well, but they take 3-4 hours. Buses are another option. They leave from Taipei City Hall Bus Station and take about 3 hours. They cost roughly A$14.
Getting from Hualien to Taroko & Qingshui
There are, apparently, hop-on-hop-off buses running to Taroko National Park (but not to Qingshui). However, finding up to date information on them can be difficult. We decided against this option for that reason. There are also bus tours but they apparently rush through the different stops and obviously it is a completely different (and less enjoyable) experience to visit these kinds of places in a big pack.
It's possible to rent scooters in Hualien to go to Taroko National Park, but the roads can be dangerous, with sharp corners, steep drops and lots of traffic, so probably best to avoid them unless you are very experienced. A better option would be to rent a car, or hire a taxi for the day like we did. It cost about A$145 for the full day (9am to 5pm) for two people sharing. It was well worth it, especially if you are short on time in the area. This would be a particularly good option if it was split between 3 or 4 people.
Some of the taxi drivers speak good English. They also generally know the best places to go, but are open to changing their route if you want to visit somewhere in particular. We went with a taxi driver named Tony (his phone number is +886933798566 and it is a good idea to arrange a tour in advance if possible). His English was reasonably good, he was organised and punctual, and he was knowledgable about the area and Taiwan in general.
Despite Taiwan's reputation as being far from a hitchhiking paradise, Taroko National Park seems to be somewhat of an exception and it does seem like it is an option for those with more time than money.
No matter how you decide to go, it is worth noting that not much food and drink is sold in the national park. It is a good idea to bring your own from Hualien. 
---
Qingshui Cliffs
The Qingshui Cliffs are one of the most famous, and most incredible, sights in Taiwan. On a sunny day the scenery is truly stunning. Technically part of Taroko National Park, but often referred to separately, the cliffs cover a 21 kilometre long stretch of coastline north of Hualien. The southern portion of the Suhua Highway snakes along the cliffs, and there are a few lookout points that provide amazing views from vantage points overlooking the cliffs and the sea. They can be found here and here. The second one is a 10 minute walk from the highway. The two viewpoints are about 2 kilometres apart through a road tunnel (so it is too dangerous to walk between them, but is a short drive). They are roughly a 35 minute drive north of Hualien, and about 10 minutes past the main entrance to the rest of Taroko National Park.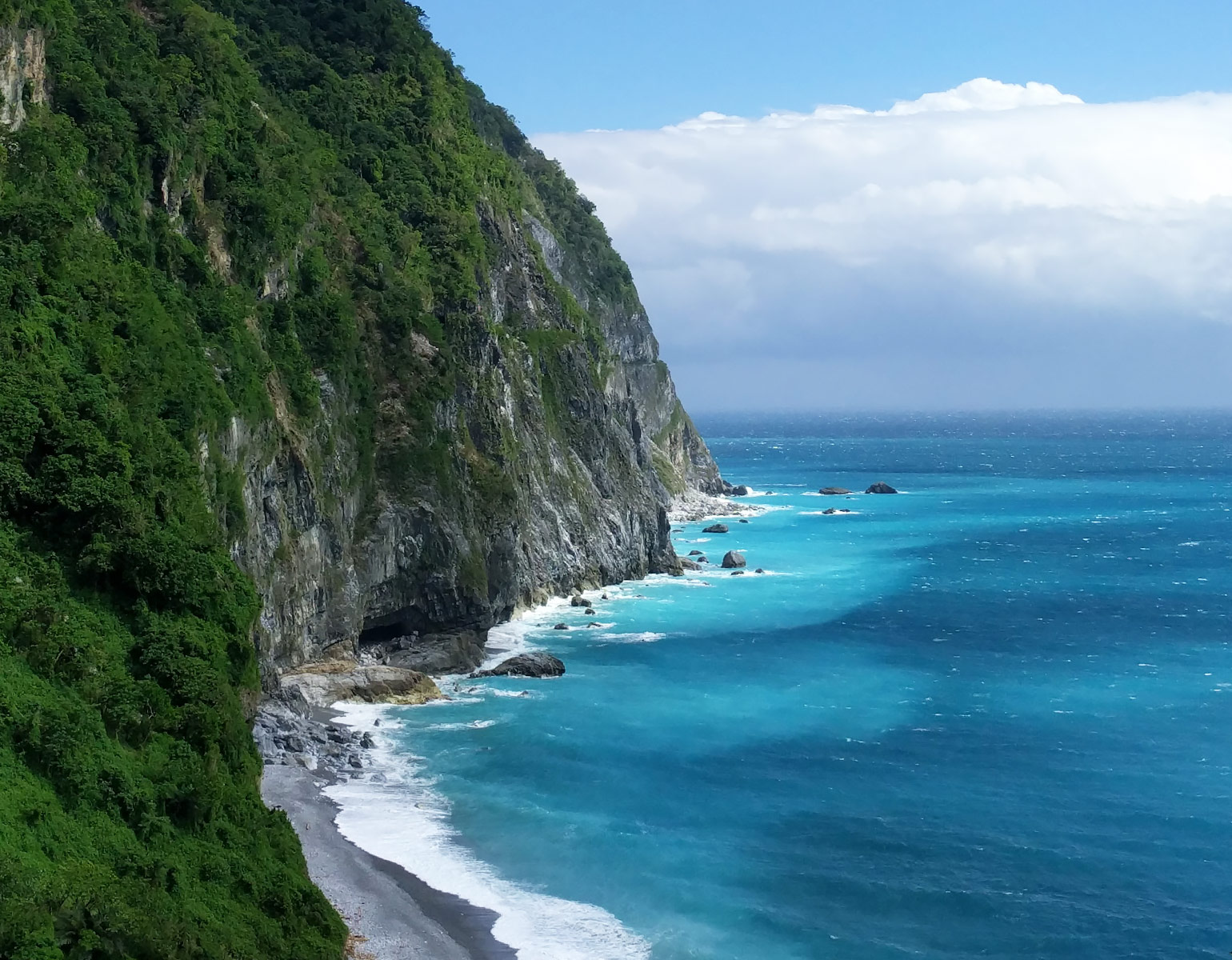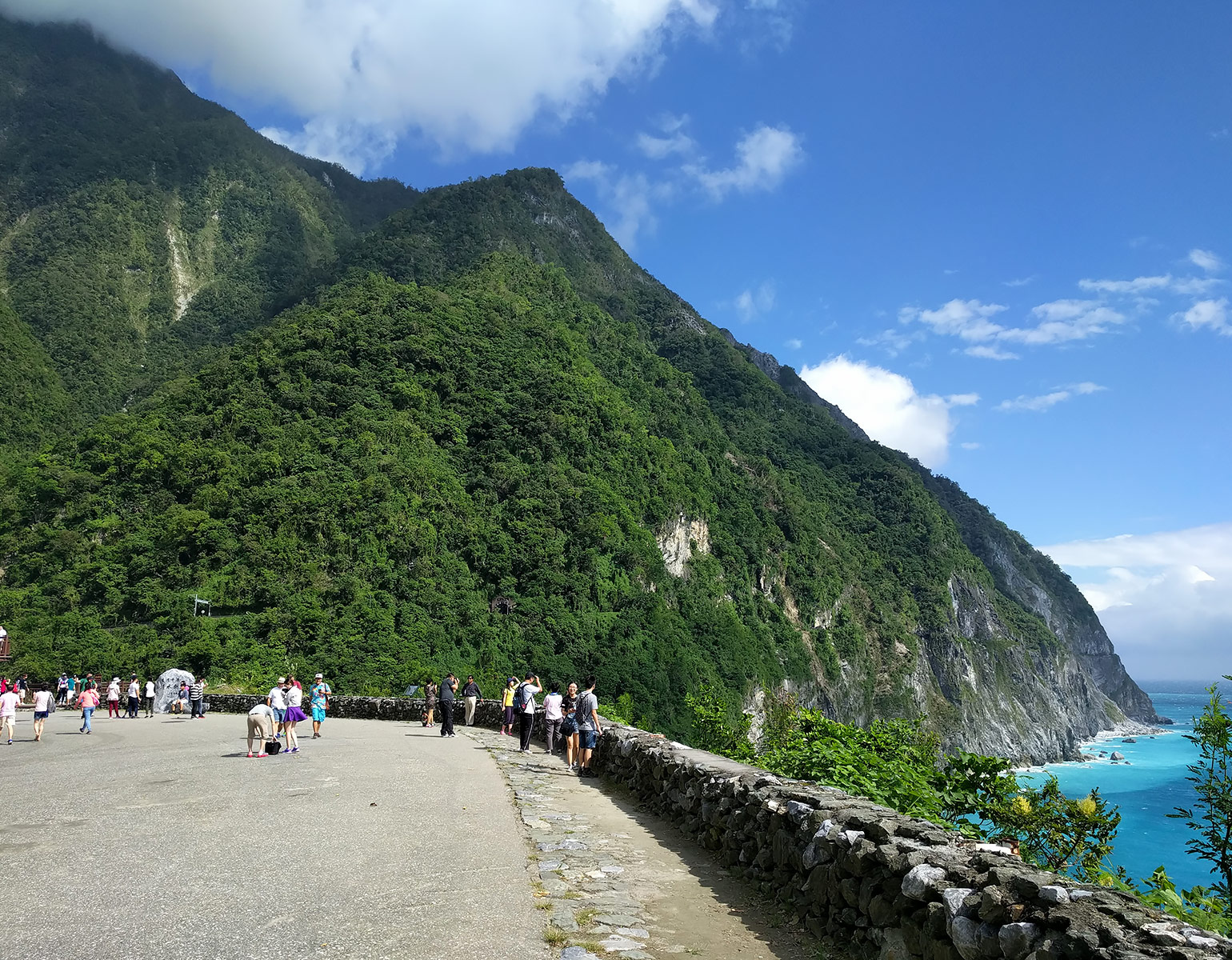 ---
Taroko National Park
The following information covers what can easily be seen in a day (as well as the Qingshui Cliffs) if travelling with your own transport or with a taxi. If you want to spend more time in the area there are much longer hikes and plenty more things to see. It's a huge park! The following trails do not require a permit. For some longer ones a permit is required and can be applied for on the park's website.
Shakadang trail
An easy, flat and scenic walk alongside a small river. This trail takes about an hour to an hour and a half, at least to the point where the trail was blocked off at the time that we were there. The trail has apparently continued further in the past, but these situations change regularly in Taroko based on what has been damaged during the previous typhoon season. I have read that the trail normally goes for 4.4 kilometres and should take 3-4 hours. It may be worth checking the current condition of the trail at the information centre located at the entrance to the park.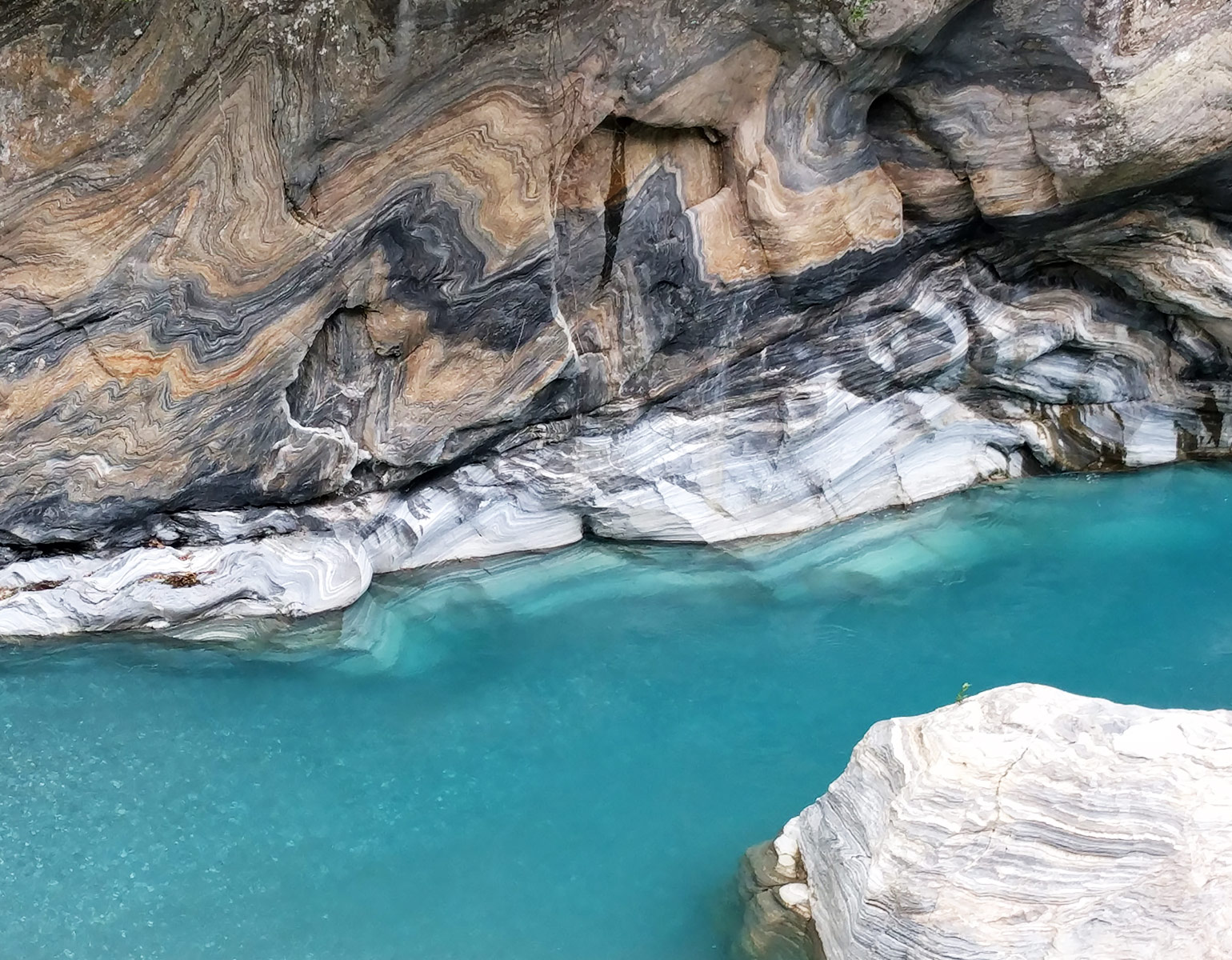 ---
Eternal Spring Shrine, Changuang Temple & Bell Tower
The Eternal Spring Shrine is best viewed from a distance as it is built above a picturesque waterfall. Behind the shrine you can climb the stairs leading to the Changuang Temple and further up to the Bell Tower, from which there are some great views. It is also possible, and significantly easier, to drive up to the Changuang Temple and start your ascent to the Bell Tower from there.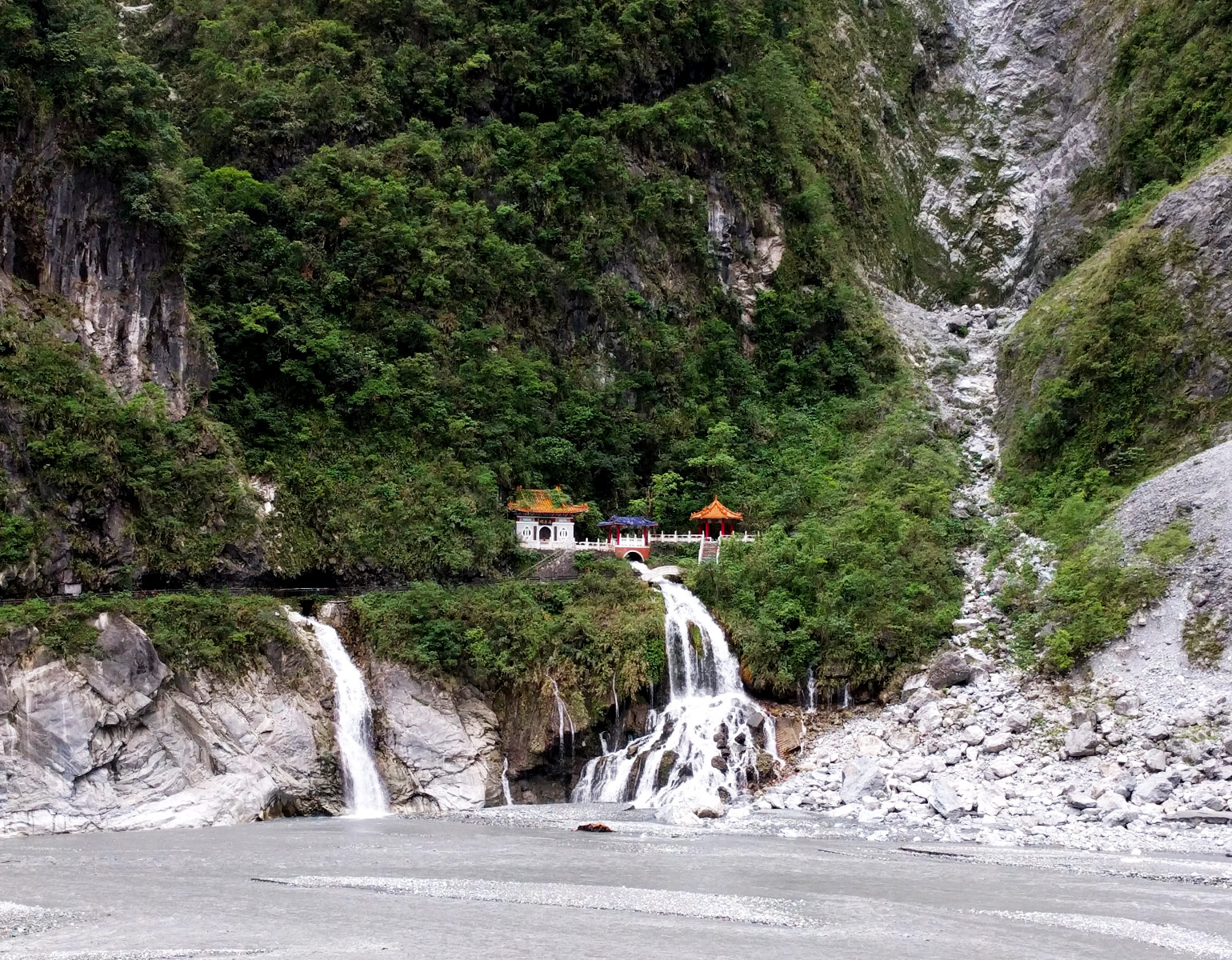 ---
Swallow Grotto
The Swallow Grotto is a part of the road that passes through a series of tunnels in the rock. There is a walkway alongside the road. Walking along it you get some spectacular views of the narrow gorge walls and the river below. Falling rocks are a major concern and hard hats are provided free of charge by the park authorities.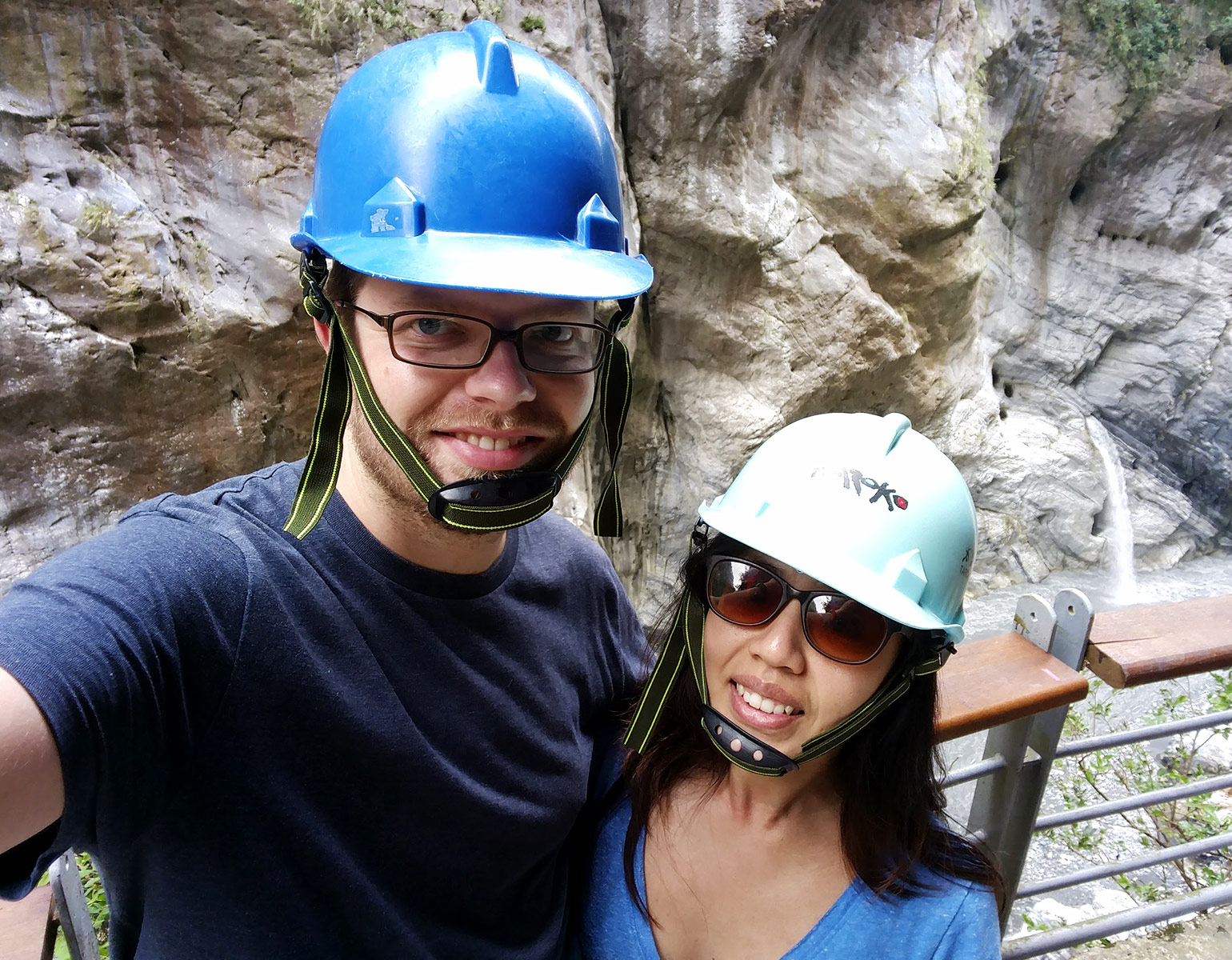 ---
Lushui Trail
An easy 2 kilometre trail that should take about 45 minutes to complete (one-way). Also referred to as the Lushui-Heliu trail, this is actually a restored section of the historic trail that ran through Taroko Gorge before the construction of the Central Cross-Island Highway. Though short, the trail contains a small suspension bridge, a 30 metre tunnel and a short section that runs along the cliff-edge. The trail gives a taste of what Taroko Gorge has to offer in other parts. Because we hired a taxi, the driver knew where the trail ended (back on the main road) so met us there.
---
Taroko Suspension Bridge
It is worth a quick stop to cross over the gorge on the suspension bridge. Unless there are tour buses stopped there, that is. A limited amount of people are allowed on the bridge at a time so it can mean a long wait if it is too busy. You can see a small waterfall from the bridge.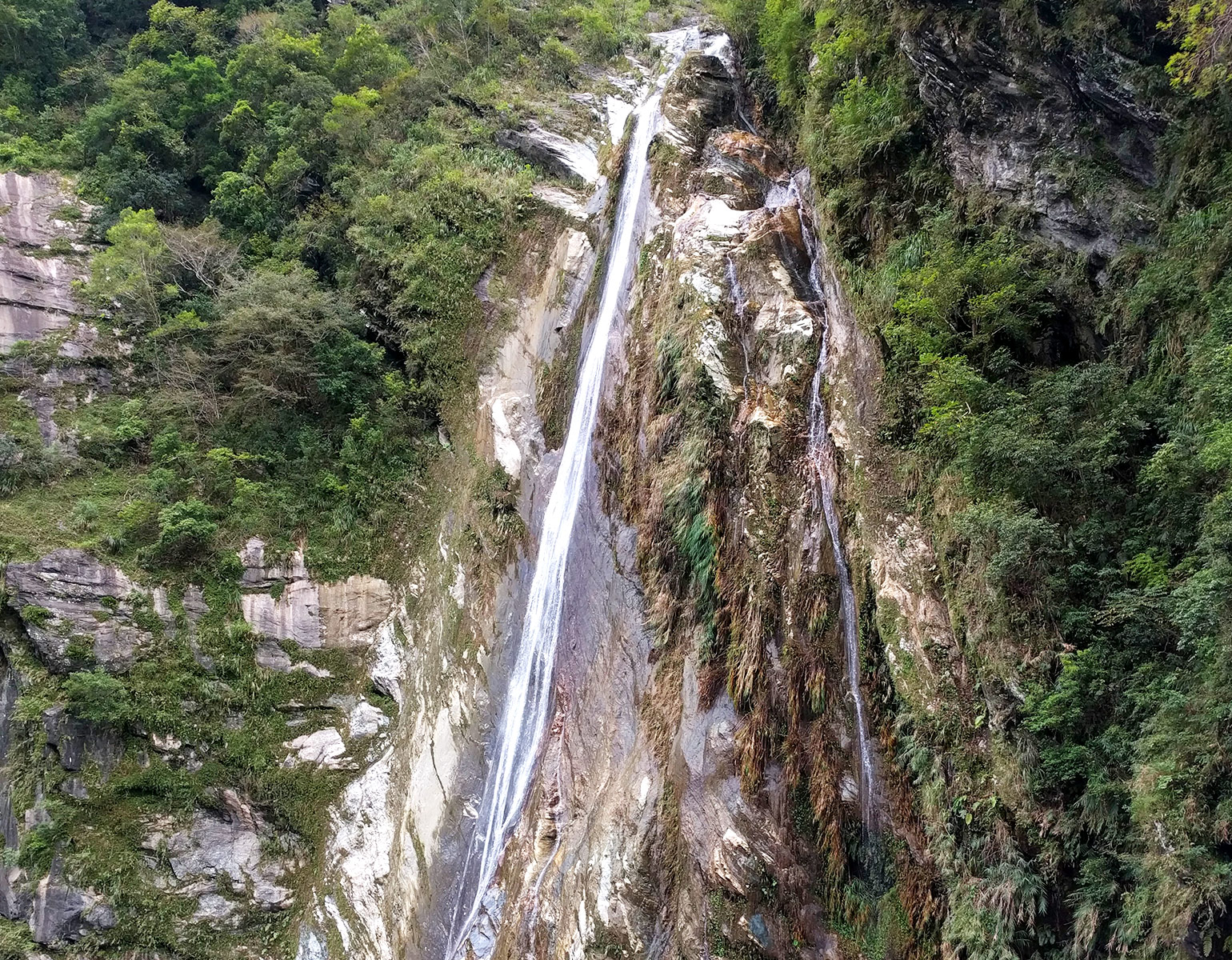 ---
Cimu (Motherly Devotion) Bridge
Cimu Bridge doesn't require much time, but is another scenic stop. There is a giant rock that looks (kind of) like a frog from the right angle.

---
Xiangde Temple & Tianxiang
Crossing over a pedestrian bridge and climbing some steep steps leads to the Xiangde Temple, Pagoda and some Buddhist statues. It is not the most exciting place in Taroko but the pagoda is interesting and there are some nice views of the surrounding countryside.
Tianxiang was as far into Taroko Gorge as we went in a day. For those who want to stay in the gorge, this is probably the best place for it. There are some hotels, hostels and a campground. It also has pretty much the only (limited) places to buy food in the gorge.
Tianxiang is also the starting point of the Baiyang Trail. It was closed at the time of our visit but sounds like one of the best trails to take. The return trip takes about an hour and a half. You will be advised to wear a safety helmet and carry a torch as there are a lot of dark tunnels. The trail ends at the spectacular-sounding water curtain tunnels.